Buffalo Sabres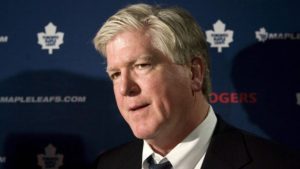 While most Leafs fans are content to sweep the 2009-10 season aside and look ahead to greener pastures, we're nevertheless forced to look on in envy as sixteen other fan bases get to watch their teams play meaningful hockey with the sun out. It's a feeling Leafs Nation hasn't experienced since pre-lockout times, and as low as expectations may have been coming in, it is unexceptionally a failure not to be in the mix this time of year. Brian Burke will be the first to acknowledge that, and did so in his State of the Union address today.
[more…]
It's that time of year again. Â The most wonderful time of the year. Â No, not Christmas, and no, you won't see any of those silly Staples commercials.
It's time for the NHL playoffs.
The annual spring tournament that features some of the most exciting hockey of the season.  It's  triple overtime games that rage on long into the night, games so long that you'll hope you saved some sick days.  It's players skating through pain, all for the common goal of lifting Lord Stanley's Cup.
And the great fans of the NHL, well they have the best seat in the house.
Around this time of year, especially the first round, marriages are postponed. Â Assignments are left on desks unfinished. Â Scheduled are cleared, or built around. Â Kiss your wife or girlfriend, and tell her you'll see her in a few months, a better person than when you last saw her.
Setting up a goal for the Leafs in lieu of a playoff spot, making up seven points to get out of the NHL basement is a good start .. but just how difficult will it be?
Let's find out together.
[more…]
Mike Peca, also known as the little engine who could, has officially called it a career today. The 35-year old grinding leader played 864 career games with the Canucks, Sabres, Islanders, Oilers, Maple Leafs and Blue Jackets.  During that time, he tallied 176 goals, 289 assists and 798 penalty minutes.  On two seperate occasions, he reached the Stanley Cup Finals (Buffalo in 1999 and Edmonton 2006).  He also helped Canada capture the gold medal at the 2002 Olympic Winter games in Salt Lake City, Utah.
1 month. Â 17 Leafs games. Â A 6-9-2 record for our inconsistent Toronto squad. Â More importantly, over 1500 sets of predictions were made. Â MLHS is happy to present the top 10 and final 3 winners of the Leafs tickets from Get F'ed with Ed.
Submit your GFWE predictions here.
It's no secret that the Leafs' biggest disappointment amid a conference-second-worst 15-20-9 first half of the schedule is a total lack of progress in the area of goals against and special teams, where Brian Burke focused much of his off-season efforts.
He glided down the ice, not showing any sort of intimidation despite the fact he was a little out of his element.  Like a veteran, he flew down the wing and fired a shot that eluded the goaltender.  It was his first NHL goal.  It was his first NHL game.
He skated through the neutral zone, accepting a stretch pass, only to be met by a member of the opposition, who's eyes were as big as saucers, knowing he was going to catch him.  He was leveled, sent for a trip down dream street.  A hit that caused a nasty gash to open up over his eye, blood streamed out of his nose.  It was his 425th NHL game.
All 425, as a member of his hometown team, the Toronto Maple Leafs.
Just wanted to share a fantastic bit of work done by Nights, one of our many enthusiastic and intelligent readers, who evaluated how the NHL landscape would look without the first 8 games of the season during which the Maple Leafs struggled mightily. Great work! [more…]
- The Globe sheds a little insight into Gustavsson's heart condition, noting that the procedure went well and that he should be back between the [more…]
The Toronto Maple Leafs continue their 3 game road swing tonight as they visit Columbus to take on Rick Nash and his Blue Jackets. The Leafs will be without both Jonas Gustavsson and Carl Gunnarsson for the trip, and Vesa Toskala will be in the lineup as MacDonald's backup for the tilt.
[more…]
Tonight's  loss against the Northeast rival Buffalo Sabres seemed to play out like the typical Maple Leaf '09-'10 regular season game thus far. A fairly decent effort for about 75-80% of the game, a few brain cramps here and there, a ton of unconverted offensive opportunities, an unlucky bounce or two, along with the end result of an "L" in the record books. [more…]
The Leafs hope to get their first three-game winning streak of the season tonight when the Buffalo Sabres roll into the Air Canada Centre. Â Toronto has gone five straight games without a regulation loss (3-0-2) and hope to continue their stretch of strong offensive performances (3.8 goals per game). Â They'll be in tough against a Sabres team that is back on the winning track after a slight skid, supported by one of the hottest goaltenders this season in Ryan Miller.