Buffalo Sabres
It appears Curtis Joseph, who let in four goals on nine shots last night, is not the second coming of Christ. Justin Pogge, who replaced Joseph mid-way through the second period, made 14 saves, allowing one goal in the 23 minutes and 30 seconds he played.
You what that means? It's Pogge time against the Boston Bruins tonight! If Pogge can hold the fort, he'll likely get the nod against the Philadelphia Flyers on Wednesday – which will mark the final game of Martin Gerber's three-game suspension.
With Files from Gil Brown
Brian Burke doesn't take credit for the Maple Leafs drafting Luke Schenn 5th overall in 2008, but he's sure glad they did.  Under different circumstances, which we'll get into over a series of posts, Burke's Ducks would have been in the mix for the Saskatoon native at the 2008 draft.
Fortune shined on the blue and white allowing them to trade up to 5th overall pick.  There was an associated cost from their original seventh spot, but the end result is a potential future Maple Leafs captain of the Scott Stevens mold.
Unbelievable as it seems; perhaps, even laughable, Schenn, could have been wearing Ducks colors.
The story doesn't begin in Anaheim, however.  It starts in Edmonton.
While draft picks are high priority in any potential trade talks leading up to the March 4th deadline, Brian Burke is also said to be targeting a group of young but already established NHLers, according to a source.
Here's a look back at all the exciting events that happened in tonight's game:
Nothing.
Now on to the post-game reaction. [more…]
The craft of writing fiction requires an author's innate ability to capture - and maintain - the reader's attention. It's sleight of hand - or pen in this instance, with twists and turns deciphering an ending not envisioned by the reader. The process takes vision, vivid imagination, a well scripted story line and 'sleight of pen' to playfully mislead readers into a perceived outcome, while planting thoughts and doubts that in the end make for a fantastic story.
It happens in the hockey world, too, and might be happening to Leafs fans currently. It could be a main factor in drafting Victor Hedman over John Tavares in the 2009 draft.
[more…]

The Maple Leafs have recalled Justin Pogge from the Toronto Marlies for tonight's game in Buffalo. Toronto looks to rebound from an overtime loss last night at the hands of Bryan McCabe and his Panthers, while the Buffalo Sabres are making a pitch for their fourth straight win at home.
[more…]
Firstly, an interesting item of news - the Vancouver Canucks have acquired goaltender Jason LeBarbera from the LA Kings in exchange for a 7th round pick. Update: Hat-tip to Sarah, who points out that Curtis Sanford has been placed on the IR alongside Roberto Luongo, necessitating the deal for another 'tender.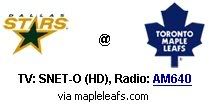 The Maple Leafs, now bearers of a winning record at 14-13-6, are looking to continue their offensive onslaught against the league's fifth worst defense as they return home to host the underachieving Dallas Stars.
The Maple Leafs look to extend their two game winning streak Tuesday night as they entertain the New Jersey Devils sans Martin Brodeur. Rookie Jeremy Williams looks to continue a streak of his own having scored in each of his first two appearances this season.
First of six meetings between Leafs & Sabres this season
The Maple Leafs renew acquaintances with their northeast rival Buffalo Sabres at the HBSC tonight, a building home to both some chilling and some rosy Leaf memories, from the Bryan McCabe own goal and other monumental Leaf collapses to some pretty all-around satisfying Ws.
[more…]
 
After chasing down the Pittsburgh Penguins, making a substantial offer for a failing market team, and whispers of supporting the Buffalo Sabres, it looks as if Jim Balsillie may in fact receive the green light on a new buzzing project in the greatest hockey market in the world.
From Micheal Aldred...
The Toronto Maple Leafs will be watching Luke Schenn with intensity tonight as the rookie is ready to show the world what he can do against arguably the best in the world in Evgeni Malkin. Not far behind him will goalie Justin Pogge be looking to do the same thing. Tonight, however, there will be a stronger cast on the ice for the buds.