burke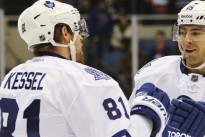 It seems like a fruitless endeavor to make full season predictions with the uncertainty of when the actual season does begin.
Regardless, here we are. Under ideal circumstances, the season would start as per the current schedule and should both parties salvage a full season, we need to be ready.
Every summer we get the McKeen's Hockey Yearbook together and about this time, I'm usually done with Leafs predictions.
It's a summer tradition to post Leafs predictions here, and I wanted to continue the custom. [more…]
This is the first part of my transcript of yesterday's Leafs media day. It focuses primarily on Luke's deal, with the majority of the quotes coming from our general manager. Part two is coming to you on Monday, with quotes from other players and Ron Wilson for the media day itself.
Brian Burke on life, universe and Schenn's deal:
"We intend to spend to the cap. He haven't spent to the cap since I've been here, but that's why you have to work hard at these contracts and Don Meehan's group did a really good job on Luke's side and Claude Loiselle did a really good job on our side. I think the deal reached was fair and am very pleased to announce Luke Schenn is a Leaf for five more years…"
As are we. At 3.6 mil. Schenn deal is fair value, especially given the term of the contract. Luke has been a vital cog for this team, led us in hits in the each of the last three years and will keep progressing along with the likes of Nazem Kadri, Phil Kessel, Keith Aulie etc. The Saskatoon, Saskatchewan native also led the Maple Leafs in blocked shots with 168, and was the only player in the NHL to have over 250 hits and at least 150 blocked shots last season.  If you're a Leafs fan, this is the news you were waiting to hear all summer long.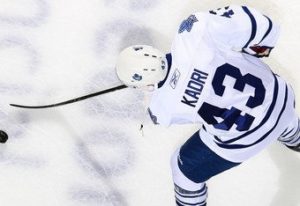 Jeff Finger returns to the line-up tonight in Detroit in what many will suggest is his Maple Leafs swan song/final pit stop en route to the Marlies. Burke is saying the right things about Finger's right to a "fair look" and the importance of respecting players acquired via free agency as it relates to organizational reputation. But the realities are this: the Leafs are sitting with both Brett Lebda and Finger on the outside of their top six, over the cap by around $300k and uncomfortably close even with Lashoff and his $550k assigned to the Marlies. And that's assuming Nazem Kadri and his $1.7 million cap hit will not be a part of the roster come opening night. If it's important to show respect to signed free agents, surely Lebda won't be Marlie-bound after his first training camp as a Leaf. Simply, something has to give, and the $3.5 million Finger, a Leaf of two seasons now, seems the obvious candidate for demotion. [more…]
In part two of his 12 burning questions series, Derek Harmsworth looks at the Leafs goaltending of the past, and whether this year's tandem can provide them with healthy, consistent efforts.
The NHL goaltender.
It has been said that there is no more important position in all of pro sports. Â And if you believe that, it's quite easy to see why the Toronto Maple Leafs haven't had much regular season success in the post lockout NHL, and why the post season has eluded them. [more…]
Maple Leafs GM Brian Burke, ridiculed in some circles, heralded in others, after the way the Tomas Kaberle deal went down, has not been hiding in the shadows after his inability, or unwillingness, to trade the Czech born blue liner. Â Burke spoke to the media yesterday and made a variety of statements that should peak the interest of Leafs Nation. [more…]
In case you missed it, here are some of the key points from Burke's interview on the Fan590 this morning:
There have been some legitimate [more…]
- Among the youngsters impressing at the Leafs' prospect camp is 2006 NCAA draftee Tyler Ruegsegger. Tyler is a smart, skilled winger whose size and [more…]
As much of the league takes a post-draft/free agent frenzy breather for the Canada Day and July 4th long weekend, I figure I'll spark some discussion with a bit of educated speculation. In talking to a source over the past week it's been suggested to me that Brian Burke has a  deal or two on the table for scoring help involving a Leaf asset he's struggling with the idea of parting with. It's said at this time Burke is hoping desperation on the part of the involved GMs reduces the price on a few top six trade options as the off-season continues. [more…]
Considering we were hearing word of $3 million + demands from Nik Kulemin's camp, this is pleasantly surprising. It gives Kulemin a deserved $800k raise [more…]
It may seem uncharacteristic of  Brian Burke, historically a headline maker at the Entry Draft, to sit essentially idle on the hockey world's biggest stage. Important to remember is that the big man can be patient when he needs to be. The Anaheim and Calgary deals of last February, when Burke waited until certain pressure points reached a head, were both examples of Burke's willingness to sit back until the time was right to pull the trigger - despite all the temptations to hit the panic button as his team sat in the Eastern Conference basement with no first round pick to look forward to.
Well, scratch another player from the Toronto Maple Leafs' list of potential top-six forwards.
Patrick Sharp is no longer an option for trade with the departures of Dustin Byfuglien, Ben Eager and Brent Sopel from the Chicago Blackhawks.
We've partnered up with Pension Plan Puppets to bring to you a Player Review series, where we will be evaluating and grading the 2009-10 season [more…]