Calder Cup
The Toronto Maple Leafs are sitting in fifth place in the Eastern Conference (fourth in the Eastern Conference in wins) and some folks, even Leaf fans who [more…]
The Maple Leafs have signed 23-year-old left winger Spencer Abbott of the Maine Black Bears, according to reports.
[Abott] had his best season offensively and was named this week one of 10 finalists for the Hobey Baker Award that goes annually to the top player in U.S. college hockey.

Too small to play major junior, Abbott played Junior A with the Hamilton Red Wings. He had a late growth spurt to reach 5-foot-10 and 175 pounds. He was an alternate captain on the Black Bears.

Abbott's offensive numbers rose each year with Maine — he led the team in scoring this year with 61 points (20 goals, 41 assists). He believes he's ready for the NHL.

"When I came into this league, I was more of an offensive guy. I've been trying really hard to get better on the other side of the puck, defensively. It's tough to do, especially at the next level. I hope to be a two-way player."

Abbott worked out last summer with Gary Roberts at his high performance training institute and the plan is to go back this summer to get ready for life in the pros.

"Speed, skill and strength is what I've been trying to implement in my game. I've been working hard in the off-season. (I've got to) put on more weight, get faster, bigger, stronger. I think I've done that consecutive years."
Christian Hanson, Tyler Brenner and Brayden Irwin taught us all too well not to get too excited about these college free agent signings. The small but speedy and skilled Abbott did earn nomination as a Hobey Baker finalist, however, and seems to have much more natural talent than any of those three. This signing aligns more closely with the Bobby Butler (2010 Hobey Baker nominee) and Stephane Da Costa (2011 nominee) signings by the Senators, which is not to say those are smashing successes so far either. But at the low cost of a Standard Player Contract slot, these type of pickups are always a worthwhile experiment for an organization equipped with the Leafs' financial might.
Abbott will join the Marlies for their Calder Cup bid on an Amateur Tryout Contract. [more…]
It was no less than two months ago that I was pondering this same question, that of captaincy, and examining the same factors. Thinking of all the tangibles – speed, talent and scoring – along with attributes that are harder to judge – the ability to command the respect of the team, lead with strength of character and handle the Toronto media through success and failure. The lone difference is that last time, it was the Leafs.
I really had so many options with this title. With all the Anaheim prospects on Toronto, I thought of calling it "Duck, Duck, Duck, Moose!" With many players returning from injury, I pondered using "I've got 99 Problems, but a Stitch Ain't One." But really, being five points out with five games remaining, the Marlies truly are on a wild Moose chase.
As it stands now, the Marlies will have to win all of their final five games to have a hope of extending the season past April 12th. The two most important of these will need to come this weekend as Toronto faces Manitoba, the current occupant of the 4th and final spot. [more…]

While the Leafs made the decision not to renew Marlies coach Greg Gilbert, some of the players are truly on the ball.
[more…]
Editted **
What? You were expecting Sidney Crosby or Alex Ovechkin to top the leading scorers in March? Well then. You'd be wrong ... sort of. AO actually was tied at the top with another player.
Yes, Sid the Kid (11-6-12-18) ranked near the top of the list, tied with Ottawa's Jason Spezza (14-8-10-18). Meanwhile, the Great 8, (12-8-11-19) scored two more than Sid, and two more than the NHL scoring leader for the month of March.
[more…]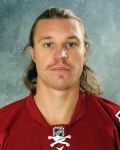 JUSTIN POGGE (# 29) – G
Player Facts
Birthdate: April 22, 1986
Stargazing: Taurus
Hometown: Fort McMurray, Alberta