Canada
Finally, the moment a lot of us have been waiting for is upon us. Â The Toronto Maple Leafs announced Tuesday afternoon the full roster of players who will represent the blue and white at the 2010 rookie tournament, taking place this weekend in London, Ontario. Â The event runs from September 11th to the 14th at the John Labatt Centre, and remember Maple Leafs Hot Stove will have wall-to-wall coverage and unprecedented access.
A tap of the pads to Gus Katsaros for providing me the email.
Beginning with Howard Berger's bittersweet commentary on our little corner of the web and and piquing tonight with a grade A case of trolling from a user that's been taken care of, let me make a quick note about moderation.
Firstly, it's important to remember that our willingness to allow for freewheeling and largely unrestricted conversation gives MLHS commenters a privilege, not a right. Unfortunately, in a few instances I'm beginning to see this being taken advantage of.
Being intentionally vulgar is not the way to stick it to Howard Berger. We are getting noticed not only for the efforts and insights the blogging team brings to the table but for the breadth of Leafs knowledge among our users, backed by a strong sense of community. Pension Plan Puppets' sports bar analogy was a good one and I similarly am not going to nitpick at every curse word - if this is how a poster opts to express himself and it's within reasonable limits, I'm not going to ask anybody to change the manner or mood in which they want to communicate their thoughts. Unfiltered dialogue helps create the virtual club house I spoke about striving for in an interview last summer, where fans can relax and chat with a passionate crew who have something informed to say about their favourite sport and team. What is absolutely unacceptable is personal attacks, allowing of course for some friendly banter about Jordan's grammar. [more…]
In part four of his 12 burning questions series, Derek Harmsworth examines whether Nazem Kadri will crack this lineup, and where he fits in with the team if and when he does.
In the summer of 2009, the Toronto Maple Leafs and their fans were still finding out first hand what type of brash, confident attitude Brian Burke was going to be bringing to the team. [more…]
I was recently invited to a Canadian Tire press conference announcing their new five-year partnership with the NHL to become the League's Official Sporting Goods Retailer of the NHL in Canada. While I was unable to attend the event, which included a one-on-one interview with Olympic Gold Medalist and Stanley Cup winner Jonathan Toews, the promotion company generously offered a media release for the site.
According to numerous sources, including the Canadian Press, the Toronto Maple Leafs and prospect Jerry D'Amigo are expected to finalize a three year entry level [more…]
It's that time of year again. The Canadian World Junior Development Camp for the 2011 tournament in Buffalo is under way, as the Canadians try [more…]
Flyers officially kick off July 1st festivities by acquiring Andrej Mezaros from the Lightning in exchange for a 2nd round pick. Rumors of Boston centre Marc Savard potentially heading out west to Calgary as well.
As for the Maple Leafs, they will have $10.5 million in cap space to play with today, though that figure does not include the possible removal of Kaberle's $4.25 million via trade or Finger's $3.5 million as a potential waiver candidate.
The Leafs have been linked to defenseman Dan Hamhuis, forwards Raffi Torres and Colby Armstrong, and will also kick the tires on sniper Ilya Kovalchuk. Darren Dreger believes the club will look at adding a 3rd line forward along with a defenseman to "stockpile for later deals". Stay tuned to this blog for updates on signings throughout the day. [more…]
For Greg McKegg, nothing has necessarily come easy in his hockey career. Â A slow start to his rookie campaign in Erie, followed by a knee injury which threatened the start of his season this past year, McKegg began the year as a winger for the Erie Otters that ISS ranked in the 90's.
It was something that McKegg couldn't not think about, no matter how much he tried.
"It's something you try not to think about too much really, but you can't help but look. Â It was disappointing to see that for sure, but I think it gives you that edge to work harder and show people that you deserve to be higher up on the list."
And that is exactly what he did.
Being described by some in the hockey circles as a perennial underdog, McKegg did the only thing he knew how to do. Â Work hard.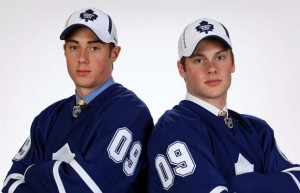 Brian Burke must have felt a lot like the eponymous Old Mother Hubbard when he first reached into the Leafs prospects cupboard. Of course, unlike the elderly dog-mistreating crone of the rhyme, Burke already knew what lay in stock prior to his arrival in Leafs country. In short: a few notable exceptions to a decade of draft property mismanagement.
Subsequently, the draft of 2009 looked to be a vital cornerstone in Brian Burke's rebuild. The first chance for the Leafs to restock in a new, finally directed era.
It was a quiet Day One at the 2010 NHL Draft for the Maple Leafs, but the team stepped up its game in a big way on Saturday afternoon. The club wheeled and dealed its way into the 2nd round of the draft and through some crafty maneuvering in the later rounds, managed to add seven new players into the organization.
The Leafs were able to significantly upgrade their depth up front, by grabbing six forwards to go with one defenseman. Surprisingly, Leafs' Swedish scout Thommie Bergman had a big day, selecting three players from the Swedish leagues. [more…]
The Leafs will start and end with Montreal as to be expected. The schedule includes nine back-to-backs, an increase over the seven they played last season. The Leafs will head northwest March 22-24 to play Minnesota and Colorado after hosting them last season. The most taxing travel appears to be a four game stretch from January 7 - 13 when the Buds will make stops in Atlanta, Los Angeles, San Jose and Phoenix. The Leafs will also conduct a potentially critical division tour from February 12 - 19 when they face off consecutively with each Northeast rival. From December 14-18, the Blue and White will go on a Western Canada road trip where they can visit Taylor Hall, Matt Stajan and Kyle Wellwood. The full sched after the jump:
[more…]
It seems the "Kaberle to Columbus for the 4th overall pick" speculation is picking up some steam. Aaron Portzline, the Blue Jackets beat writer for [more…]