Carlo Colaiacovo
It may seem uncharacteristic of  Brian Burke, historically a headline maker at the Entry Draft, to sit essentially idle on the hockey world's biggest stage. Important to remember is that the big man can be patient when he needs to be. The Anaheim and Calgary deals of last February, when Burke waited until certain pressure points reached a head, were both examples of Burke's willingness to sit back until the time was right to pull the trigger - despite all the temptations to hit the panic button as his team sat in the Eastern Conference basement with no first round pick to look forward to.
Note: If you crave insightful, indepth Leafs' analysis, I highly encourage you to read RSW's excellent article on Victor Stalberg.
This past Saturday, Brian Burke was a guest on "Leafs Lunch" (am 640) and spoke at length about the status of injured defenseman Mike Van Ryn.
Van Ryn, as you know, underwent career-threatening surgery as a result of a structural anomaly in his left knee.  The surgery, an osteotomy (known throughout hockey circles as "Steve Yzerman surgery"), is a complex procedure in which the knee is realigned via the removal of part of the bone.  Van Ryn has since resumed skating, but whether or not he will be able to resume his NHL career remains, at this point, unknown.
Final Deadline Trades:
Alexei Ponikarovsky to Pittsburgh for Luca Caputi and Martin Skoula
Martin Skoula to New Jersey for a fifth round draft selection.
Lee Stempniak to PHX for 4th and 7th rounders.
Joey MacDonald to ANA for a 7th rounder in 2011.
Wrap-Up: That looks to be a wrap on Brian Burke's trade activity for the 2009-10 season. The Stempniak deal was obviously a form of loss-cutting on a pending UFA, but it's a bit painful to remember who we sacrificed to acquire him in November of 2008 in two albeit underachieving first rounders in Alex Steen and Carlo Colaiacovo. The Leafs will not draft until the third round this year, and Burke did not succeed in that sense, however he moved the only piece realistically capable of fetching a second rounder for a semi-established young asset with the potential to replace Poni at an immediately cheaper price in Luca Caputi. It looks as though no takers could be found on either Wayne Primeau or Garnet Exelby, who look sure to now enter the FA market July 1.
There seems to be details yet to unfurl surrounding the Tomas Kaberle situation this deadline, as once again Leafs fans were teased into believing a deal was pending (involving Hodgson, as it was reported, or possibly Alzner from Washington) only for what looked to be an imminent deal to be flatly denied by Brian Burke in the end. There are rumblings that Kaberle might have nixed a deal in similar fashion to the Jeff Carter situation at the '08 deadline.
From Garrett Bauman:
With the National Hockey League's trade deadline looming, names like Alexei Ponikarovsky and Lee Stempniak are becoming increasingly popular in the Toronto Maple Leafs brass.
Fans of the Blue & White have been playing armchair general manager and have formulated a number of trades since the Olympic break. But amidst the excitement of the yearly spectacle, I'm beginning to wonder if it's in the Leafs' best interest to trade both Ponikarovsky and Stempniak.
After all, were they not serviceable players for the Leafs?
An interesting question was brought up by Dave Hodge yesterday morning on TSN's The Reporters amid the Phil Kessel whirlwind that erupted over the weekend: if Peter Chiarelli wasn't interested in matching an offer sheet at the dollar figure to which Burke eventually signed the 21-year-old, described by Sports Illustrated's Michael Farber as "a one in 500 chance," why didn't Burke submit the offer sheet and pay but a third rounder instead of an additional first round draft selection? Farber seemed convinced not only that Chiarelli wouldn't match but that Burke's decision to go the trade route instead of offer sheet avenue was to save face, anticipating the charges of hypocrisy he would encounter linking back to his response to Kevin Lowe's offer sheet submission for Dustin Penner that ultimately went unmatched while in Anaheim.
[more…]
Part 3: 20 Years of Maple Misery
From Gord Stellick to Cliff Fletcher Version 2.0
It's been over 40 years since the Leafs won the cup and while others make fun of the fans for continuing to cheer, here is an overview of why you shouldn't make fun, but feel bad for them…
[more…]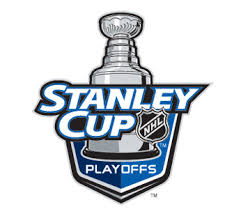 For a full team-by-team breakdown of all playoffs clubs, sure bets and sleeper picks for your playoff pools, visit the McKeen's Playoff Preview where the factors below have been outlined and pointed out in a team-by-team write up.
[more…]
It looks as though Phil Oreskovic will make his NHL debut tomorrow night vs. Ottawa as the Leafs attempt to cope with an injury-riddled blue-line. Anton Stralman will also feature with Tomas Kaberle, Mike Van Ryn, Jonas Frogren and waiver pick-up Erik Reitz all sidelined. Reitz and Kaberle should be back in action within a week whereas Van Ryn's season may well be over after he sustained a wince-inducing knee injury last night against the Oilers. Just when we thought we were done with one freakishly injury prone defenseman, it looks like VR will be eliciting the frustration of Carlo Colaiacovo's tenure as a very skilled defenseman who simply cannot stay off the shelf. The timeline on Frogren isn't yet known, but Wilson suggested after last night's loss that "he will be a while" recovering from his lower body injury.
Check out Garrett Bauman's "Getting To Know You" profile of Phil Oreskovic here.
[more…]
In a season where everyone either predicted or was warned the Leafs would place bottom 5 in the East, I'm a little surprised the team was booed by the club's faithful fans in a tilt with the Nashville Predators.
Random thoughts and opinions from (roughly) the halfway point of the season:
* Glad to see the mustache is back in style.   In fact, when I was younger I grew a goatee just because everyone else was doing the 'stache.  Then the '93 Canadiens all grew goatees during their Cup run, and it became a social mainstay.   Yes, folks, it's true: my hatred of the Habs has nothing to do with the Leafs, and everything to do with facial hair.
I know, you're worried about value for Vesa Toskala and Tomas Kaberle. Well, don't. Their recent performance(s) are killing their market value, right?
No. Market forces and low-ball offers may hinder dealing them now, but as the trade deadline approaches, true value is more likely for the Buds. And that's good, because both players are underperforming.
Being in full evaluation/negotiation mode in fantasy leagues, posturing for position and propping up a sagging roster, it got me to thinking about reality-based trade evaluation, and how appraisals are distorted by current production .. or lack thereof.