cent
Alex and I will once again continue the Young Guns prospect draft. We are drafting:
6 9 forwards, 4 defensemen, 1 goaltender
Total of 22 young players with a birthday year no later than 1986 (24 yrs old max)
Contract status and/or cap hit will not be taken into account
The draft will take place live in the comments section for all readers to follow, so be sure to come out and provide your two cents as it happens. More details after the jump.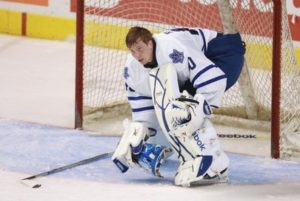 ,
Join us in the comments as Alex Tran and I go head-to-head carving up the Leafs youth.
(Note**) - for the record I will be making the picks for each of us as Alex is boozing busting loose at some bar. I asked him if he was drunk, he said no, but his picks will tell show us the truth.
In the spirit of ranking the organization's top young talent (prospects + established NHLers), Gus and I will be facing off tonight at approximately 10pm [more…]
Alec has asked me to add my two cents hereabouts from time to time, and I've agreed to do so with some trepidation.  For those of you who don't know me, I'm Junior, from Heroes in Rehab: the blog.  I don't want to step on the toes of any of the other contributors on the site, so I want to contribute something a little different from the others.  What follows is, at it turns out, a bit of a (lengthy, sorry about that) manifesto for what I hope to produce in the coming weeks for you all.  Some of it's even about hockey and the Leafs!  I don't really see my self as the Stuart Smalley of Leafs Nation, and the affirmations I offer will be far from daily, but...well, just read, won't you?
One lousy heart-stopping, craptastic win-that-almost-wasn't against the Thrashers Predators (update: oops, thanks Nights, I'm an idiot.  Stupid interchangeable southeastern teams!).  One crummy "W" from a five game road trip through the Southeast, the division where NHL hockey goes to die.  The Maple Leafs can't be happy with the way that worked out.  When the trip began ten days ago, it seemed obvious that the Leafs were expecting to get pasted by Ovechkin and the Caps (first clue: starting Vesa Toskala); after getting the better of Bruce Boudreau's squad a couple of times earlier this year, it was essentially a foregone conclusion that the Blue & White would have the least amount of fun in a DC amphitheatre since Abraham Lincoln, and that's exactly how it worked out.  But they had to be hoping for more out of matches against Dixie's puck-playing tomato cans: Nashville, Atlanta, Tampa and Florida.
Of course we know now that it didn't work out that way.  Much to the chagrin of the local populace, Ron Wilson, Brian Burke and the team have arrived home with only two points to declare at Customs.  As far as road trip expectations go, this is the equivalent of a "buddies road trip to Vegas" turning into "an insurance seminar in Peoria." [more…]
The good folks over at Pension Plan Puppets have launched a unique initiative, whereby you can help raise funds for the people of Haiti simply [more…]
By: Gus Katsaros
Prior to the season starting, I had written about the impact of schedules. In particular, as the Leafs face the Habs tonight after playing the previous night, while Montreal is rested. Interesting enough, the last time this happened, Toronto beat Detroit 5-1.
Schedules make a big difference in the results of NHL teams fates during the season. In some instances, it could be the difference between a playoff spot and a tee time (and I thoroughly enjoy both – FORRRREEEE!!).
This time of year pretty much everyone is doing a mock draft of some sort.  So, with one week to go until the Entry Draft, I figure it's time I chip in with my two cents on what may or may not unfold with the top 10 picks come June 26.
Note that the draft projections listed here are made based on current draft positions, and are not reflective of any possible trades involving the top 10 picks.
Ed. Note: Lots of holiday reading going up today for you guys. Merry Christmas.
Here we are the Christmas break, and I'd like to take the time to look back at what we saw in September, what we expected by Christmas and what we envision for the future of the Blue and White.
[more…]
Sorry for the delay guys.  We greatly appreciate the flood of great questions and comments, and are sorry to say we couldn't get to them all. We've all been pretty busy lately for a variety of reasons, so without any further ado, let's get started on the 1st ever Maple Leafs HotStove Hockey Panel Discussion.
Forming our panel for this session is Alec Brownscombe of Hockeybuzz and MLHS godfather, Gus Katsaros of Mckeen's and MLHS fantasy expert, and myself, Alex Tran, an MLHS blogger.