Centre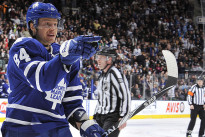 After a good comeback/confidence-building game against the Tampa Bay Lighting, the Toronto Maple Leafs  have perhaps created more questions than answers. The Penalty Kill keeps [more…]
Day Two of on-ice participation is now in the books .. the sessions all had a purpose, as camp not only winds down, but clear decisions need to be made on who will remain with the main roster and who will be going to the Marlies or back to their original junior team.
A breakdown of the drills and more observations from the intra squad game after the jump.
Sunday Training Camp Day 2 practice
Teams A and B practiced with Team A on the main ice. (Breakdown of teams is here.
The drills weren't very different from the previous days, they all focused on a real-game situation and the coaching staff made variations along the way. [more…]
The Toronto Maple Leafs held their on-ice portion of training camp today. Players have been split into three squads to accommodate the 63 players invited to camp.
Among the contingent of fans outside the ice surface at the MasterCard Centre for Hockey Excellence was a throng of media and of course, Leafs staff.
As much as I tried to just sit back and enjoy the game as a fan last night, I couldn't help but take a few notes (this might have been because we ended up sitting among the scouts). So without further ado, here are a few additional observations from last night's tournament opener to supplement Derek Harmsworth's excellent coverage.
We've partnered up with Pension Plan Puppets to bring to you a Player Review series, where we will be evaluating and grading the 2009-10 season for every Leaf who featured in a significant number of games for the Blue and White last season, with an eye towards 2010-11.Today we feature Phil Kessel, profiled by Garrett Bauman.
Acquired via a controversial trade during the 2009 offseason in which three draft picks were sent to the Bruins, Kessel rebounded from shoulder surgery to become the Maple Leafs go-to guy in the offensive zone.
Despite missing a month of the season, the electrifying 22-year old winger led the Maple Leafs in several offensive categories while providing the team with a legitimate scoring threat -- and their first 30-goal scorer of the post-Sundin era.
Only 22, Kessel has a bright future ahead of him and many suspect it will be only a matter of time before 40-goal seasons become the norm.
In continuing with our preparation for the 2010 NHL Entry Draft, which takes place June 25th - 26th at the Staples Centre in Los Angeles, today's draft primer will profile right winger Brett Bulmer from the Kelowna Rockets of the WHL. Bulmer is quickly climbing up draftboards across the NHL after coming out of nowhere to have a very productive season out west. The intriguing combination of skating ability, size and offensive upside could see him go pretty high on draft day. [more…]
It was a light day practice wise as the optional skate drew only a handful of players to the MasterCard Centre for Hockey Excellence.
[more…]
I attended practice at the MasterCard Center for Hockey Excellence, watching a loose group of players reveling in the 4-1 win over their provincial arch rivals. It all began with a loose skate, just a warm-up involving firing some pucks off the boards along the way.
[more…]
I'm about as optimistic a person as they come, but tonight's loss against a struggling Penguins team just hammers home the message that there simply isn't enough skill on this roster. It was a pretty bland effort overall as they couldn't capitalize on key scoring chances and made a few mental mistakes that resulted in the back of their net. [more…]
Tonight's  loss against the Northeast rival Buffalo Sabres seemed to play out like the typical Maple Leaf '09-'10 regular season game thus far. A fairly decent effort for about 75-80% of the game, a few brain cramps here and there, a ton of unconverted offensive opportunities, an unlucky bounce or two, along with the end result of an "L" in the record books. [more…]
Leafs coach, Ron Wilson made it clear, Nazem Kadri will not be getting a nine-game audition this season, just to be sent down to the OHL London Knights. Answering questions in the media scrum after the scrimmage at training camp in the Mastercard Centre of Hockey Excellence, Wilson was adamant about being against an audition for the young pivot. In order to stick with the Leafs, the 1st round pick in the 2009 draft will have to beat out one of Mikhail Grabovski, or Matt Stajan for a top-6 role in order to stick, and as of Wilson right now, both are 'way ahead' of Kadri for a spot at the moment.
Kadri will get every opportunity to earn a top-6 spot, but unless he completely overwhelms, expect to see him in London for the entire season.
More notes from Training Camp, Day 2.
[more…]
The Maple Leafs began on-ice workouts today at their new practice facility, the Mastercard Centre for Hockey Excellence.
I've been given credentials and was on site for the first day and will be attending all three days of on ice practice.
The following are a series of notes from Day 1 …