Chris DiDomenico
The following is live, up to the minute coverage of today's rookie tournament game between the Ottawa Senators and the Chicago Blackhawks. Â Remember to refresh the page to get the latest updates.
Finally the day many of us have been waiting for has arrived. Â The NHL Toronto Maple Leafs rookie tournament kicks off this afternoon in London, Ontario, and for many it's a chance to catch on ice hockey for the first time in quite a while.
Today's action features the Pittsburgh Penguins rookies taking on the Ottawa Senators rookies in afternoon action. Â Also on the bill today, the Maple Leafs rookies will play the Chicago Blackhawks rookies in the nightcap.
Here is all you need to know about today's games.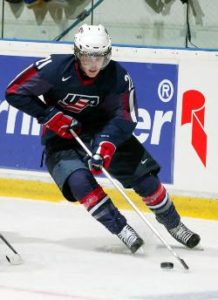 Just a month ago, the Chicago Blackhawks were the envy of the National Hockey League. Â Having finished off the Philadelphia Flyers in six games courtesy of a Patrick Kane overtime goal, the Hawks had climbed to the top of the mountain, and had risen out of what could once have been considered obscurity years earlier, to build a winning team, and break the Stanley Cup drought that loomed over the franchise for so long.
And while many general managers stood in jealousy and envy of Stan Bowman and his management team for the feat they had just accomplished, not one GM was going to envying Bowman in the days following.
For the Chicago Blackhawks, winning the Stanley Cup came at a price, and it was rather large.
Since they won the Stanley Cup, the Blackhawks have made many moves, tearing down their roster that brought them their once elusive championship. Â Fan favourites were shipped out in favour of draft picks and younger players, on cheaper contracts.
One of those trades involved Kris Versteeg, a trade Brian Burke was all too happy to accommodate.
Trades are never won or lost when initially made, and tonight's multi-player deal with Chicago is the very embodiment of that fact. Analyzing a deal that sent Kris Versteeg and Bill Sweatt to Toronto for Viktor Stalberg, Phillippe Paradis and Chris Didomenico involves a lot of subjective potential measurement. Â Making the task more difficult is that two teams often come together to execute a trade for very different reasons in a salary cap era.
On the eve of unrestricted free agency, the Maple Leafs made a big first move to upgrade their forward group. According to ESPN's Pierre LeBrun, [more…]
While Hockey's Future has yet to release their top 10 organizational prospect rankings, the highly-respected source for prospect information has released their 11-20 and 21-30 lists. To the pleasant surprise of many, the Leafs aren't on either of them.
Adding to the joy, division rivals Buffalo, Montreal and Ottawa have all already appeared in the 13th, 16th and 21st positions respectively.
[more…]
- On Leafs Lunch this afternoon, it was mentioned that rookie forward Viktor Stalberg has been medically cleared to play and will suit up against [more…]
An interesting question was brought up by Dave Hodge yesterday morning on TSN's The Reporters amid the Phil Kessel whirlwind that erupted over the weekend: if Peter Chiarelli wasn't interested in matching an offer sheet at the dollar figure to which Burke eventually signed the 21-year-old, described by Sports Illustrated's Michael Farber as "a one in 500 chance," why didn't Burke submit the offer sheet and pay but a third rounder instead of an additional first round draft selection? Farber seemed convinced not only that Chiarelli wouldn't match but that Burke's decision to go the trade route instead of offer sheet avenue was to save face, anticipating the charges of hypocrisy he would encounter linking back to his response to Kevin Lowe's offer sheet submission for Dustin Penner that ultimately went unmatched while in Anaheim.
[more…]
Author: B Leaf
Last season, the Leafs were 10th in scoring (244) and 9th in shots on goal (2,603). There is no major reason why that number should drop other than the loss of Antropov. There are other players who should have better years and help fill his ice time with similar results. On the powerplay, the Leafs were middle of the road at 16th. The Leafs were a respectable 17th in shots allowed (2481), but were a league worst in goals against (286). The PK% was also a league worst. Not all the blame can be placed on the goaltending, but a lot of it can. The collective save percentage for the team was an abysmal .885%.
As a reminder/lesson as to what the prospect grades indicate: the number represents a player's traditional realistic potential ability on a scale of 1-10 with ten being "generational talent" and one being "borderline minor league player." The letter (A-F) represents the prospect's realistic chances of achieving their number-rated potential, with A being "all but guaranteed to reach potential" and F being "possess very little potential." In the Leafs' ranks, Nazem Kadri tops out the rankings (with Schenn now considered graduated) as an 8.0C, meaning he's a "first line forward" that "may reach potential, but could drop two ratings." Jonas Gustavsson is ranked second in the Leaf ranks as a 7.5B, meaning he's half way between a "journeyman No. 1 goaltender" and flat out "No. 1 goaltender," with the realistic probability of reaching his traditional potential "likely" with the possibility of dropping one rating. Ranked third is Mikhail Stefanovich at 7.5C, which essentially means he's somewhere in between first and second line potential, with the possibility that he could drop as far as two ratings.
In just over two weeks, the NHL Entry Draft will be upon us.  Naturally, speculation as to the future destination of the top prospects is heating up.   With July 1st rapidly approaching, trade rumours (some related to the draft, some not) and free agent speculation are abounding with fury.  And, of course, possible internal team moves are getting their fair share of play as well.
Here are a few scenarios based on the latest buzz surrounding the Maple Leafs.  The question is:  which of these scenarios would you consider, and why?
Two contrasts in Leafs prospects from the Memorial Cup with Chris Didomenico breaking his left femur, and the continued development of Dale Mitchell.