Chris Kelly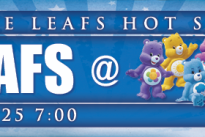 Toronto Maple Leafs (17-12-3) at Boston Bruins (17-9-6)
Last 10: Toronto 4-3-1; Boston 5-2-3
The Leafs did it. They beat the Boston Bruins. As a reward, they get to play them again two nights later.
It took a good mix of a lot of things going right to pull it off their first win over the Bruins in nearly two calendar years. To the Leafs' credit, they finished their hits, got involved in the game early, caused some turnovers and grabbed an early lead. They were patient and the amount of respect they had for their opponent, and their hunger to finally beat them, was apparent in the extra effort the likes of Kadri and Kessel among others were putting in defensively. [more…]
Be sure to check out Nikhil's post-game thoughts from last night.
Tuesday night, September 21st, about 6:40 p.m.  I am dancing - yes, dancing, provided you can call a kind of frenetic spasticism punctuated with finger snaps and some twirling hands "dancing" - to no music in my kitchen as I cook our pasta for dinner.  I am in a rush, and I am excited, because after a long summer of legal wrangling over the Kovalchuk contract, eternal speculation about Tomas Kaberle's status and apparently endless MSM vs. blogger hissy fits, the puck is finally dropping on the preseason.  Don't get me wrong, I know that the preseason sucks.  I know it's not reflective or in any way predictive of how the team will do during the regular season - I've been a hockey fan long enough to know that, and last year's brilliant exhibition campaign is still fresh in my memory.  Almost as fresh as the oh-and-eight start that followed it, once the games counted.
Tonight will be a Battle of Ontario, as the Toronto Maple Leafs travel to Ottawa to take on the Senators in a Northeast Division bout. Vesa Toskala will get the nod in goal for the Leafs, while Pascal Leclaire will get the start for the Sens.
Update: Brendan Shanahan Officially Retires.
[more…]