colorado
Newest goaltending consultant to the Leafs, Francois Allaire, father of the modern butterfly with exceptional credentials including working with Patrick Roy, Brian Hayward, as well as the guy who morphed Guy Hebert into an All Star in 1997 and J.S. Giguere. Most recently he worked with Ducks back up-turned-starter, Jonas Hiller to backstop the Ducks to a seven-game Round 2 of the 2008-09, Stanley Cup Playoffs.
Fine credentials indeed, but what can he do with the batch of Leafs goaltenders?
[more…]
I've been trading a few emails of late with some "non-sources" (I want to be very clear about that) employed by various media outlets in the Toronto area, to get their take on the rapidly-churning Maple Leafs' rumour mill.
Although these folks are obviously not directly tied to anyone you would call a "source" affiliated with a team, their insight is often valuable as they are privy to more of the backroom chatter with those who are connected to the so-called "sources".
Part 3: 20 Years of Maple Misery
From Gord Stellick to Cliff Fletcher Version 2.0
It's been over 40 years since the Leafs won the cup and while others make fun of the fans for continuing to cheer, here is an overview of why you shouldn't make fun, but feel bad for them…
[more…]
So you're Brian Burke and it's July 1st.
Who do you go after? And what is the contract you offer?
As the goals against continue to pile up, so do the questions regarding the Toronto Maple Leafs' future between the pipes. Last night's 7-5 drubbing at the hands of the Boston Bruins officially moved the Leafs to the basement of the NHL in terms of goaltending and defensive play with an astounding total of 274 goals allowed (3.41 GAA). Combine that with a league worst 88.4% save percentage and you've got some serious issues. The team directly above them? Andrew Raycroft and the Colorado Avalanche. Ugh. [more…]
A quick look at the NHL standings reveals that with 11 games remaining, the Toronto Maple Leafs have not yet been mathematically eliminated from either the playoffs, or last place overall.
A numerical analysis reveals something even more interesting.  Mathematically-speaking, the Maple Leafs are leading the race for the 6th overall pick in the draft.
The American Hockey League has released the 2008-09 Clear Day Period lists for each of its 29 member clubs.
[more…]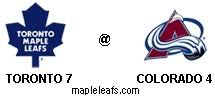 It was a game that was circled with a red marker on the calendar, for the Maple Leafs. They would travel to Denver to meet the Avalanche, but this visit had a different feel to it; a different aura. It was potential revenge for ex-blue and white-ers, and similar revenge for a team that struggled the last 3 seasons.
[more…]
There are a ton of rumors flying around on the Toronto Maple Leafs. Some a downright ridiculous and some may very well have merit. This is a close outlook on a few of those rumors and speculation. We're under 2 months away from Hockey Christmas, where all the wonderful surprises of wanted and undesired gifts are passed around. A shopping list is what we all hope the Leafs are after, but sometimes there's other plans that could be in place which may not seem so attractive at first. Consider that the following is merely speculation and rumors.
[more…]
In October 2008, a reporter set the Barilkosphere into a tizzy with a certain writing. The intention was simple, a deliberately cruel finger pointing at Leafs Nation.
The backlash was tremendous, and it inspired Pension Plan Puppets to trigger a massive response to the piece. It shows the unifying force behind the internet, allowing fans the opportunity to voice dissent.
[more…]
Just six months ago many a grapevine was carrying rumor of NHL expansion while I lamented the integrity of a revenue bound salary cap. Even into the new season few had foreseen the sheer gravity of the global economic downturn and its impact on jobs, housing, businesses and every facet of life down to sport. Now as international markets stutter into a depression that many an analyst believe could change the face of modern capitalism forever, the NHL seems to remain steadfast in addressing it's minor successes as opposed to it's crippling and potentially devastating financial model.