Darren Dreger
For a second consecutive article, Damien Cox, who seems to have a direct line into the Leafs front office, has reported the Leafs are not in the running for the services of Rick Nash. Nash apparently does not have the Leafs on his shortlist of teams after all.
Perhaps that's the case for the Maple Leafs when it comes to Rick Nash, a player they once coveted. Nobody seems quite certain where the Columbus Blue Jackets sniper will end up if he is indeed traded this week, but the Leafs are convinced that if they ever were on Nash's short-list of teams for which he would waive his no-movement clause, they aren't now.
Just as you cross one name off the wanted list, Bob McKenzie has tossed a familiar name into the ring:
Hearing ANA's Bobby Ryan is "available" again after being taken off trade market after Randy Carlyle's Duck departure.
Adds McKenzie:
That doesn't mean Bobby Ryan is sure to be moved. It does means ANA's phone will be/has been ringing and they will be keenly listening.
Let the fun continue. [more…]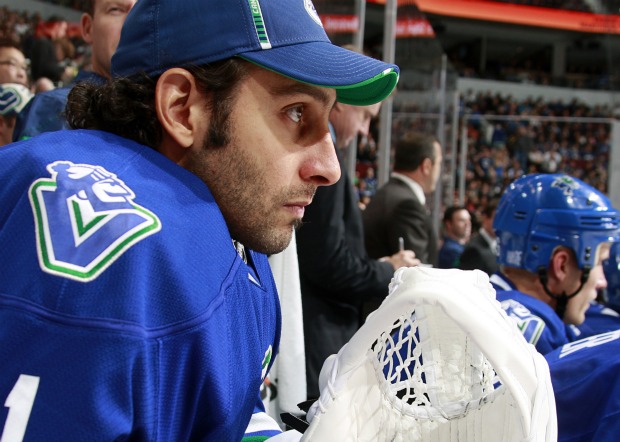 During TSN's regular "Insider Trading" segment last night, McKenzie, LeBrun and Dreger each had an opportunity to drop some information on us regarding Roberto Luongo and the Leafs. McKenzie also had a chance to clear the bogus rumors of Brian Burke being fired in the next little while, and not surprisingly, the site that started the rumor took it down immediately afterward. Anything to get page hits for a couple days I suppose.
It's no secret that teams have begun kicking tires on Luongo, and two of the most noted on Insider Trading were the Panthers and the Leafs. Florida was a name many threw out there when the Luongo rumors first started, but that quickly turned into just the Leafs and Tampa Bay due to their insane need for goaltending.
Just a quick hit here; Darren Dreger reports from Insider Trading that the Leafs have received an offer for Mikhail Grabovski.
From @DarrenDreger:
For those unable to see Insider Trading. Offer for Grabovski is for a 2nd rnd pick and prospect. Could get more. Still hope to re-sign him
Not much in terms of a return, but we obviously have no idea who the prospect is. Dreger also hinted that the deal could grow and the 2nd be upgraded to a first, for example.
Grabovski is set to become an unrestricted free agent on July 1st. A negotiating tactic to release the news of the offer? Perhaps.
Toronto Maple Leafs General Manager, Brian Burke should have uttered one phrase to explain the situation, one simple little phrase to envelope the reasoning for the Phil Kessel trade;
"Our picks in our vision of where we ended up are overvalued in accordance to the available crop of prospects."
But in Toronto, to admit that in what's deemed as a 'rebuild' would have been a PR disaster.
Despite popular opinion, he wasn't wrong.
The world is no longer flat, it's round .. like a full-cirle
Flyers officially kick off July 1st festivities by acquiring Andrej Mezaros from the Lightning in exchange for a 2nd round pick. Rumors of Boston centre Marc Savard potentially heading out west to Calgary as well.
As for the Maple Leafs, they will have $10.5 million in cap space to play with today, though that figure does not include the possible removal of Kaberle's $4.25 million via trade or Finger's $3.5 million as a potential waiver candidate.
The Leafs have been linked to defenseman Dan Hamhuis, forwards Raffi Torres and Colby Armstrong, and will also kick the tires on sniper Ilya Kovalchuk. Darren Dreger believes the club will look at adding a 3rd line forward along with a defenseman to "stockpile for later deals". Stay tuned to this blog for updates on signings throughout the day. [more…]
Per the Globe & Mail:
Leafs Lunch is no longer being served at AM640 in Toronto. The daily hockey program, with Bill Watters and Darren Dreger, has been cancelled by the Toronto Maple Leafs' host broadcaster after making a concerted challenge to the Fan 590 in the noon-to-1 p.m. time slot. The station will instead go with a syndicated talk format with Charles Adler from noon to 4 p.m., followed by the Bill Watters Show from 4 p.m. to 7 p.m. The station will apparently direct its sports resources to the Watters show. "The Leafs Lunch brand is not going to die," program director Gord Harris wrote in a staff memo obtained by Usual Suspects. "It will live on -- in a modified form -- beginning in September." -- Full article here
UPDATE Per William Houston:
The Leafs Lunch show with Darren Dreger and Bill Watters will be shuttered in early July. Stafford's mid-morning show will be extended to 1 p.m., when Adler will take over, followed by the Bill Watters afternoon drive at 4 p.m. Previously, Stafford took a break from noon to 1 p.m. , when Leafs Lunch was on the air, and then came back for another hour from 1 p.m. to 2 p.m. Why was Leafs Lunch cancelled? Mostly because of ratings. -- Full article here (glove tap to ingy56 for the link.)
According to TSN's Darren Dreger, Leafs vice president of hockey operations Dave Nonis is on the verge of agreeing to terms with the organization on [more…]
An active voice in the betterment of the sport of hockey, Brian Burke has three rule change proposals according to Darren Dreger. And I like all three, with some trepidation.
[more…]
Per Darren Dreger (TSN):
"MRI determines Keith Aulie requires shoulder surgery. He's done for the year."
---
Not expected to play with the Maple Leafs [more…]
On the heels of Saturday night's rumour from the Hockey Night in Canada Hot Stove panel that the dealing of pending free agents Matt Stajan and Alexei Ponikarovsky is a virtual certainty, TSN's Darren Dreger has listed the pair as the fourth and fifth most-likely trade candidates this trade deadline (Stajan followed by Ponikarovsky) as Brian Burke seeks to re-equip his club with picks lost or equivalent prospects.
There's already some discussion going on in the threads, but let's get all of that latest news out on the table:
- TSN's Darren Dreger recently tossed out his list of top 10 candidates to be moved at this year's trade deadline, with Matt Stajan and Alexei Ponikarovsky figuring in at the 4th and 5th spots respectively. He suggests that Stajan would perhaps yield "a decent prospect or drafts picks in return" and that Ponikarovsky would likely fetch a similar price. It's always hard to gauge the trade deadline market as values fluctuate on a yearly basis, but I've got Ponikarovsky pegged as an Antropov comparable (2nd round pick) as a big body and 60 point player while Stajan may compare favorably to Moore (2nd round pick starting price) as a depth centreman who can put up some points in the right situation. [more…]
It was the same old story for the Maple Leafs last night. Another bad start, another power-play goal against, another game where they outshot the opposition badly, another good effort, but another loss. The Leafs dropped their fourth in a row, 4-2 to the last-place Carolina Hurricanes.