Dean Lombardi
A former Leaf is about to sign with Los Angeles, as Alexei Ponikarovsky has agreed to join the Kings (although a deal has not yet been signed).  This ends some speculation that "Poni" would have to take his games overseas, as this summers UFA market has seen a lot of viable NHL players still without a job.  Ponikarovsky was shipped to the Penguins by Toronto at this year's trade deadline, bringing back Luca Caputi in what was a very fair exchange of players.  However, Pittsburgh was expecting the Ukrainian to contribute at the level that saw him pour out 61 points for the Leafs in 2008-2009.  With a disappointing 9 points down the stretch for the recent champs and an awful showing in the playoffs, teams weren't exactly lining up to sign the 30-year old.
Okay, so my math may be a little off. Â It's Canada Day weekend, there shouldn't be any arithmetic. Â Unless, of course, you are an NHL general manager, than you better hope you have your math hat on. Â A quick note to say I hope our fellow Canadian readers, as well as our loyal readers situated the south had an enjoyable holiday weekend.
Now, let's divulge into what has so far been a somewhat reserved free agency period, One timer style.
--The big news coming out of free agency this hour is this report out of the L.A. Times that indicate the Los Angeles Kings are quite far apart on signing Ilya Kovalchuk. While they may not be out of the running entirely, Helene Elliott suggests the prospects are quite dim. Â So where does Kovalchuk go? Â The Islanders reportedly seem to be the only team willing to offer him the term he is looking for (rumoured to be 10 million for at least 10 years) but are there other suitors? Â What about New Jersey? Â Toronto? Â One would think that although Burke would love to pull off the major move of free agency, the reasons Kings GM Dean Lombardi is balking about bringing in Kovy (term) is likely the same reasons Burkie has reservations. [more…]
According to LA Kings beat writer Rich Hammond, it appears as if Kings winger Alexander Frolov is set to become an unrestricted free agent on July 1st. Citing an interview with Kings' GM Dean Lombardi, Hammond explains that the team is "not optimistic" about their chances of retaining their young sniper. Should the Leafs be interested in his services? [more…]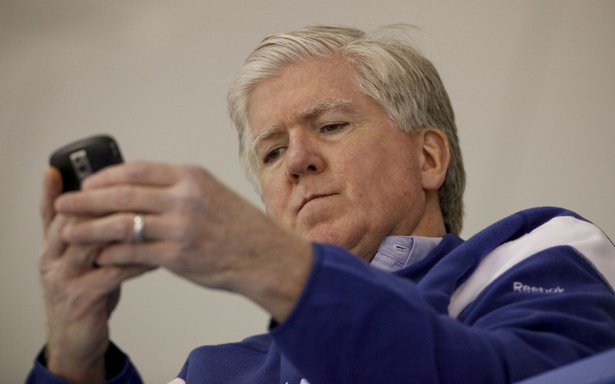 From USA Today - 3/1/2007:
Anaheim Ducks general manager Brian Burke has always been among the NHL's most colorful wheeler dealers. In 2005-06, he overhauled his [more…]
While he would never admit it, Ontario native Nazem Kadri must of felt a twinge of anger at how the biggest day in his life panned out. Treated like a high steak pawn at the 2009 draft where the dreams he worked so hard to achieve were to be realized, Kadri watched as a bitter Brian Burke failed to secure the vaunted trade northwards, then faced the ignominy of TSN analyst Darren Dreger questioning Burke about Brayden Schenn as he sat in silence, festooned in his Maple Leafs jersey. For sure it must have been disappointing and one can only hope he didn't venture toward any Leafs related websites that night.
Five trades that almost happened.  Count 'em, five separate deals.   So close, yet so far away.
A very good source has it that Brian Burke saw five separate draft day deals fall apart in the last minute of each.   He worked his tail off on each, only to see the other teams back out in the end for a myriad of reasons.  Yet despite these disappointments,  Burke was still able to land a very good player in Nazim Kadri at #7, so the draft wasn't a total loss by any means.
According to Andy Strickland the first draft-related move of this (almost) off-season has transpired.  Chris Pronger has been traded to the Los Angeles Kings for "a package including Jack Johnson and the 5th overall pick."  Note that this is an unconfirmed rumor.  However, in the past Strickland has been very reliable.
*EDIT*: Strickland has revised his stance slightly.  New blog link is up.
In the MLSE land of unreasonable expectations, even a superstar troupe like Burke and Wilson will not be afforded another record breaking season; at least not if said record is a fifth consecutive season of playoff free hockey. Subsequently Burke is going to be looking for a catalyst to the rebuilding project come summer and the most obvious route will arrive in early July, not a week earlier in Montreal.