defensive end
Be sure to check out Junior's thoughts from tonight's tilt.
Hey, let's get this straight right off the bat: it sucks to lose 5-0 to the Ottawa Senators. Â Any day of the year, any type of game. Â There will undoubtedly be at least one mainstream media headline out there along the lines of: "Leafs back to losing ways". Â But a step back will tell us this is the first of a whopping nine exhibition matches Toronto will be playing and a ton can (and probably will) change in the next two weeks.
In my continuing statistical analysis of new and old Maple Leafs, I've decided to take a look at Matt Stajan in 2009-10. His play during his Leaf tenure was often a hot button discussion that somewhat divided the fan base. After all, he's only 26 years old and he has scored over 50 points back to back now. Maybe Burke's statisticians brought some of his more unknown negative characteristics to light, making the decision to move him a little easier. Thanks again to BehindtheNet.ca for having all of the forthcoming information readily available for the public. [more…]
For Greg McKegg, nothing has necessarily come easy in his hockey career. Â A slow start to his rookie campaign in Erie, followed by a knee injury which threatened the start of his season this past year, McKegg began the year as a winger for the Erie Otters that ISS ranked in the 90's.
It was something that McKegg couldn't not think about, no matter how much he tried.
"It's something you try not to think about too much really, but you can't help but look. Â It was disappointing to see that for sure, but I think it gives you that edge to work harder and show people that you deserve to be higher up on the list."
And that is exactly what he did.
Being described by some in the hockey circles as a perennial underdog, McKegg did the only thing he knew how to do. Â Work hard.
The Maple Leafs have signed prospect Philippe Paradis, a 2009 1st round pick (27th) who as you may recall was acquired earlier this season from the Carolina Hurricanes in exchange for 2006 1st round pick Jiri Tlusty (13th).
Paradis' Junior team, the Shawinigan Cataractes, were recently eliminated from the QMJHL playoffs. The Leafs elected to get Paradis signed immediately following his team's elimination so he can be sent to the AHL Toronto Marlies to gain some professional-level experience.
As the playoff hopes gradually continue to fade for even the most optimistic of fans, the focal point of the Maple Leafs over the last few weeks has been on the stellar play of several key young players. Bozak, Kulemin and Kessel have been dynamic and dangerous in spurts as the team's first line, building chemistry together and showing real signs of promise. Caputi, Hanson and Stalberg are giving indications that they could be part of a solid supporting cast someday, with strong board play, good size and tenacity in chasing down loose pucks. On the back end, Gunnarsson has been nothing short of a tremendous surprise, coming in mid-year as a 23 year old rookie, but playing with the poise of a 10-year veteran in over 21 minutes a night. But today, the focus will be on the more subtle progression of a another young blueliner who is reminding Toronto fans why the team took him with its highest draft selection in 20 years. [more…]
It took a while, but the Toronto Maple Leafs are finally starting to look comfortable on home ice, and on the ice in general, as one of their better overall team efforts led to a 3-2 win over the New York Islanders on Wednesday night in front of a joyful, loud crowd at the Air Canada Centre.
Jason Blake scored the winner with just under five minutes left in the third period as the Leafs skated away with a hard fought 3-2 win.
Francois Beauchemin and Ian White also scored for Toronto, who improved to 7-2-2 in their last eleven games. Â John Tavares scored both goals for the Islanders.
I read an article in the Toronto Star the other day, in which Damien Cox suggests that the Maple Leafs weren't as soft of a club as many believe last season, due mostly to the fact that the Leafs were tied for 13th in the NHL regarding fighting misconducts, and were 15th overall when it came to penalty minutes. The point was to demonstrate that the club was average in terms of team toughness, not the soft club many of us and Brian Burke believe.
Ian White, he is perhaps the Toronto Maple Leafs' most underrated defenseman. And how, you ask? It's simple: White has the potential to produce 10-15 goals and 40-45 points next season.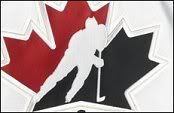 Overview:
Canada did all the right things in tonight's game. They played a great cycling game in the offensive zone and have gotten more creative in their passing plays. They continued their crash-the-net tactics and even moved the puck out for some big point shots. On the defensive side, they played the 1-2-2 trap system the Fins used Sunday night, and applied an aggressive attack in the defensive end to completely shut down Richard Panik and the Slovaks.
[more…]
After dealing away high picks for so many years, it finally looks like one of the NHL's worst farm systems is beginning to turn the corner these last couple of years.
For the most part, the Leafs' prospect talent level is very top heavy with a few bluechippers heading this list, followed by an intriguing combination of high potential boom or bust prospects in the lower ranks. The orgainzation's biggest strengths are its depth at the centre position and generally high skill level among its forwards. The farm system's weakness occurs on the blueline where there is little to look forward to beyond Schenn and Stralman, particularly if Vorobiev decides not to come over. The general lack of speed in the organization is also a cause a for concern. [more…]
A few notes on the Leafs recent demotions, Wednesday's roster tidbits and a quick review of Monday night's affair with the Blues.
[more…]