Denver
Prior to the lockout, undrafted college free agents were a rare, straight to NHL commodity. Either serving out their apprenticeships as minor league signees or plying their trade overseas, few players transitioned directly from the ranks of college hockey to the NHL without enduring prolonged development curves. However, in a post-lockout landscape where GM's clutch their most valued assets and superstars to their clubs with dynasty length deals, and where dollars and ice time are apportioned in equilibrium, graduate aged (or younger) players progressing from the NCAA as free agents are providing comparatively cheap labour in an increasingly scrutinized marketplace.
Not too surprisingly, considering both his hockey heritage as a former captain of the Providence College Friars and his somewhat condensed timetable for rebuilding the Leafs, Brian Burke has been one of the first to plunder the verdant college market in recent seasons, in turn providing a quantum shift from the conventional dominance of the CHL at the junior level. [more…]
Remember Jimmy Hayes?  He was the Leafs 2nd round pick in 2008, a burgeoning power forward who struggled last season in his freshman campaign with the Boston College Eagles as he adjusted to the NCAA game.
Consider those struggles a thing of the past.
Hayes was fantastic in the Hockey East Championship this past week as his team captured their ninth tournament victory, an NCAA record.  Oh, and you may be interested to know that his 2 goals and 5 assists (in 4 games) led all tournament point-getters.
Friday night saw a host of impressive performances from a few Maple Leaf prospects; among them is QMJHL power forward Joel Champagne of the PEI Rockets who turned in a ridiculous 7 point performance. Nazem Kadri also chipped a pretty shorthanded goal and 2 assists for London. Meanwhile, Phillipe Paradis was held scoreless in his debut performance as a Leaf prospect. [more…]
Leafs prospect Nazem Kadri has successfully passed the first hurdle en route to a possible World Juniors roster spot, by earning an invite to the final selection camp earlier today. The roster currently encompasses 36 invitees in total, a number which Team Canada Head Coach Willie Desjardins will have to narrow down to 22 by the end of camp. [more…]
Last week, the Toronto Maple Leafs held their prospect development camp to gauge the progress and future outlook of both prospects within the organization, and unsigned players on the team's radar.
The camp, which ran from July 5th to July 10th, featured six full days of on-ice practice activities and off-ice seminars ranging from nutrition to lifestyle to the business of the NHL.   It provided an opportunity for the players to get to know their possible future teammates, as well as the chance showcase their abilities to the team's player development personnel.
It has been reported that Patrick Roy, who has been hovering around Denver these last few days, has been offered the head coach position for the franchise. I know what you're thinking, "but doesn't Tony Granato have that job?" No, not really. He's been fired but everyone forgot to call him. I'm sure he'll figure it out when he opens the paper sometime in the next few days and reads that he's been replaced, unless he's somewhere hockey isn't mainstream. I hope he is, for his sake, because Day 1 of training camp would be awkward if no one bothers to let the poor sap know of his circumstance.
That brings us to the Worst Firings in Hockey History.
[more…]
Courtesy of Sportsnet:
"The Toronto Maple Leafs have won the race to sign highly-touted free agent forward Tyler Bozak from the University of Denver Pioneers, sources tell Sportsnet. A strong two-way centre, Bozak has been generating league-wide interest since his freshman year with as many as 25 NHL teams trying to get his name on a contract." [more…]
The Tyler Bozak "Sweepstakes" are nearly coming to an end and according to Bob Mckenzie, the talented young forward from the University of Denver may make his decision as early as today after much speculation that he was supposed to sign yesterday. Apparently, the 23 year old Regina, Saskatchewan native has narrowed down his list to 3 or 4 teams, with Toronto and Ottawa believed to be among the finalists. [more…]
According to Darren Dreger, the Toronto Maple Leafs are closing in on a contract with Notre Dame senior Christian Hanson, son of the legendary Dave Hanson from the cult classic "Slapshot". This move is just the beginning of what should be a very busy offseason for Brian Burke as he attemps to replenish the Maple Leaf farm system. [more…]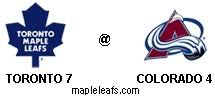 It was a game that was circled with a red marker on the calendar, for the Maple Leafs. They would travel to Denver to meet the Avalanche, but this visit had a different feel to it; a different aura. It was potential revenge for ex-blue and white-ers, and similar revenge for a team that struggled the last 3 seasons.
[more…]
On the topic of spin-o-ramas, here's a highlight reel play from Leafs' 6th rounder in 2006 Tyler Ruegsegger during recent collegiate action. [More after the jump, including an update from U of D head coach George Gwozdecky].