detroit
This might have been as close as the Leafs will get to a playoff game this year, but even having that playoff atmosphere in the air, that compete level on the ice and a great crowd at the Joe made this game worth watching. Continue.
Tonight, the Leafs face a strong Detroit team, one that is expected to make a deep postseason run. However, if there was ever a time to exploit their goaltending woes and the injury bug that's been very unkind to the Wings lately, it's now.
This will once again be a one and done meeting and both teams will look to make the most if it. No question that the Leafs need the 2 points more, but this Detroit team will look to show some early character and team spirit prior to the start of the playoffs.
Here are tonight's lines courtesy of Pension Plan Puppets:
Versteeg - Bozak - Kessel
MacArthur - Grabovski - Kulemin
Sjostrom - Brent - Armstrong
Orr - Zigomanis - Brown
Beauchemin - Phaneuf
Kaberle - Komisarek
Gunnarsson - Schenn
Giguere
Gustavsson [more…]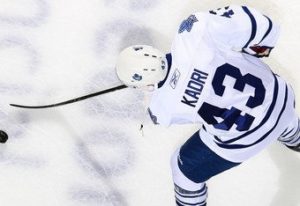 Jeff Finger returns to the line-up tonight in Detroit in what many will suggest is his Maple Leafs swan song/final pit stop en route to the Marlies. Burke is saying the right things about Finger's right to a "fair look" and the importance of respecting players acquired via free agency as it relates to organizational reputation. But the realities are this: the Leafs are sitting with both Brett Lebda and Finger on the outside of their top six, over the cap by around $300k and uncomfortably close even with Lashoff and his $550k assigned to the Marlies. And that's assuming Nazem Kadri and his $1.7 million cap hit will not be a part of the roster come opening night. If it's important to show respect to signed free agents, surely Lebda won't be Marlie-bound after his first training camp as a Leaf. Simply, something has to give, and the $3.5 million Finger, a Leaf of two seasons now, seems the obvious candidate for demotion. [more…]
Perhaps the best part about Nazem Kadri's two-goal, three-point performance last night against the Ottawa Senators is that he can start the season with the Toronto Marlies with his head held high. Certainly, Leafs fans, management and Kadri alike will hope he can relay last night's performance on the wing into another strong showing against Detroit on Friday and make a case for a place in the big Leafs' top six for the October 7th date with the Habs. But should Kadri's play return to the form he exhibited in previous preseason showings - by no means terrible, but not as impressive as it will take - he can take solace and confidence in last night's achievements and start off on the right foot at the Ricoh. [more…]
The Leafs head to the capital tonight to take on their bitter provincial rivals, the Ottawa Senators, for the third time in seven preseason games.
Tonight's game figures to be the last chance for players on the bubble, including highly-touted Nazem Kadri, to make a lasting impression. When asked about these players, head coach Ron Wilson was emphatic:
"When the puck drops on the first day, you better be ready to go. No tip-toeing around. No 'oh, the water's cold, I'll wait until it warms up a bit'. Nope, you're diving in and the guys who didn't, as [Leafs' GM Brian Burke] said, they're waiting by the bus stop. Well, they missed it, the bus already left. Now their job is running down the road hoping they can get on." (via)
With the pre-season set to end with a home-and-home against Detroit to open the month of October, the general sentiment is the Leafs will use a roster for those games comprised of the players who are expected be with the NHL club on opening night. For Nazem Kadri, John Mitchell, Jay Rosehill and Mike Zigomanis, tonight (or by a slim chance the first of the two Detroit games) may be their last shot.
At this time last year, Jerry D'Amigo was a little known Maple Leafs' draftee who had been passed over 157 times by other clubs only a few months before. After a banner year at Rensselaer Polytechnic Institute in the NCAA and a brilliant run at the World Juniors, the not even 20 year old D'Amigo currently finds himself with an NHL contract, an invite to training camp, and a legitimate shot at making his dreams come true as soon as this fall. That was last year. Now let's take a look at some of the names that could be making some serious headway up the Leafs' organizational depth charts in 2010-2011.
Brett Lebda has barely registered on the radar for Leafs fans and with good reason. This offseason is yet again centered solely on Tomas Kaberle, while Lebda toils away on the bottom pairing in many fans' minds. Expectations are understandably low for Lebda, so it now becomes important to gauge proper expectations. All stats not specifically referenced are found on BehindtheNet.ca.
Lebda primarily played with two people in 2009-10. Those players are Jonathan Ericsson and Brad Stuart (courtesy of DobberHockey.com). Lebda registered the fewest points in the trio at 8, with Ericsson amassing 13 and Stuart putting up 20. Lebda's -2 rating is by no means a good stat to have, but it is significantly better than Stuart's -12 and Ericsson's -15. So in looking at these basic stats, we find that Lebda is average defensively and sub-par offensively. However, do advanced statistics shed any more light on his overall play? Let's find out. [more…]
Why the Maple Leafs should make the playoffs in 2010-11‏
By: Joe Cino
Everything that could have gone wrong for the Maple Leafs in 2009-10 did. A combination of cold streaks, underperforming veterans, bad goaltending and a slew of injuries capped off a basement finish. The roster has been fine tuned, with additions like Giguere, Phaneuf and Versteeg chief among them, but by and large most of the roster is the same as last year's iteration. With so many holdovers from the previous year, are the playoffs a realistic goal for the Maple Leafs? I believe that they are, with Corsi ratings, Goals versus Threshold and the realistic impact of the new Leafs taken into account. [more…]
When Brian Burke added Mike Komisarek and Francois Beauchemin to an established Leafs cast of Luke Schenn, Tomas Kaberle, Ian White and Jeff Finger it looked to all that the Toronto GM had built himself an enviable problem. A premium blueline, arguably one of the finest in the Eastern Conference, that also came with a premium price tag.
Of course, what began an enviable problem on paper quickly devolved into an actual problem when the new additions failed to mesh into a cohesive unit with defensive and special team frailties more apparent than those of an comparatively budget offense.
According to the Toronto Maple Leafs official Twitter feed, the club announced today the signing of free agent defenseman Brett Lebda to a two-year deal worth $1.45 million per season.
Lebda spent the last five seasons with the Detroit Red Wings after the organization signed him as a free agent in 2004, picking up a Stanley Cup ring in during his stay in '08.
Lebda's career high in points is 18. Â He had 16 two years ago, but saw his total fall to just 8 points last year, though he did only play 63 games due to a back injury.
Lebda has great pace and puck-rushing ability, though his point-total doesn't necessarily reflect that.  The Buffalo Native is thick for his height at 195 pounds, but is a bit undersized at 5'9. He does play a game bigger than his frame would suggest. $1.45 million seems a tad pricey, but hopes will be that Lebda will be able to improve production on a Leafs blueline that doesn't have the type of elite offensive weapons from the blueline like Detroit had in Brian Rafalski and Nik Lidstrom (this providing Kaberle is dealt, and no doubt this seems like a poor-man's replacement). [more…]
It was a quiet Day One at the 2010 NHL Draft for the Maple Leafs, but the team stepped up its game in a big way on Saturday afternoon. The club wheeled and dealed its way into the 2nd round of the draft and through some crafty maneuvering in the later rounds, managed to add seven new players into the organization.
The Leafs were able to significantly upgrade their depth up front, by grabbing six forwards to go with one defenseman. Surprisingly, Leafs' Swedish scout Thommie Bergman had a big day, selecting three players from the Swedish leagues. [more…]