Dmitry Chesnokov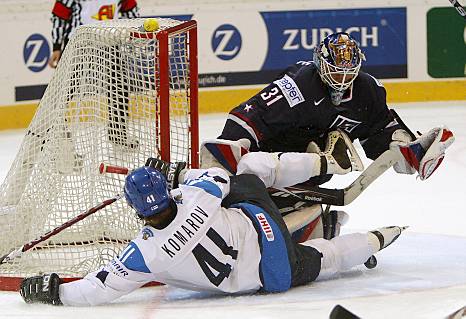 According Puck Daddy's Dmitry Chesnokov, it appears that the Maple Leafs are poised to sign 25 year old forward Leo Komarov, their 6th round pick from 2006, to an entry level contract following the World Championships. Last summer, it was believed that the team made a push to sign the young agitator but Komarov respectfully declined, preferring to spend one more season in the KHL. Should these rumors come to fruition, the Leafs will be adding plenty of nastiness and physicality to their bottom six group this fall.
The 5'11 210 pound Estonian born Finn has been honing his craft for the past 3 seasons against men in the KHL. At the NHL level, he likely fits in as a 4th line super pest who offers a high energy, in your face type of game. Komarov is an emotional player upon whom teammates can feed off of. His strengths lie primarily in a speedy, forechecking type of role with the ability to get under his opponents' skin. He's an average player in the 5 on 5 setup but is quite effective as an open ice forecheck due to his excellent skating and impressive ability  to recognize and close down open lanes. He absolutely loves to chirp and play really close to the edge, making him an easy target at times for officials. During his time in the Finnish SM-Liiga, he was named the league's "Most Hated Player" three times. [more…]
For longtime fans of the NHL, it was nothing new.
An organization set to come in, guns blazing, and attempt to be "competition" for the National Hockey League. Â On the surface, perhaps not a bad idea. Â After all, competition creates creativity. Â Competition brings out the absolute best in everyone.
However, there have been two big attempts by rogue organizations to dethrone the NHL from atop their perch as the number one hockey league.
And just like the WHA years earlier, is it possible that the KHL is going the way of the dodo bird?