energy
Two games in, and the Maple Leafs are 2-0 for the first time in 11 years. While some might be tempted to find meaning within that number, the truth is that in terms of history the number is rather meaningless.
With still 80 games left on the docket, and the Leafs about to embark on their first road trip of the season, expectations must be tempered despite the hot start (and the rare sight of a 4th overall placement on the ESPN Power Rankings).
In other words, a 7-0-1 start (to counter last season's 0-7-1) is probably just a little too much to ask. As if I had to tell you that. Then again, this IS Leafs Nation; somewhere, someone surely needed the reminder.
Follow the jump for a few first-week impressions and musings.
Day Two of on-ice participation is now in the books .. the sessions all had a purpose, as camp not only winds down, but clear decisions need to be made on who will remain with the main roster and who will be going to the Marlies or back to their original junior team.
A breakdown of the drills and more observations from the intra squad game after the jump.
Sunday Training Camp Day 2 practice
Teams A and B practiced with Team A on the main ice. (Breakdown of teams is here.
The drills weren't very different from the previous days, they all focused on a real-game situation and the coaching staff made variations along the way. [more…]
As much as I tried to just sit back and enjoy the game as a fan last night, I couldn't help but take a few notes (this might have been because we ended up sitting among the scouts). So without further ado, here are a few additional observations from last night's tournament opener to supplement Derek Harmsworth's excellent coverage.
It was a quiet Day One at the 2010 NHL Draft for the Maple Leafs, but the team stepped up its game in a big way on Saturday afternoon. The club wheeled and dealed its way into the 2nd round of the draft and through some crafty maneuvering in the later rounds, managed to add seven new players into the organization.
The Leafs were able to significantly upgrade their depth up front, by grabbing six forwards to go with one defenseman. Surprisingly, Leafs' Swedish scout Thommie Bergman had a big day, selecting three players from the Swedish leagues. [more…]
We've partnered up with Pension Plan Puppets to bring to you a Player Review series, where we will be evaluating and grading the 2009-10 season for every Leaf who featured in a significant number of games for the Blue and White last season, with an eye towards 2010-11. Today we feature Colton Orr, profiled by Alec Brownscombe:
Acquired via free agency on a 4-year, $4 million contract last July 1, Colton Orr arrived in Toronto to operate as the club's resident heavyweight, a position left unoccupied since fan favourite Wade Belak was shipped to Florida in February, 2008.
What the Leafs were said to be getting in Orr was not only a player with a winning track record as a pugilist (he was voted as either winning or tying 15 of his 18 fights in 2008-09 according to hockeyfights.com), but also a player capable of skating a regular fourth line shift due to his forechecking energy, passable on-the-puck abilities, and defensive diligence.
In continuing with our preparation for the 2010 NHL Entry Draft, which takes place June 25th - 26th at the Staples Centre in Los Angeles, today's draft primer will profile right winger Brett Bulmer from the Kelowna Rockets of the WHL. Bulmer is quickly climbing up draftboards across the NHL after coming out of nowhere to have a very productive season out west. The intriguing combination of skating ability, size and offensive upside could see him go pretty high on draft day. [more…]
While the NHL Stanley Cup playoffs are in full swing and continue to provide us with some fantastic moments of triumph, the fans of the Toronto Maple Leafs are now forced to once again shift their focus to off ice activities.
And so too has Leafs brass.
Despite his team sitting on the sidelines, Leafs GM Brian Burke made quick work of two signing he was keying in on, signing goaltenders Jonas Gustavsson and newcomer Jussi Rynnas to contracts. Â Continuing with the in-house theme, Burke will now certainly turn his attention to Nikolai Kulemin, if he hasn't done so already.
And while we are seemingly quite far away this point, it won't be long before the draft and subsequent free agency period rolls around.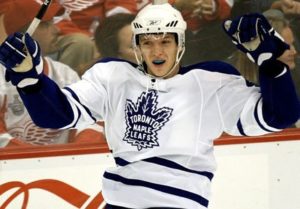 Now that the Leafs' most important pending free agent -- goaltender Jonas Gustavsson -- has been signed to a two-year contract extension, it is time to take a look at their remaining free agent players.
Notably, the list of expiring contracts includes pending RFAs Nikolai Kulemin, Christian Hanson and John Mitchell. Pending UFAs on the Leafs' roster include Wayne Primeau, Rickard Wallin, Jamie Lundmark, Garnet Exelby and Mike Van Ryn.
Last night, the London Knights - and Leafs prospect Nazem Kadri - were eliminated from the OHL playoffs in a Game 7 blowout at the hands of the Kitchener Rangers.
For his part, Kadri makes his playoff exit as the OHL's post-season scoring leader with a remarkable 9 goals and 18 assists in 12 games.
The Kitchener Rangers will now move on to face the defending-champ Windsor Spitfires, whose own lineup features a couple of Leafs' prospects: forwards Dale Mitchell and Kenny Ryan (pictured).
With the NHL season now officially over, the Leafs' players and coaching  staff spent Monday afternoon cleaning out their lockers and addressed the media for the final time. Below is a recap of important comments made. It's generally just the usual lines about how they plan to work hard during the offseason in preparation for a big  year but there are a few interesting tidbits as well. The full audio/video can be accessed in the LeafsTV archive on the Maple Leafs' official website. On to golf season!
With the final bell about to ring season most fans would be happy to forget - although the impending draft all but dictates they most assuredly will not - the Maple Leafs will officially enter the offseason five campaigns removed from the playoffs at the conclusion of Saturday night's game in Montreal.
Unlike previous years, however, this season has revealed to fans -- amidst the rubble of far too many losses -- a silver lining of sorts: the promise of youth.
Pretty obvious choice this week, with two shutout wins making history after poured into Leafs silks.
J.S. Giguere stabilized the crease with immediate impact in a record setting arrival. The NHL draped him with second star of the week honours. He's been rewarded and praised.
So, I'm going off the board.
[more…]