Eric Fehr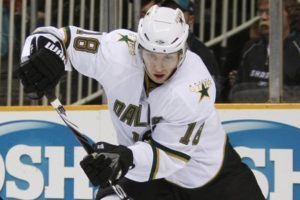 During his first full year at the helm in Toronto, you could make the case that Brian Burke was the league's most active general manager. There was the Kessel summer blockbuster with Boston and then the mega-deals on January 31st that brought in Phaneuf and Giguere. It's quite obvious that he's willing to expend assets to target any top notch premium young talent when it's made available. Both of those trades were opportunities: Kessel was a restricted free agent on a team with cap issues. Burke often spoke of inquiring on Phaneuf several times throughout the year until the "pressure points" of the cap and the struggles of the Flames pushed Sutter into making a bold move. This summer should be no different. Let's take a look at some of the young RFA's that might potentially attract Burke's interest.
An interesting question was brought up by Dave Hodge yesterday morning on TSN's The Reporters amid the Phil Kessel whirlwind that erupted over the weekend: if Peter Chiarelli wasn't interested in matching an offer sheet at the dollar figure to which Burke eventually signed the 21-year-old, described by Sports Illustrated's Michael Farber as "a one in 500 chance," why didn't Burke submit the offer sheet and pay but a third rounder instead of an additional first round draft selection? Farber seemed convinced not only that Chiarelli wouldn't match but that Burke's decision to go the trade route instead of offer sheet avenue was to save face, anticipating the charges of hypocrisy he would encounter linking back to his response to Kevin Lowe's offer sheet submission for Dustin Penner that ultimately went unmatched while in Anaheim.
[more…]
Sorry for the delay guys.  We greatly appreciate the flood of great questions and comments, and are sorry to say we couldn't get to them all. We've all been pretty busy lately for a variety of reasons, so without any further ado, let's get started on the 1st ever Maple Leafs HotStove Hockey Panel Discussion.
Forming our panel for this session is Alec Brownscombe of Hockeybuzz and MLHS godfather, Gus Katsaros of Mckeen's and MLHS fantasy expert, and myself, Alex Tran, an MLHS blogger.
The Leafs waive, demote and start rumors.
[more…]