featured
When Brian Burke took over the GM job in Toronto, there was nothing but talk about building from the net out. A defence first philosophy is a valid one, though recent Stanley Cup winners have shed light on the benefits of fast offence. Ultimately, Burke's initial plan was sidetracked by players like Mike Komisarek and Colby Armstrong. It should therefore have come as little surprise to see Burke dip back into the defensive forward game, snagging Jay McClement for an AAV of $1.5 million.
McClement comes with more defensive pedigree than Colby Armstrong ever did. Avalanche fans were noticeably upset with his departure. In anticipation of the (hopefully) upcoming Maple Leafs training camp, I've decided to delve into the depths of McClement's stats in order to properly gauge expectations for the (hopeful) 2012/13 season.
Recently I had an opportunity to interview Dave Poulin, vice president of hockey operations for the Toronto Maple Leafs, for Lindy's Sports Maple Leafs Annual magazine.  Poulin, whose job focuses heavily on player acquisition and development at both the pro and amateur ranks, shared rare insight into almost all facets of the game.  From principles of drafting, the mechanics of pro scouting, and internal team growth, Poulin shed light on the important, behind-the-scenes work that dictates the future success of the franchise.
As is often the case in any written work, more is discussed than can be shown.  Inspired by MLHS readers' questions, here are a couple pearls that Poulin shared with me relating to draft draft methodology, player value and prospect depth within the organization that -  due to space constraints - couldn't be included in the feature.
Be sure to check out Alex Tran's mag preview with Dave Morrison, if you haven't already.  More info on the magazine release and availability will follow soon.  Looking forward to your thoughts; enjoy.
It seems that a large percentage of Leafs Nation is completely convinced that the team they saw in February and March of the 2011-12 season is the true reflection of the roster's ability. Many have completely disregarded the 99-point pace the team played at for the entire 2011 calendar year and beyond, right up until February 6th of 2012.
This skepticism is not undeserved. The team completely collapsed after that victory over the Oilers in early February that saw the Leafs three regulation wins ahead of the eventual Cup-winning Los Angeles Kings. What followed that victory was one of the worst stretches in the entire history of the franchise. As a result, the fans have decided that a massive roster overhaul is necessary. Now well into the summer, they grow increasingly agitated with each day that passes and does not bring line-up changes.
It is not my intention to try and persuade Leaf fans to get their blue and white goggles back out and start drinking the Kool-Aid again. It is also not my intention to act as a Burke apologist. The Maple Leafs are not a great team, and they do have a long way to go before turning things around in a meaningful way. However, perhaps it would be wise for the fan base's collective sanity to reel in some of the pessimism and look at some of the reasons that the playoff drought, the embarrassment, and the general mediocrity may be coming to an end within the next couple of seasons. [more…]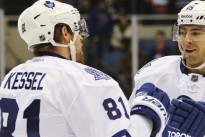 It seems like a fruitless endeavor to make full season predictions with the uncertainty of when the actual season does begin.
Regardless, here we are. Under ideal circumstances, the season would start as per the current schedule and should both parties salvage a full season, we need to be ready.
Every summer we get the McKeen's Hockey Yearbook together and about this time, I'm usually done with Leafs predictions.
It's a summer tradition to post Leafs predictions here, and I wanted to continue the custom. [more…]
As we approach the dog days of hockey, more and more Leafs fans are coming to the conclusion that there's a strong chance we will see a James Reimer and Ben Scrivens goalie tandem to start the year.
Barring a trade for Roberto Luongo (or a surprise move for another goalie), that's the duo the Leafs will start the season with. So with that, I decided to take a look at other AHL goalies over the years and how their numbers translated to the NHL.
In a nutshell, Ben Scrivens led the AHL in goals against average this year while also having the fifth best save percentage. A lot of fans have hung their hats on these stats and his generally-speaking strong season, and in light of this I decided to go all the way back to the 2005-2006 season and look up the top three goalies in GAA category of each season. Then, to increase the sample size, I also included the top three save percentages while pointing out notable goalies from each season that year who have had some NHL impact. [more…]
"We need a number one center."
- Every Leafs Fan
While it may not be seen as the organizations top priority, it is safe to assume that most people who have followed the Leafs in the post-Sundin era have been left wanting in this area. Personally I'd prioritize goaltending, followed by a top four defenseman, but there's no denying that first center is a glam position and it's more fun to talk about the guys who score goals than the guys who prevent them.
That's not to say that Grabovski hasn't been a revelation, and certainly he can be considered a top center in some capacity, but Connolly and Bozak would be the greater cause for concern.
I didn't like the Connolly signing, and he didn't have a great season. That being said, it's clear he's capable of more, and a large part of what held him back was that he was focused on filling the duties of a third line role player, not the playmaking center he is capable of being. [more…]
Brian Burke and Bob McCown dance a dance about unnamed goalies with long term contracts *cough*, unproven, but equally highly regarded young goalies playing behind established staters *cough* and older goalies that played well in defensively stiff teams *cough*.
As always, a good interview with Burke. [more…]
Maple Leafs' vice-president of hockey operations Dave Poulin joined Hockey Central @ Noon to update the team's plans in free agency yesterday and discusses how the thin free agency pool has opened up a trade market that hasn't existed for some time. Click to hear.
[more…]
Seriously, if a player from Kingston doesn't shut up Don Cherry, the man can't be pleased. Other than that, what do we need to know about McClement? He's not overly big, he's not overly physical, but he's not overly expensive either. The 6'1, 205 lb. 29 year old center is signed for the next two years at $1,500,000 a season.
Here are 7 noteworthy numbers for McClement from last season: [more…]
The worst kept secret in all of hockey finally became a reality.
Luke Schenn is now a Philadelphia Flyer, and James Van Riemsdyk is finally a Toronto Maple Leaf.
JVR (whose name I'll probably never type in full again) was the second overall pick in the 2007 draft and has had a slow, but upwards, trend in his development since. After getting drafted he returned to New Hampshire, where he played college hockey, and threw up 40 points in 36 games along with 10 points in six world junior games. He ended that season playing some AHL games, but jumped straight to the NHL the following year and put up a respectable 35 points in 78 games. The next year he had five more points in three less games well also breaking the 20 goal barrier by notching 21.
His big breakout moment though was in the playoffs of last year when he put up seven goals in 11 playoff games while single- handedly dominating some games. To put it into perspective, he had 70 shots throughout those playoffs. That's over six shots a game. In the playoffs. [more…]
Brian Burke recently sat down with TVO's The Agenda with Steve Paikin for an extensive interview entitled "The Business of Hockey", available to watch via the TVO website (or YouTube, in case you have the same viewing problems I did with the first link).
The conversation is 27 minutes long and covers topics we've heard Burke discuss before - with some of the same philosophies and sound bytes he's previously delivered - but its best advantage, perhaps, is that we now get to see them in one contextual conversation. When evaluating the Toronto Maple Leafs' President and General Manager, far too many fans seem to focus on player transactions within the hockey operations department as the sole admissible metric of performance. Which is a fancy way of saying they believe Electronic Arts' NHL GM Mode captures the minutiae of the job accurately and that it never gets more complicated than compiling XP points to be exchanged for generic "medical staff" upgrades.
There are more than a few things I'll never understand in life. Why do Americans want sports on TV in the middle of the day on the weekend? Who actually likes DJ banter on the radio? And why is the KHL considered to equal death for prospects?
The first two I've given up on and accepted as an unfortunate part of life, but the fear of the KHL seems like one that can be addressed easily. Simply put, I think the common perception of the prospects leaving for the KHL is wrong. In fact, the NHL should be encouraging some of their young prospects to consider going this route as it will potentially elevate their game.
Being pro-Russian prospect is easier this week with Vladimir Tarasenko returning to the Blues than it was a few weeks ago when Kuznetsov decided to stay in the KHL for another couple of years. Although, in his decision Kuznetsov does hint at the benefits to his development, and if you scan the Capitals roster there does not seem to be any certainty that a 20 year old offensive player will readily crack the lineup. If he continues to excel in Russia it seems that in two years it could be his spot to lose. [more…]