featured
The news that the Tampa Bay Lightning have Dave Nonis at the top of their shortlist for general manager candidates was perhaps an instance of the inevitable. If Tampa or Nonis deem it not a right fit, we can only expect more of the same from other owners looking to fill vacant general manager positions.
It was reported at the time of Nonis' signing that a one-year clause was included to assure Nonis' services belonged to the Leafs for 2009-10 at a minimum. When Nonis' contractual obligation ends is unclear, but from Joe Nieuwendyk to Steffan Kronwall to Justin Pogge, it's clear Burke will never step in the way of an employee's desire to advance professionally.
But not all hope is lost. First, let's look at what the Leafs have in Nonis, and hopefully what they don't end up losing.
[more…]
Whichever way you cut it, the Leafs endured a torrid season that no statistical tinkering can mend. Regardless, if there is one thing most opposing NHL fans can agree on it's the increasing need for an overhaul in the leagues points' structure and the farcical awarding of points in the overall standings.
Where once every game had two points at stake, either by means of two for the win or split after an OT tie, the inclusion of an extra point for teams losing in OT or, more prevalently, after the shootout, has spawned an lopsided points structure that favours teams and coaches who adopt an cautious approach toward the end of regulation time that is the polar opposite of what was originally intended. [more…]
Is it just me, or has the hockey season passed us by far quicker than usual? It seems like I just finished making arrangements for the home opener against Hamilton (which, might I add was a win) and here I am already looking back at the season that was.
It was an absolute blur of call-ups and injuries. The bright young stars that comprised the frat-pack line (Tyler Bozak, Christian Hanson and Viktor Stalberg) all found their way up to the Leafs. Carl Gunnarsson, the player I was most keen on going into the season, left the Marlies early on for the big club and never looked back. [more…]
Lots of reading today: Gus chips in an  analogical look at the NHL playoff series; Alex has your links with a look at potential Leaf Jussi Rynnas.

In what was Brian Burke's first summer on the job with the Toronto Maple Leafs, it was clear from the get go that he put an onus on improving specialty teams, and also team defense. Â The brash Toronto GM made a lot of moves as it related to improving these areas, and on paper they looked like a sure recipe for change and improvement.
[more…]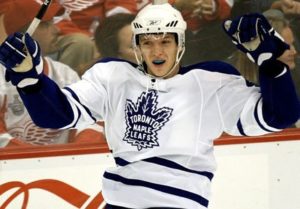 Now that the Leafs' most important pending free agent -- goaltender Jonas Gustavsson -- has been signed to a two-year contract extension, it is time to take a look at their remaining free agent players.
Notably, the list of expiring contracts includes pending RFAs Nikolai Kulemin, Christian Hanson and John Mitchell. Pending UFAs on the Leafs' roster include Wayne Primeau, Rickard Wallin, Jamie Lundmark, Garnet Exelby and Mike Van Ryn.
Note: If you crave insightful, indepth Leafs' analysis, I highly encourage you to read RSW's excellent article on Victor Stalberg.
This past Saturday, Brian Burke was a guest on "Leafs Lunch" (am 640) and spoke at length about the status of injured defenseman Mike Van Ryn.
Van Ryn, as you know, underwent career-threatening surgery as a result of a structural anomaly in his left knee.  The surgery, an osteotomy (known throughout hockey circles as "Steve Yzerman surgery"), is a complex procedure in which the knee is realigned via the removal of part of the bone.  Van Ryn has since resumed skating, but whether or not he will be able to resume his NHL career remains, at this point, unknown.
Prior to the lockout, undrafted college free agents were a rare, straight to NHL commodity. Either serving out their apprenticeships as minor league signees or plying their trade overseas, few players transitioned directly from the ranks of college hockey to the NHL without enduring prolonged development curves. However, in a post-lockout landscape where GM's clutch their most valued assets and superstars to their clubs with dynasty length deals, and where dollars and ice time are apportioned in equilibrium, graduate aged (or younger) players progressing from the NCAA as free agents are providing comparatively cheap labour in an increasingly scrutinized marketplace.
Not too surprisingly, considering both his hockey heritage as a former captain of the Providence College Friars and his somewhat condensed timetable for rebuilding the Leafs, Brian Burke has been one of the first to plunder the verdant college market in recent seasons, in turn providing a quantum shift from the conventional dominance of the CHL at the junior level. [more…]
I have been listening and watching Toronto media members discuss the Maple Leafs and am honestly beyond annoyed at their commentary and observations around the Leafs performance since the trade deadline.  I am not even certain if this is "blog worthy" (shameless "sponge worthy" reference), but I have officially reached my "B.S." tolerance threshold.
About a month ago, we took a look at Phil Kessel's production, including the on-pace numbers for this season and (theoretically) projected 82-game statistics.
With 10 games left to go in the season, perhaps it's time we re-visit and update those predictions -- this time in the context of other "name" or "impact" players to see just where exactly Phil Kessel ranks, production-wise, among the league's elite.