featured
While I had hoped the Komarov signing would have ended some of this speculation, it still lingers on and I'm really confused about something that seems to be a regular occurrence on message boards, Twitter, comment sections, etc. It is Toronto's love fest with the idea of signing George Parros. I honestly can't wrap my head around this mindset. My best guess is that the argument goes "Dressing a big tough guy will keep their players from starting shit," right? Or is it the more truthful, "When my team is losing and spent $200 on tickets I still want to get a show." Does that sound more accurate?
Either way, I have a hard time getting on board with it. Even Jay Rosehill occupying a roster spot seems to irk me, and paying Colton Orr $1,000,000 a season for five minutes a night and an occasional scrap was an absolute waste. We all witnessed firsthand that it accomplished nothing other than one priceless moment where Matt Carkner begged for his life.
There are two distinct stories on the surface of the upcoming Stanley Cup Finals. The Los Angeles Kings play the role of a team built for a Cup run. Deep down the middle, boasting a solid leadership group led by a hard hitting captain Dustin Brown and a veteran presence of Willie Mitchell and Rob Scuderi (who won the Cup with the Penguins not so long ago). Then there's their scoring depth, their stars' willingness to accept lesser roles (Richards, Carter) and great goaltending provided by Jonathan Quick.
Then there are the New Jersey Devils. No matter how you decided to paint the picture looking at the full length of the regular season, the Kings were always in the running for this year's Stanley Cup and that percentage didn't shrink when they traded for Jeff Carter. 8th seed or not, they always had the personnel to make that run. On the other hand, New Jersey took us completely (yes, yes it did) by surprise.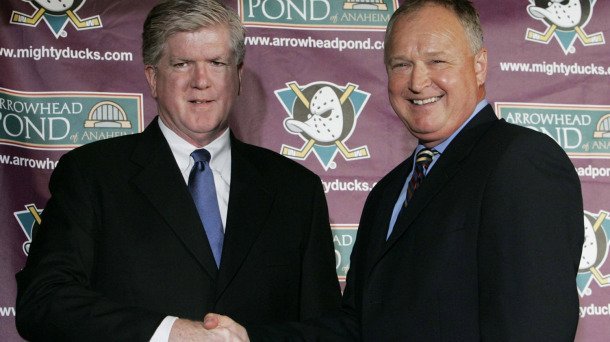 Can we all agree right from the top that the hiring of Randy Carlyle signals the Leafs are back to following the top six, bottom six formula Brian Burke originally told us he would put into place?
Can we also all agree that it's nice our General Manager and Head Coach are now on the same page, philosophically speaking?
Okay, good.
So what exactly is a top six, bottom six mold? A few years ago Pension Plan Puppets ran this piece, which explains how each line in this system is utilized. Essentially you have a top line, a shutdown line, a scoring line and an energy line. [more…]
As the draft continues to draw nearer, the Mikhail Grigorenko story becomes more and more interesting. A player once believed to be a lock for the 2nd or 3rd spot in the draft is beginning to slide down the rankings, and is currently pegged anywhere from 4th to 20th. This opens up a scenario where a supremely talented, albeit inconsistent, 6'3 centre is on the board for the Maple Leafs at the fifth selection. What to do… What to do…
The Basics: An elite offensive-minded centre, a high risk/reward type prospect; 40 goals and 45 assits for 85 points in 59 games played for the Quebec Remparts [more…]
It's 46 days until the draft, 55 until Free Agency, but it's also 131 days from the expiration of the CBA.
What a terrible summer to rebuild a bad team. An expiring Collective Bargaining Agreement there hasn't been any negotiations on is a pretty big elephant in the room for teams looking to scratch and claw their way out of the basement.
Enter the Toronto Maple Leafs, a team that failed to recognize the new direction after the last CBA. A team that has remained devoted to spending to the salary cap and a team that has no foreseeable long term planning beyond the acknowledgement that younger players are the best option when you're not yet ready to seriously contend for a Stanley Cup.
The next CBA could potentially provide even greater challenges as the league is more focused on closing cap loopholes than allowing any form of free spending ways. Below are ten possible scenarios that could come up in the CBA and how the potential fallout could affect the Leafs. [more…]
We're ecstatic to welcome Jon Steitzer to the MLHS blogging team. He formerly blogged at Bloguin's Leafs site Puckin' Eh and now runs his own blog Yakov Mironov. He's also a funny twitterer who can be followed here. With the introductions out of way, settle in for Jon's in-depth look at the long-term sustainability of Burke's team building.
I wrote the bulk of the post you are about to read shortly before the deadline. It is a call for building a roster that is sustainable in the long term in exchange for some short term pain. It was originally written at a time when the Leafs were just beginning their downward spiral that would ultimately consume all hope. A few of things came out of it.
The first was that the Leafs are not as far along as I may have originally hoped. The second is that an extended rebuild will not be tolerated, and a modest milestone of success (like, I dunno, making the playoffs for the first time since the lockout) must be achieved next season. Finally, this is now a team being built for Randy Carlyle, and with Carlyle's philosophy being closely aligned with Burke's there is a potential for finally achieving some synergy when it comes to team building.
While the short term goal of the playoffs must be achieved, the case must be made that long term sustainable success still has to be the priority of the Leafs front office. I have tried to write a blog post a number of times looking at what a successful long term plan would look like for the Leafs. I thought I would apply some principles from Workforce Planning which seems infinitely relevant as I can't think of think of any other field that treats people more like commodities than professional sports. The goals I'm attempting to accomplish are to make sure we have a sustainable supply and demand model, proper development of employees, succession planning, and are putting people in a position where they can have the highest level of success all while balancing a labor budget. [more…]
Leafs fans are showing heightened interest in the Marlies lately, and deservedly so as they have officially begun their run for the Calder Cup. While AHL success in the playoffs is always a fantastic experience for any player - especially young ones - fans of Toronto hockey at the end of the day are asking themselves one thing: How does this help the Toronto Maple Leafs?
Earlier in the year, I wrote a piece looking at Calder Cup Finalists translation to NHL success. That leads into the current edition of the Marlies as we look at who on this team is being counted on to help the Leafs moving forward and which players are likely to become productive NHLers and part of the long-term solution here.
Now, I want to stress that there is a difference between a long-term NHLer, and a fringe AHL-NHL tweener. A player like Darryl Boyce is an AHL-NHL tweener, meaning he's a very good American league player, but struggles to get into a National league lineup consistently. Usually players that struggle to translate their games are missing one key ingredient that they can get away with in the AHL, but not the NHL - Be that a lack of speed, size, vision, strength, shooting ability, defensive ability, and so on.
So, inevitably, when someone says "where is Greg Scott," well, Greg Scott brings a lot to the table, and hey, he could potentially make the Leafs as their 12th or 13th forward, but he is not a long-term solution to anything for the Toronto Maple Leafs. Thus, when we are looking at the players below, we aren't just looking at players who may or may not crack the Leafs next season, we are looking at players who are being counted on to be contributing Toronto Maple Leafs for years to come in the ongoing quest to make the playoffs. [more…]
It was another 4-3 game in which the Marlies gave up a two goal lead and Jerry D'Amigo scored twice, including the game winner in the final minutes. In many respects it was like watching the same game as Thursday night's. Did we mention that Zigomanis scored and Foligno, Verone and Brennan were the same Rochester goal scorers from Game 1? All that matters from the Marlie perspective is that it was the same result and they now hold a commanding 2-0 lead in the best-of-five series.
An announced sell out crowd of towel wavers provided a good atmosphere, particularly in the final moments following the D'Amigo winner. Onto the notes:
-For whatever reason the Marlies have let up on those - cliched, but true - always dangerous two-goal leads, but you can tell when it comes down to it, and when the Marlies need to score the next goal, they seem to believe in the game plan and that they're capable of pulling it out. Winning a game despite giving up a two goal lead - and giving up leads in the third on both occasions - is not as easy as the Marlies have made it look the last two games. That type of resilience and abiding belief in their abilities should help take them deep in these playoffs. [more…]
How many notable Brian Burke quotes has he unleashed for our constant reiteration? Too many to count.
You have your pugnacity, testosterone, and truculent quote, which now might be the three worst words to utter in Toronto. You have your "top six and bottom six" quote. You have your "build from the net out" spiel or the "I don't want to get into the first round just to get my ass kicked" declaration. There's a whole host of other gems, complaints, theories, one-liners to come out of Burke's mouth that are now used to mock him, to cheer him, to evaluate his roster, or as Twitter handles.
But what is often forgotten, and often left not discussed, is his core belief. His central theory to building a team, which is: [more…]
Sometimes, there's really just nothing left to say.
After the Leafs 7-1 loss to the Philadelphia Flyers, they officially hit that point. You can only talk about the same things so many times before it just becomes tiring, old, and frankly, a waste of time.
Preceding Toronto's shellacking to the Flyers, they played about as lackluster a game as you will ever see at the NHL level, in a 3-0 loss to the Carolina Hurricanes. Yes, they summoned some pride against Buffalo and played, all things considered, a solid game. But it wasn't chalk full of meaning in this situation, at this time of year.
Thus, we're changing gears to the summer and some serious things the Leafs need to look at and address. If you're expecting trade proposals, and a guess at what the Leafs roster "should" look like next season, you can look elsewhere. Rather, I want to go through some fundamental, foundational questions the Leafs seriously need to ask themselves in the coming months, and then figure out ways to properly address the problems. [more…]
Remember Alex Steen?
The Leafs drafted him in the first round in 2002, 24th overall. He cracked the NHL in 2005, in part due to the lockout that occurred the year before. Regardless, he played alongside Mats Sundin and had a relatively successful rookie season scoring 18 goals and 45 points. The following season he regressed statistically, notching 15 goals and 35 points.
In that leap from year one, to year two, everyone expected Steen to take "the next step" in his development and grow his point totals playing on Sundin's wing for a second straight year. Unfortunately for the Leafs and Steen, that didn't happen. Alex struggled to rediscover his scoring touch, increased expectations mounted on him, and it basically wasn't the year everyone expected from him. [more…]
A disappointing reality of which most viewers aren't aware, modern "reality" television is – in fact – fairly scripted. "Soft scripting" is the technique a show's producers use to vaguely outline what should happen to the show's participants, and oftentimes, they will implore those contestants to perform as requested. Documentaries are no different, typically outlined based on extensive research and footage collection and them assembled to form a coherent, calculated point.
Since the February announcement that the Toronto Maple Leafs and Detroit Red Wings will compete in the January 2012 Winter Classic, many have assumed – correctly – that HBO will film and broadcast their next season of 24/7 focussed on the two teams. What many readers won't have realized is that HBO's award-winning writing teams have been working on scripting the show secretly since the announcement in preparation for the expected deal. [more…]