featured
The Toronto Maple Leafs met their first serious opponent this season, facing the defending champions, the Boston Bruins, last night at TD Garden. It was a wake-up call for the Leafs, who have mostly faced non-playoff teams as opponents and have received out worldly performances from Phil Kessel to save the game for them, game-after-game. Toronto has had glaring issues with their specialty teams, and even their 5-on-5 play, that has to be raising big concern for the players and coaches involved despite a 4-1-1 start. Facing the Boston Bruins brought this team back to earth and revealed a number of areas in need of work, merely covered up by Phil Kessel's dominance in the four games preceding last night's tilt.
It's not inconceivable that the Leafs would have had a 1-4 or 2-3 record going into the game against Boston if not for their offensive leader's best streak in a Leafs sweater. This team has not clicked as a unit from game one and it finally caught up with them in the form of an embarrassing 6-2 loss. There was very little to like about Toronto's game and, as has become tradition, Toronto's stacked defence core largely underperformed. [more…]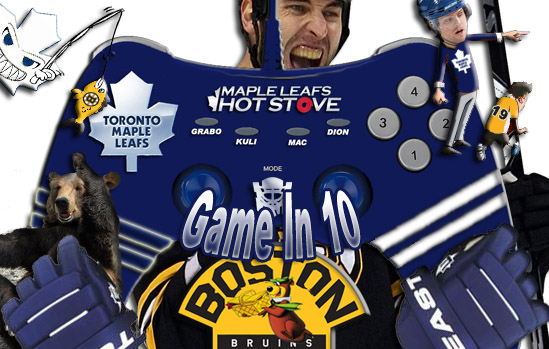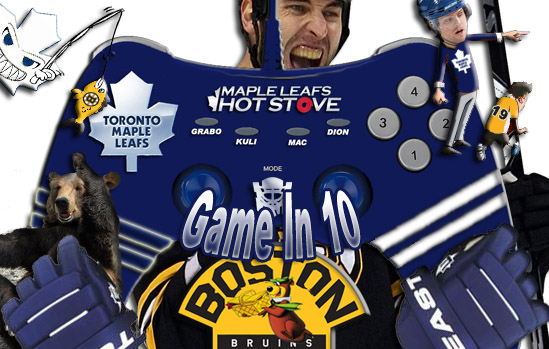 Back half of a back to back against the Bruins. A lot of Bs in that one. A lot of Bs in the game as well. It was a second game in as many nights, but I can't excuse the team for the mistakes made that had nothing to do with energy but rather hockey systems and fundamentals. Only then can we look at the effort, which wasn't there from the start. Against teams like Boston, that counts.
One of many future games against the Jets, even if they move to the West. Having the Jets back is good for the game and it showed tonight in a very entertaining hockey game. Which the Leafs won. That makes it more entertaining. Welcome back and thanks for coming, but the two points stay in the ACC.
When you saw Giggy was starting in the ACC you knew it was going to be tough. It had to be. Hockey gods love to write such stories. A point for the Leafs. Bigger than it appears to be.
We always love a game of traded jerseys. Lee Stempniak, Matt Stajan, Matthew Lombardi, Niklas Hagman, Dion Phaneuf, Lanny McDonald - wait, that's getting too far back. Anyways, this game was the best example of what one week's rust can do to a hockey team. The boys in blue gave up numerous turnovers in the first but managed a supreme comeback to remain perfect.
Their opening two games of the 2011-12 season would indicate the Ottawa Senators, if nothing else, have a knack for playing dead and lulling the opponent into a false sense of security. Thankfully, they still didn't win on either occasion.
A scary final ten minutes saw Daniel Alfredsson and Jason Spezza combine to cut a 5-1 Leafs lead down to within one. Phil Kessel then took the game by the horns, completing his first hat trick as a Maple Leaf to let us breathe easy again, if only for a moment before Stephane Da Costa rose from the dead and gave us a final scare. Forget how they got there, the Leafs picked up the win and now take a 2-0 record into their oddly scheduled week off.
Join me for the post game mashup after the jump. [more…]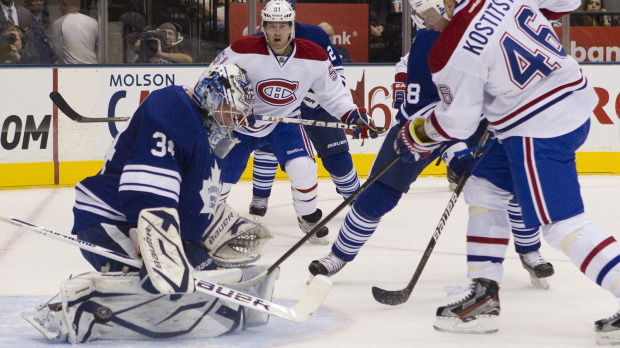 There was a lot of trepidation going into the Toronto Maple Leafs' season opener against the Montreal Canadiens, to be sure. Interviews with Brian Burke - featuring sometimes snippy comments and a seemingly reduced air of confidence - have started to show a dent in his armour. Between having to answer questions about his inability to secure a true #1 centerman, the job security of his friend and colleague, Ron Wilson, or the investment of faith in what could be a one-year wonder in net with James Reimer, it's certain to have had its effect on him.
Ron Wilson is sure to a be a lame-duck coach if the 2011-12 Leafs get off to a bad start. As good of a job Brian Burke has done rebuilding the entire organization at all levels, there is only so much losing a team can take before fingers start to be pointed at Father Burke, himself.
Key pre-season injuries to top 6 centerman Tim Connolly, center-turned-winger Nazem Kadri and a suspension to Clarke MacArthur all added even more uncertainty to a team that needed solid footing to start off their 2011-12 campaign. They got it last night—and they got it in spades. [more…]
UPDATE (11:32pm) - Of course, 11 hours after I posted this, Drew Doughty has signed in LA. Early indications put the deal at 8 years for $7 million per. So, the obvious lesson for both sides: procrastinate something as far as you possibly can, because when you do it, the timing will be hilariously perfect.
While enjoying patios and beer league baseball shenanigans this summer, Leaf Nation couldn't help but keep one anxious ear primed for any news – or explanation – surrounding the lack of a Luke Schenn signing well into September. Now, late into training camp, fans of the Los Angeles Kings wait with the same baited breath for their own RFA superstar Drew Doughty's new deal. To call both situations peculiar, given the players' individual importance to their respective teams, would not be an overstatement. Is there some connection between these prolonged negotiations?
Might Donald E. Meehan - founding partner of Newport Sports Management and agent to both players – be that common denominator? [more…]
Part 1 can be found here.
Notes on Day 2 of training camp:
I didn't watch any of the drills and instead took in more of the scrimmages today. Here are the notes for the second day of training camp: [more…]
Hey guys. I'm sure many of you have read the James Reimer interview on MLHS regarding Reimer's off-season training with Adam Francilla in Maple Ridge, B.C., at FitLife Training Centre. Since I live in Vancouver, B.C., I decided I would try and go out to where he trains out here, hoping I could somehow meet him, and possibly get an autograph. So here's my story. I hope you like it and get more hyped for the season!
So I had got a tip from a friend who did an interview with Reimer for a local paper, and he told me when I could catch all the guys training. So a couple Thursdays ago (Aug 11th), I made my way out to Maple Ridge BC (in my Leafs jersey and hat of course) where he, Andrew Ladd, and others do their off-season training. No players were there when I arrived at the facility at 8 a.m., but Mr. Adam Francilla himself was. He indicated that they were doing dry land training off sight that day, but that he could call James Reimer on my behalf. So Adam makes a personal call for me, if you can believe it, and asks him if it's cool if I go out to their dry land track to meet him! Reimer said it was no problem at all and he'd be happy to do it. [more…]
Earlier this month, Gus projected Nikolai Kulemin as Toronto's top scorer for the upcoming season in his 2011-2012 Maple Leaf player projections. Now it's time for me to share my projections, but I'll be taking a bit of a different approach. In an effort to make this as systematic as possible, I'm going to use a makeshift formula that I've created myself to take into account a few determining factors.
I'm going to start by placing value on a player's last three years of production, with the more recent years worth more than the earlier years. Year 1 will make up 20% of the total, Year 2 will make up 30% of the total and Year 3 (the most recent year) will make up 50% of the total. This helps take into account a player's improvement while also buffering for the possibility of overvaluing a career season. [more…]
The 2011 Maple Leafs Annual is 99% complete, and we should have preordering information available for you all soon. Remember, if you have read any of our teasers or interview excerpts, you are morally obligated to purchase this magazine. Don't be a bad person. The Annual can be yours for a mere $9.99 this time around, so no excuses.
The Burke interview for Annual, conducted by torontosportsmedia, went extraordinarily well. The final product is a must read, as Burke touches on a wide variety of topics including but not limited to the failures of past seasons, the offseason moves, the media, the status of Ron Wilson, and expectations for the season ahead. In the course of conversation, Burke touched on a number of the topics our reader questions inquired about. After the jump, I'll glean a few small excerpts for your enjoyment. [more…]