Francois Allaire
Day Two of on-ice participation is now in the books .. the sessions all had a purpose, as camp not only winds down, but clear decisions need to be made on who will remain with the main roster and who will be going to the Marlies or back to their original junior team.
A breakdown of the drills and more observations from the intra squad game after the jump.
Sunday Training Camp Day 2 practice
Teams A and B practiced with Team A on the main ice. (Breakdown of teams is here.
The drills weren't very different from the previous days, they all focused on a real-game situation and the coaching staff made variations along the way. [more…]
"Being a kid growing up just outside Toronto, you always want to play for your team you watched growing up, and Toronto's my team."
It was one of the last things Andrew Engelage said after a lengthy discussion at the Ricoh Coliseum, but it definitely resonated the loudest.
There's nothing quite like the story of the home-grown athlete. Everyone likes asking Oakville's John Mitchell what it's like to put on the Leafs sweater every day, or trying to find some way to relate to Jesse Blacker's being drafted by his local club. But when adversity is thrown into the mix, when a player has to go through some degree of hardship to make it to not only the level he wants to be, but for the team he wants to play for, that's when a story becomes a best seller.
Since joining the Toronto Maple Leafs, Brian Burke has worked feverishly to distance the club from the atmosphere of mediocrity which pervaded during the years of mismanagement that came before.
While upgrading the playing staff and reducing the age demographic of the locker room are the two most apparent hallmarks Burke has placed upon the Leafs, his backstage upgrading of the administrative, coaching, scouting and medical departments have the potential to leave considerably longer legacies.
Brian Burke has picked up yet another wallet. According to a Finnish report, the Toronto Maple Leafs have agreed to terms on a two year deal with Finnish free agent goaltender Jussi Rynnäs. Jussi is still just 22 years of age, and is coming off a stellar year in the Finnish SM-Liiga in which he posted a 2.50 GAA and a 0.929 SV%. Rynnäs is still at least a couple years away from being NHL-ready, and will start next season splitting time with James Reimer for the Toronto Marlies. Jussi was arguably this year's most coveted free agent goaltender, along with NCAA netminder Ben Scrivens, whom the Leafs had also been linked to over the past couple weeks.
Some reading material for your weekend enjoyment:
- The boys over at PPP provide us with a nice piece about European free agent goaltender Jussi Rynnas. The 6'5 22 year old is coming off an impressive season in the Finnish Elite League, posting a 2.50 GAA to go along with a league-best 0.929 SV%. For comparison's sake: Mikka Kiprusoff posted a 1.86 GAA and 0.936 SV% during his age 22-23 season in the SM-Liiga. Jussi is in the midst of a five city North American tour, with Toronto not being one of the destinations. However, Burke and Nonis have both made the trip out to Helsinki and later brought Francois Allaire along to speak with Rynnas during his stopover in Montreal. Rynnas is not as highly regarded as Gustavsson was last offseason, and will likely be playing for an AHL team next season. The scouting report on him is that he's a big guy who can struggle at times with rebound control and positioning, much like our own Gustavsson, and his style of play has been compared to that of Nashville's Pekka Rinne.
[more…]
When Brian Burke became the new general manager of the Toronto Maple Leafs in November of 2008, Leafs Nation embarked on a new journey. Â A new beginning. Â With Burke at the helm, the Leafs organization finally had a general manager who had credentials. Â Who had a winning pedigree. Â Who had the exact type of attitude the Toronto market needed.
A man who wouldn't take any nonsense from anyone, and a man who wasn't afraid to pull the trigger on a big move that may set the team up for the better in the long term, a characteristic it seemed so many Leafs GM's lacked in between the time of Fletcher's first run, and Burke being christened as the new head of the front office.
Finally, Leafs fans were able to legitimately talk about the "Big O", and they weren't faking it either.
It was a light day practice wise as the optional skate drew only a handful of players to the MasterCard Centre for Hockey Excellence.
[more…]
Earlier today on a certain Toronto radio show, a grim portrait of Jonas Gustavsson's future was painted, citing the 32 games he has appeared in so far in his career - most of those starts behind a lacklustre team - as evidence that he may never develop into the sort of goaltender the Leafs envisioned when signing him out of the Swedish Elite League.
The crux of the argument was that 32 games should be enough for Gustavsson to have shown some ability to adapt to goaltending coach Francois Allaire's techniques, and that at 25 years of age it may be too late for him to make the necessary adjustments for NHL success.
The Maple Leafs have traded G Vesa Toskala and F Jason Blake to the Ducks for G Jean-Sebastien Giguere. [more…]
TORONTO -- Leafs general manager, Brian Burke, has repeatedly stated he will not ask Tomas Kaberle to waive his NTC. This situation, however, could be key to shoring up the goaltending the Leafs need.
[more…]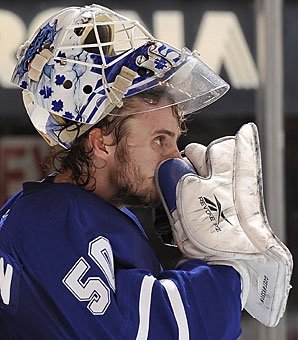 One of the more enigmatic problems facing Brian Burke in an summer that will see much of the contemporary Buds negligible talent headed for the door, is the impending contract crunch of now go-to starter Jonas Gustavsson. Touted by many as the best netminder outside of the NHL last season, Gustavsson has shown exciting, if fleeting moments of the form that earned him widespread acclaim backstopping last season's Elitserien champions Farjestads BK.
Unfortunately, Gustavsson's dominant play in the SEL has failed to translate on a consistent basis in the NHL and much of the season many saw as the coronation of a new number one has been overshadowed by a significant heart problem. Supraventricular tachycardia aside, Gustavsson's woes in the aftermath of his worrisome sidelining have seemingly stemmed from a crisis of confidence borne out of the inconsistent, Jekyll and Hyde defense, The Monster has had to deal with on a night by night basis, as well as the organizations early and now aborted attempts at blooding Vesa Toskala as trade bait.
- The Toronto Star has an interesting article that mentions the Leafs would be at least open to talk of a second NHL team in [more…]