Frazer McLaren
What a night for the Toronto Maple Leafs and their fans.
They're not contenders yet, but this is looking like an offensively-inclined, hard-hitting, glove-dropping, entertaining, winning hockey team; just like the vision Brian Burke pitched to us five years ago. Randy Carlyle spoke about injecting the pride back into this organization before the season started. We're getting there.
After the jump, take in the HNIC segment that capped off a great night in Leafs Nation - Nazem Kadri on Coaches Corner. In a great moment, Kadri is the recipient of the Dougie Kiss as a battle-worn Frazer McLaren gives the Grapes Thumbs Up and a smiling Colton Orr looks on. [more…]
In a matchup with big playoff implications, the Leafs could move ten up on the 10th-placed Carolina Hurricanes with a win in this four-point swing game. A loss in regulation puts the Hurricanes within six with three games in hand.
The Hurricanes are an opponent the Leafs have struggled with in both matchups this season. Their strength down the middle has played a key role as the Staal brothers have featured prominently on the scoresheet in a combined 7-2 win over the two games. Among teams the Leafs have played more than once, the Canes are the only opponent they have gained zero points off of. [more…]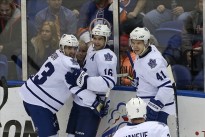 Since we are almost at the halfway point, I thought now would be a good time to write some notes on each individual player thus far. Here is the close-but-not-quite-halfway Leafs Notebook: [more…]