Free Agency
A fairly big portion of Leafs Nation is freaking out about Burke doing "nothing" in free agency. First of all, this is an insult to Jay McClement and Mike Kostka because I don't think they consider themselves – nothing.
Then there's the notion that we should have overspent on players like Brandon Prust, Jordin Tootoo etc. because nothing will solve our team needs more than overpaid fourth liners. Leafs' biggest needs are goaltending and top six talent (preferably size and skill at the C position) so naturally they fit the bill. The amount of sheer irrationality is staggering.
I want to make something perfectly clear, simply because this writer doesn't realize how it's not perfectly clear already. We're at the beginning of hockey's summer and the Leafs roster looks like it needs re-tooling/is set up to be re-tooled.
Seriously, if a player from Kingston doesn't shut up Don Cherry, the man can't be pleased. Other than that, what do we need to know about McClement? He's not overly big, he's not overly physical, but he's not overly expensive either. The 6'1, 205 lb. 29 year old center is signed for the next two years at $1,500,000 a season.
Here are 7 noteworthy numbers for McClement from last season: [more…]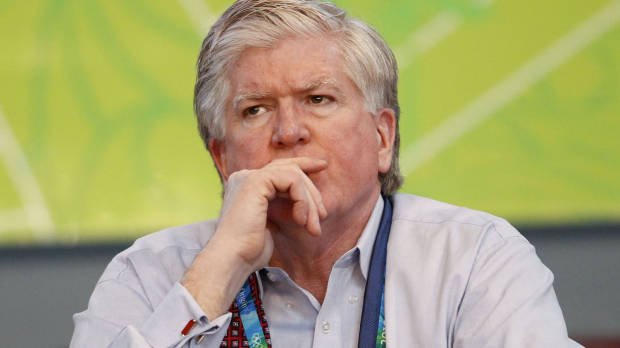 Brian Burke spoke to reporters out East at the P.E.I. Special Olympics Festival Luncheon on Wednesday.
"With the salary cap and the new collective bargaining agreement that's coming up, I don't know what our plans are for filling out our roster," Burke told the large gathering at Credit Union Place.

"Free agency starts on July 1, it's a really thin group.

"Teams are locking all these quality players up now, so the group that is getting to the market is thin, it's shallow. There are really two high-end players and that's about it, (Nashville defenceman) Ryan Suter and (New Jersey forward) Zach Parise.

"I don't think we are going to be in on either one of them."
Burke continued:
NHL Free Agency was, originally, to be a major component of the Brian Burke 'rebuild' model - or 'retool,' whatever you want to call it - when the Maple Leafs' new GM arrived in Toronto. And despite perpetual inflation, it remains the surest and easiest avenue for a team to obtain top-quality players in their prime without sacrificing any organizational assets beyond cash. Factoring in the promises of a quick turnaround and transactions we shall not name, lest we incite debate involving high-end draft picks exchanged for promising young stars, free agency to the Brian Burke model becomes...well, not quite a necessity...but a really, really valuable step in getting the Toronto Maple Leafs back to the Stanley Cup finals as efficiently as possible.
One can't exactly say it's worked out nicely, thus far.
The problem, as Burke's lamented, has been the distinct lack of premier free agents available. Teams have compensated for the league's attempts to "liberalize" the market by locking up their talented players before they become UFAs. [more…]
Friends, we are gathered here today to honour the man and the legacy that is Jeff Finger. It's hard to believe it's been four years next Saturday, but Jeff Finger's contract is finally coming to a close. It might have been easy to forget this momentous occasion, but luckily about three and half years ago I put a reminder in my Outlook calendar so I couldn't let this day pass without celebrating it.
Way back in the summer of 2008, Jeff Finger joined the Leafs on the strength of a breakout season with the Colorado Avalanche. A season that saw him average over 19 minutes of ice time, and as Cliff Fletcher said play over 23 minutes down the stretch (in fact he did this once in his final 10 regular season games.) Jeff Finger's breakout season would also see him pinball between 19-24 minutes of ice time, and more often than not be a healthy scratch in the Avs two playoff rounds. Four of the five games he dressed for were losses. [more…]
My apologies, I would have hoped that in the past week I could come up with an idea for a post. Instead, here are some quick thoughts for discussion at the beginning of the week. Of course there's also the small matter of Game Six tonight which I'm wagering is the last NHL game we see for the next four to six months. Having wagered on the Devils to win the cup back in April when Bodog had them at 22-1 odds, I can safely say my rooting interests remain with New Jersey. Here are the other discussion points and links.
David Jones signing a 4 year 4 million dollar a season deal sets the bar for forwards in free agency. It certainly wasn't a hometown discount, and skews the value for all other middle of the road free agents. If Burke is looking to add a top six forward I'd rather see him overpay on high end talent like Semin or Parise rather than sign Brad Boyes or Olli Jokinen to $4 or 5 million dollar deals. On the upside, if the Leafs are willing to deal in forwards, it makes Connolly's deal seem spot on, and Lupul and MacArthur probably could net a nice return if Burke wants to earmark one of their spots for Kadri or the 5th overall pick.
It's 46 days until the draft, 55 until Free Agency, but it's also 131 days from the expiration of the CBA.
What a terrible summer to rebuild a bad team. An expiring Collective Bargaining Agreement there hasn't been any negotiations on is a pretty big elephant in the room for teams looking to scratch and claw their way out of the basement.
Enter the Toronto Maple Leafs, a team that failed to recognize the new direction after the last CBA. A team that has remained devoted to spending to the salary cap and a team that has no foreseeable long term planning beyond the acknowledgement that younger players are the best option when you're not yet ready to seriously contend for a Stanley Cup.
The next CBA could potentially provide even greater challenges as the league is more focused on closing cap loopholes than allowing any form of free spending ways. Below are ten possible scenarios that could come up in the CBA and how the potential fallout could affect the Leafs. [more…]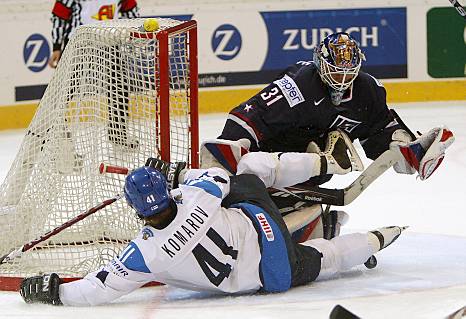 According to the Toronto Star's Damien Cox, the Leafs are expected to sign 24 year old forward prospect Leo Komarov to an entry-level contract at some point in the near future. The Maple Leafs hold Komarov's NHL rights as a 6th round selection, 180th overall back in 2006. Komarov was born in Estonia, but grew up playing hockey in Finland where currently holds a duel-citizenship along with Russia. He has spent the last two years playing in the KHL, earning himself an all-star appearance this past season. In 52 games played for OHK Dynamo Moskva, he recorded 14 goals and 12 assists, in addition to 70 penalty minutes. Komarov also impressed during a brief playoff run, scoring 4 times and adding 2 helpers in just 6 games. [more…]
Ilya Kovalchuk's record breaking 17 year, $102 Million deal has been shot down by the NHL for reasons of cap circumvention (per TSN).  To brass tacks the article, the NHL put the kybosh on Lou and his Swamp Band on the grounds that the deal was being proposed and executed outside of good faith.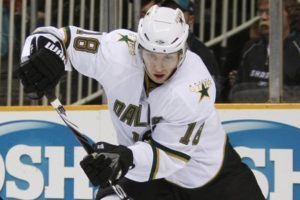 During his first full year at the helm in Toronto, you could make the case that Brian Burke was the league's most active general manager. There was the Kessel summer blockbuster with Boston and then the mega-deals on January 31st that brought in Phaneuf and Giguere. It's quite obvious that he's willing to expend assets to target any top notch premium young talent when it's made available. Both of those trades were opportunities: Kessel was a restricted free agent on a team with cap issues. Burke often spoke of inquiring on Phaneuf several times throughout the year until the "pressure points" of the cap and the struggles of the Flames pushed Sutter into making a bold move. This summer should be no different. Let's take a look at some of the young RFA's that might potentially attract Burke's interest.
While the NHL Stanley Cup playoffs are in full swing and continue to provide us with some fantastic moments of triumph, the fans of the Toronto Maple Leafs are now forced to once again shift their focus to off ice activities.
And so too has Leafs brass.
Despite his team sitting on the sidelines, Leafs GM Brian Burke made quick work of two signing he was keying in on, signing goaltenders Jonas Gustavsson and newcomer Jussi Rynnas to contracts. Â Continuing with the in-house theme, Burke will now certainly turn his attention to Nikolai Kulemin, if he hasn't done so already.
And while we are seemingly quite far away this point, it won't be long before the draft and subsequent free agency period rolls around.
Since Brian Burke has been at helm, the Toronto Maple Leafs organization has restocked its prospect cupboard and have instilled hope in a fanbase desperate to win.
Leafs fans have witnessed both highs and lows during the 2009-10 season and, although they must watch helplessly as the Boston Bruins select either one of Tyler Seguin or Taylor Hall, there is now legitimate reason to believe the Stanley Cup drought could come to an end.
When? Who knows, but Burke is taking it one step at a time---and, somehow, avoiding the traditional five-year rebuilding plan in the process.