French Quebecers
No Leafs fan wants to be reminded of that most hated of Finnish goaltenders, Vesa Toskala. He was ushered into the organization as the next great goalie that would surely be the one to finally right this sinking ship. As any fan will tell you, this has been a disaster. In the nature of looking back at previous Leafs from yesteryear, I'm going to show you just how bad Toskala truly was. All stats not specifically referenced are borrowed from BehindtheNet.ca.
We'll start by taking a look at Toskala's season in 09-10. Toskala ended his tenure with Toronto with a record of 7-12-3, appearing in 26 games. His save percentage was a ghastly .874 and his GAA was a monumental 3.66. You don't need to follow hockey closely at all to glance at these stats and understand why they are so bad. This was a far cry from his stats in 07-08, where he had a .904 save percentage and a 2.74 GAA. Even his rather subpar 08-09 season was better, when he had an .891 save percentage and a 3.26 GAA. Could the Leafs being in second last place in the league have something to do with his decreased stats?
In part two of his 12 burning questions series, Derek Harmsworth looks at the Leafs goaltending of the past, and whether this year's tandem can provide them with healthy, consistent efforts.
The NHL goaltender.
It has been said that there is no more important position in all of pro sports. Â And if you believe that, it's quite easy to see why the Toronto Maple Leafs haven't had much regular season success in the post lockout NHL, and why the post season has eluded them. [more…]
Reports indicate that young forward Jiri Tlusty has been traded to the Hurricanes for Philippe Paradis, Carolina's first round pick (27th overall) in 2009.
I had the opportunity to catch Kurtis McLean at Hockey Heritage North in Kirkland Lake, Ontario and ask him a few questions about his career and his future in the NHL. The 28 year old NCAA and AHL star has been nothing short of a hard worker and the type of player every team wants in their system for strength and leadership. Kurtis talks about his career, his first NHL goal, and who he thinks the Islanders are going to select with their 1st overall pick.
[more…]
Excitement abounds these days in the streets of Toronto, as a long-overdue rebuilding effort for the Toronto Maple Leafs, and the prospect of a revitalized franchise, moves into high gear.
Arguably the last successful revitalization of the Maple Leafs franchise occurred in the early 1990s, when in the span of three seasons the Leafs went from basement-dwellers to Stanley Cup contenders.  Although many are quick to credit then-GM Cliff Fletcher's 1992 mega-deal with the Calgary Flames as the key turning point for the franchise, the groundwork for the franchise's rapid acceleration from pretender to contender actually began much earlier ... in the 1989-90 season, to be exact.
As the goals against continue to pile up, so do the questions regarding the Toronto Maple Leafs' future between the pipes. Last night's 7-5 drubbing at the hands of the Boston Bruins officially moved the Leafs to the basement of the NHL in terms of goaltending and defensive play with an astounding total of 274 goals allowed (3.41 GAA). Combine that with a league worst 88.4% save percentage and you've got some serious issues. The team directly above them? Andrew Raycroft and the Colorado Avalanche. Ugh. [more…]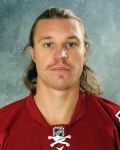 JUSTIN POGGE (# 29) – G
Player Facts
Birthdate: April 22, 1986
Stargazing: Taurus
Hometown: Fort McMurray, Alberta
I can't provide anything more than rumours and speculation at this point, but there appears to be a story of considerable magnitude brewing tonight concerning several Montreal Canadiens players. Earlier tonight, RDS, the main television station for the Habs reported that there would be a "huge bomb" dropped on the city of Montreal tomorrow.
Update: Sportsnet will have the entire breaking story starting at midnight. [more…]
Someone recently asked me a trivia question that got me thinking. The question was, "How many major individual awards have been won by Maple Leaf players since the last Stanley Cup win in 1967?"
Toronto Maple Leafs' prospect, Chris Didomenico (or Dido for short) is set to make his World Junior Hockey Championship debut this Friday as the team prepares for its first pre-tournament exhibition match against Team Sweden.
[more…]
The Maple Leafs look to extend their two game winning streak Tuesday night as they entertain the New Jersey Devils sans Martin Brodeur. Rookie Jeremy Williams looks to continue a streak of his own having scored in each of his first two appearances this season.
The passing of Pit Martin this past weekend prompted me to look up his hometown, which was reported as Rouyn-Noranda, Quebec, a town I most closely associated with my favourite Maple Leaf of all time, Dave Keon.