GM
So it ends, so it continues.  Tomas Kaberle's tenure with the Toronto Maple Leafs did not indeed come to an end this summer.  In an earlier post, I had established a mostly forgotten pool asking the faithful readers to put on their brian burke mask and pretend to be a GM.  Yup, I sure am a trailblazer…suggesting people use the comments section of this site to postulate trade proposals.  Where do I come up with such creative ideas?
It's been a hot topic, and a touchy one at that for the better part of almost a year, since the day the trade was consummated. Â The Toronto Maple Leafs, toward the end of the pre-season, announced that they had traded two firsts and a second round pick to the Boston Bruins in exchange for Phil Kessel, a young American born sniper who the B's were having issues resigning.
It was a steep price to pay, but you have to give to receive, and in Kessel the Leafs got a bona fide goal scorer who looks like he could be a perennial 30 goal scorer (more on that later.)
And yet some people have cast Kessel to fail, no matter what impact he has on the Leafs, attaching him forever to the trade that brought him here.
This past week, Bill Watters took that to the extreme, and took a piece of integrity written journalism and turned into something sensational and downright wrong, all in the name of making Phil Kessel look as bad as possible because he doesn't agree with the trade.
In what could yet again prove to be a shrewd, prudent move, Maple Leafs GM Brian Burke has once again added another name to his [more…]
There has been much speculation that GM Brian Burke is working to acquire a 1st round pick in the upcoming NHL Entry Draft and now [more…]
According to TSN's Darren Dreger, Leafs vice president of hockey operations Dave Nonis is on the verge of agreeing to terms with the organization on [more…]
Note: With the playoffs being the focus of the hockey world right now, there isn't a whole lot of big stories breaking in Leafland these days. As such, I'll be helping out Alec with his "Bits & Pieces" articles, touching briefly on various topics, and providing the occasional draft primer for the Entry Draft this coming June.
This session's topics include the Phoenix Coyotes, Mike Komisarek and 2010 draft prospect Joey Hishon.
Nazem Kadri is ranked fourth overall in points in the Ontario Hockey League playoffs.
It has a nice ring to it when you take into consideration he was eliminated in the second-round by his ex-team, the Kitchener Rangers. Kadri compiled an impressive 9 goals and 27 points in 12 playoff games, giving him the highest points-per-game average among playoff competitors during the 2010 OHL post-season.
However, that doesn't mean his future in the National Hockey League for next season is solidified. Not even close, actually. Fact remains that plenty of promising prospects have fell by the wayside and spoiled untapped potential, and that the manner in which an NHL club handles the transition of a prospect into the big leagues remains of paramount importance in the successful development of a promising up-and-comer into a consistent NHL contributor, especially in a hotbed like Toronto.
When Brian Burke became the new general manager of the Toronto Maple Leafs in November of 2008, Leafs Nation embarked on a new journey. Â A new beginning. Â With Burke at the helm, the Leafs organization finally had a general manager who had credentials. Â Who had a winning pedigree. Â Who had the exact type of attitude the Toronto market needed.
A man who wouldn't take any nonsense from anyone, and a man who wasn't afraid to pull the trigger on a big move that may set the team up for the better in the long term, a characteristic it seemed so many Leafs GM's lacked in between the time of Fletcher's first run, and Burke being christened as the new head of the front office.
Finally, Leafs fans were able to legitimately talk about the "Big O", and they weren't faking it either.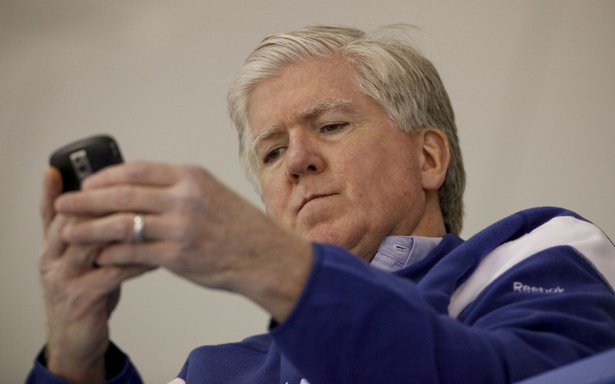 From USA Today - 3/1/2007:
Anaheim Ducks general manager Brian Burke has always been among the NHL's most colorful wheeler dealers. In 2005-06, he overhauled his [more…]
***Be sure to check out Micheal Aldred's blog on the future of Tyler Bozak!*** The Toronto Maple Leafs have been in search of a number one goaltender since the National Hockey League's lockout, and after a four-year trial period---relinquishing a number of draft picks in the process--- they may have finally found their man.
The Toronto Maple Leafs are in a rebuild, or a re-tool, whichever you prefer. Â In any event, a process such as this requires a team to have a plentiful prospect pipe, ripe with blue chippers are all positions. Â The Leafs certainly may not be plentiful when it comes to blue chip prospects, but they do have a few who are developing quite nicely.
And you just never know when and where a potential blue chipper may come from.
If drafting has taught us anything, it's shown to be far from an exact science. Â Can't miss prospects turn out to be busts occasionally, and sometimes late round picks have proven to be key components for a team, just ask, among others, Tomas Kaberle, Henrik Zetterberg, Pavel Datsyuk, and Viktor Stalberg.
Okay, while he may not garner enough adulation to be put in a group with some of the NHL's top stars, there is plenty of reason to believe he may in fact one day be worthy of the mention.
For the second time this week, Mike Komisarek has missed the team practice. He also left early on in the game against the Wild on Tuesday and now Ron Wilson isn't sure when he will return, or if he's even able to play this weekend.
Update: Burke's reaction after the GM's Meeting.
[more…]