goalie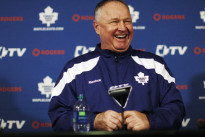 The Leafs are all but set to make the playoffs for the first time in nine years, yet there is an inordinate amount of vitriol being directed at Toronto's head coach Randy Carlyle, for some reason.
Considering pretty well everyone predicted the Leafs not to make the playoffs, it's pretty funny to see the coach leading a surprising playoff appearance - and a team that's currently fifth in the East and 7th in the League - get chastised. [more…]
With the pre-season nearly finished, the Leafs roster is beginning to take shape for 2010-11. Similarly, the Marlies are starting to become more defined as major league cuts are shuffled down to the minor league club. What is not so clearly defined on the Marlies is their goaltending situation. There will be a ton of competition between the four goalies in the Leafs minor pro system to get starts this season and those that do will have to seize the opportunity. Let's take a look: [more…]
Be sure to check out Junior's thoughts from tonight's tilt.
Hey, let's get this straight right off the bat: it sucks to lose 5-0 to the Ottawa Senators. Â Any day of the year, any type of game. Â There will undoubtedly be at least one mainstream media headline out there along the lines of: "Leafs back to losing ways". Â But a step back will tell us this is the first of a whopping nine exhibition matches Toronto will be playing and a ton can (and probably will) change in the next two weeks.
The following is a live, up to the minute game blog featuring the rookie tournament game between the Toronto Maple Leafs and the Pittsburgh Penguins. Â Remember to hit refresh for the latest updates.
The following is live, up to the minute coverage of today's rookie tournament game between the Ottawa Senators and the Chicago Blackhawks. Â Remember to refresh the page to get the latest updates.
The Toronto Maple Leafs will host their rookie tournament this year in London, Ontario from September 11th to the 14th, and Maple Leafs Hot Stove will have unprecedented, wall-to-wall coverage of the event.
Join us here for live game blogs, game previews, game reviews, exclusive interviews, and more! Â Today, we will look at the top ten Leafs players who will be worth paying extra close attention to at this weekend's event.
In the final part of his 12 Burning Questions series, Derek Harmsworth takes a look at the Maple Leafs chances of getting back to postseason hockey this year.
May 4th, 2004.
Both teams, tired and weary from what had already been a long, arduous road, a journey that had left both teams battered and bruised. Â The teams went back and forth, showing tremendous heart and determination, showing what it takes to win hockey games at this time of year.
Up the ice they went, rewarded with a good scoring chance, but stopped by a goaltender who was up to the task. Â Then down the ice the other way, another good chance, this time for the other team. Â The goalie in this net, equally up to the task of making the save and preserving life, for at least another moment.
Quickly, and in a whirlwind of emotion, it was over. [more…]
No Leafs fan wants to be reminded of that most hated of Finnish goaltenders, Vesa Toskala. He was ushered into the organization as the next great goalie that would surely be the one to finally right this sinking ship. As any fan will tell you, this has been a disaster. In the nature of looking back at previous Leafs from yesteryear, I'm going to show you just how bad Toskala truly was. All stats not specifically referenced are borrowed from BehindtheNet.ca.
We'll start by taking a look at Toskala's season in 09-10. Toskala ended his tenure with Toronto with a record of 7-12-3, appearing in 26 games. His save percentage was a ghastly .874 and his GAA was a monumental 3.66. You don't need to follow hockey closely at all to glance at these stats and understand why they are so bad. This was a far cry from his stats in 07-08, where he had a .904 save percentage and a 2.74 GAA. Even his rather subpar 08-09 season was better, when he had an .891 save percentage and a 3.26 GAA. Could the Leafs being in second last place in the league have something to do with his decreased stats?
In part five of his 12 burning questions series, Derek Harmsworth takes a look at Toronto young guns, and whether or not they can continue their consistent contributions.
A team's fortunes can be decided on the shoulders of their young players, be it their rookies or their sophomores. Â There are plenty of examples of young players who can help their club catch lightning in the bottle, and help them surpass the expectations set earlier in the offseason by the majority of pundits.
Of course for every example of that, there are also counter examples of teams who perhaps relied too heavily on rookies, or second year players, to help pace the offense, only to have things not go according to plans. [more…]
In part two of his 12 burning questions series, Derek Harmsworth looks at the Leafs goaltending of the past, and whether this year's tandem can provide them with healthy, consistent efforts.
The NHL goaltender.
It has been said that there is no more important position in all of pro sports. Â And if you believe that, it's quite easy to see why the Toronto Maple Leafs haven't had much regular season success in the post lockout NHL, and why the post season has eluded them. [more…]
Since joining the Toronto Maple Leafs, Brian Burke has worked feverishly to distance the club from the atmosphere of mediocrity which pervaded during the years of mismanagement that came before.
While upgrading the playing staff and reducing the age demographic of the locker room are the two most apparent hallmarks Burke has placed upon the Leafs, his backstage upgrading of the administrative, coaching, scouting and medical departments have the potential to leave considerably longer legacies.
Leafs Preseason Synopsis Part 1Â  - Defense and Goaltending
By: Michael Cuttell
With free agency cooling off and countless free-agent and team roster questions floating around, it's time for Leafs fans to look at what they have, what they can afford to lose , what they need, and what they can realistically get to fill those needs. This is a step by step speculative analysis of those questions. [more…]