goalie
The two greatest military tacticians of the past 5000 years – Sun Tzu and Sgt. Slaughter – both spoke on the value of knowing the strengths and weaknesses of your enemies in the field.  To effectively assess the situational realities of the Toronto Maple Leafs it pays to look at the status of their direct competition within the Northeast division.  Playing 24 games against teams from their own division, pride, points and position are all on the line.  While by no means comprehensive (as yet), take a gander at the past 3 weeks of moves.
The Canadians, Senators, Bruins and Sabres all earned playoff positions last season.  A successful, playoff calibre Leafs squad must commit themselves to dominating these frequent opponents as more than a quarter of the season will be played against them. [more…]
We've partnered up with Pension Plan Puppets to bring to you a Player Review series, where we will be evaluating and grading the 2009-10 season for every Leaf who featured in a significant number of games for the Blue and White last season, with an eye towards 2010-11.Today we feature Jonas Gustavsson, profiled by Justin Goldman.
The Summary: Back with another guest post is The Goalie Guild's Justin Goldman. Jonas Gustavsson's choice of the Toronto Maple Leafs last summer ended a long period of courtship from a number of NHL teams. The world's best goaltender outside of the NHL's decision to join the Leafs gave the team a goalie of the future. His season was, to say the least, a roller coaster ride that ended with some decent numbers. Brian Burke has built a strong support system for the young Swede and seems to have a bright future ahead of him.
We've partnered up with Pension Plan Puppets to bring to you a Player Review series, where we will be evaluating and grading the 2009-10 season for every Leaf who featured in a significant number of games for the Blue and White last season, with an eye towards 2010-11. Today we feature Jean-Sebastien Giguere, profiled by PPP Guest Justin Goldman.
"The Summary: Jean-Sebastien Giguere's arrival in Toronto represented a lot of things. First and foremost, it represented the moment when, after 100+ days of atrocious goaltending, Brian Burke was finally able to change the Leafs' fortunes. It represented the first time since the lockout that the Leafs' defencemen and forwards could be confident that on any given night they were playing in front of an NHL calibre goalie. And it also showed the extent to which Brian Burke was working to put the support network in place to maximize Jonas Gustavsson's potential. So how do you evaluate a goalie? Well, you ask an expert to offer his thoughts.
The year was 2005. Â George W. Bush was still in office (yes, somehow Americans voted for him, twice), Hurricane Katrina was doing catastrophic damage to New Orleans, and the vatican was naming a new pope after the passing of John Paul II.
In the sports world, the New England Patrios would win yet another Super Bowl, this time against the Eagles, the Washington Nationals would begin operation as Major League Baseball's newest team, Danica Patrick became the first woman to lead a lap at the Indy 500, and the Chicago White Sox ended a lengthy championship drought, winning the world series in four straight over the Houston Astros.
Oh, and there was this one other thing too. Â NO HOCKEY.
Embattled in a bitter labour dispute, the NHL shut down operations for an entire year in search of cost certainty, something they would eventually get, although the opinion on whether the design is flawed or not is still out to be deliberated.
For fans of the NHL, the June 2005 entry draft was more than just a weekend in June in which young players would be drafted, making their way into the beginning of their National Hockey League careers. Â It was a new beginning for the world of the NHL. Â A new season was about to kick off in earnest.
Brian Burke has picked up yet another wallet. According to a Finnish report, the Toronto Maple Leafs have agreed to terms on a two year deal with Finnish free agent goaltender Jussi Rynnäs. Jussi is still just 22 years of age, and is coming off a stellar year in the Finnish SM-Liiga in which he posted a 2.50 GAA and a 0.929 SV%. Rynnäs is still at least a couple years away from being NHL-ready, and will start next season splitting time with James Reimer for the Toronto Marlies. Jussi was arguably this year's most coveted free agent goaltender, along with NCAA netminder Ben Scrivens, whom the Leafs had also been linked to over the past couple weeks.
The Playoffs are about to start and what better time than now for the CFB predictions. We highlight every series with individual writers giving their own opinion on why or how a particular team can win the series. This is the Round 1 Predictions for the Eastern Conference.
Submitted by Michael Stephens (a.k.a. Baumgartner)
Playing 16 games in March, the Leafs iced a remarkable squad, going 9 – 5 – 2 in (one of the best records in the Eastern Conference), collecting 20 out of a possible 32 points. Those 20 points represent almost one third of the Leafs season point total, as do their nine wins. Though this speaks more to the season long ineptitude of Hogtown's heroes, it more recently speaks to their dazzling success: these totals come from just under one-fifth of the total games played in a season. That is perhaps the most promising thing about these young buds looking at next season.
[more…]
Tonight, the Toronto Maple Leafs will host the Atlanta Thrashers at the Air Canada Center. Atlanta is hoping to catch the Boston Bruins for the 8th seed in the East and snag a post-season berth, while the Maple Leafs are looking to continue a playoff of their own - the quest to get out of the bottom five.
NOTE: Newly signed Brayden Irwin will not make his debut tonight. He will likely see action Thursday or Saturday.
[more…]
#NHLAnagrams have been a big thing on twitter over the past week, and what a riot we've had. Some of the creations have been strictly comical (Daniel Alfredsson = An Idle Ass Fondler), some have been ridiculous (Brian Burke = Urban Biker) and others have fit so perfectly, you would think that it was by some magical force that their name and anagram had come to be (Zdeno Chara = A Hazard Cone, Vesa Toskala = aka Lost).
With the Toronto Marlies seven points back with 12 games to go, I'm torn as to my thoughts of the post-season and based on the Marlies' anagram, Realism Torn Too. [more…]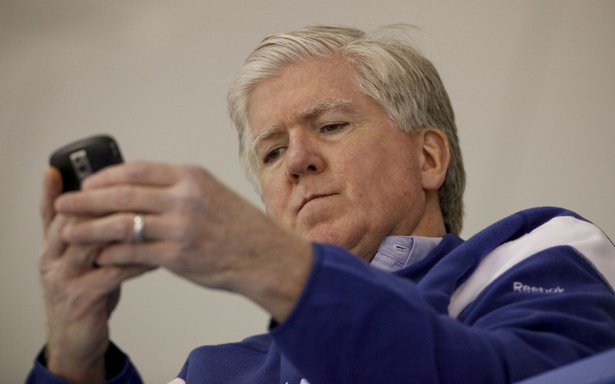 From USA Today - 3/1/2007:
Anaheim Ducks general manager Brian Burke has always been among the NHL's most colorful wheeler dealers. In 2005-06, he overhauled his [more…]
Let's be honest, how many of you had either fallen asleep or changed the channel when your Leafs tied it up tonight? Â In a comeback devoid of any explosiveness, Toronto teased you with the possibility of an overtime victory. Â Hah! Should have known better, eh?