good player
Toronto Maple Leafs General Manager, Brian Burke should have uttered one phrase to explain the situation, one simple little phrase to envelope the reasoning for the Phil Kessel trade;
"Our picks in our vision of where we ended up are overvalued in accordance to the available crop of prospects."
But in Toronto, to admit that in what's deemed as a 'rebuild' would have been a PR disaster.
Despite popular opinion, he wasn't wrong.
The world is no longer flat, it's round .. like a full-cirle
Flyers officially kick off July 1st festivities by acquiring Andrej Mezaros from the Lightning in exchange for a 2nd round pick. Rumors of Boston centre Marc Savard potentially heading out west to Calgary as well.
As for the Maple Leafs, they will have $10.5 million in cap space to play with today, though that figure does not include the possible removal of Kaberle's $4.25 million via trade or Finger's $3.5 million as a potential waiver candidate.
The Leafs have been linked to defenseman Dan Hamhuis, forwards Raffi Torres and Colby Armstrong, and will also kick the tires on sniper Ilya Kovalchuk. Darren Dreger believes the club will look at adding a 3rd line forward along with a defenseman to "stockpile for later deals". Stay tuned to this blog for updates on signings throughout the day. [more…]
According to LA Kings beat writer Rich Hammond, it appears as if Kings winger Alexander Frolov is set to become an unrestricted free agent on July 1st. Citing an interview with Kings' GM Dean Lombardi, Hammond explains that the team is "not optimistic" about their chances of retaining their young sniper. Should the Leafs be interested in his services? [more…]
Note: With the playoffs being the focus of the hockey world right now, there isn't a whole lot of big stories breaking in Leafland these days. As such, I'll be helping out Alec with his "Bits & Pieces" articles, touching briefly on various topics, and providing the occasional draft primer for the Entry Draft this coming June.
This session's topics include the Phoenix Coyotes, Mike Komisarek and 2010 draft prospect Joey Hishon.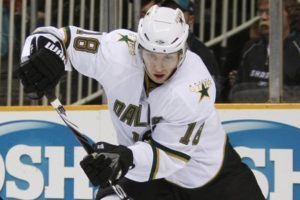 During his first full year at the helm in Toronto, you could make the case that Brian Burke was the league's most active general manager. There was the Kessel summer blockbuster with Boston and then the mega-deals on January 31st that brought in Phaneuf and Giguere. It's quite obvious that he's willing to expend assets to target any top notch premium young talent when it's made available. Both of those trades were opportunities: Kessel was a restricted free agent on a team with cap issues. Burke often spoke of inquiring on Phaneuf several times throughout the year until the "pressure points" of the cap and the struggles of the Flames pushed Sutter into making a bold move. This summer should be no different. Let's take a look at some of the young RFA's that might potentially attract Burke's interest.
Prospect defenceman Keith Aulie:
"Aulie is a 6'6 defenceman playing for Abbotsford of the AHL. Our plans for Keith are for him to stay at the AHL level for the present, so he will report to the Marlies. This is a player who played on the national junior team and won a gold medal. Excellent skater for a big man, a guy we coveted and hard to work real hard to get into the deal. We think he's going to be a really good NHL player down the road for a long time. We think right now, like Calgary did, that from a development standpoint, he'll be better off logging big minutes in the American league.
It's been widely reported the past few days that Leafs' GM Brian Burke is working on at least two trades in an effort to provide a much-needed shakeup to the team.
Sifting through the vast amounts of information, misinformation, and fanboy longing, two teams keep getting repeated over and over ... enough to raise at least one speculative eyebrow.
The following are the Leafs lines for tonight's game. Ron Wilson has shuffled the lines quite a bit and has looked to find some chemistry for a shooter to play with John Mitchell. He's hoping Jason Blake will fill the role while Jamal Mayers can provide some grit on the right side.
[more…]
Wednesday night's tilt between the Maple Leafs and Penguins was by far the sloppiest game the Leafs have played thus far, with a 4-1 Pittsburgh victory the end result.
Simply put, the players looked as though they lacked energy from the outset. Â  Was it fatigue from the toll of three games in four days? Â  Or was it simply a poor outing, as is prone to happen to all teams, from time to time? Â  The answer to that may lie in Thursday evening's game against the Senators.
Five trades that almost happened.  Count 'em, five separate deals.   So close, yet so far away.
A very good source has it that Brian Burke saw five separate draft day deals fall apart in the last minute of each.   He worked his tail off on each, only to see the other teams back out in the end for a myriad of reasons.  Yet despite these disappointments,  Burke was still able to land a very good player in Nazim Kadri at #7, so the draft wasn't a total loss by any means.
Player Profile
Position: D
Shoots: Left
Height: 6'1
Weight: 183 lbs
Birthdate: 1990-10-29
[more…]
JIMMY HAYES (# 10) – RW
Player Facts
Birthdate: November 21, 1989
Stargazing: Scorpio
Hometown: Dorchester, Massachusetts
Size: 6-5, 210 lbs (team listing)
Shoots: Right