Gregory Campbell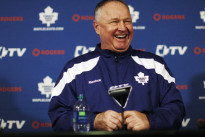 The Leafs are all but set to make the playoffs for the first time in nine years, yet there is an inordinate amount of vitriol being directed at Toronto's head coach Randy Carlyle, for some reason.
Considering pretty well everyone predicted the Leafs not to make the playoffs, it's pretty funny to see the coach leading a surprising playoff appearance - and a team that's currently fifth in the East and 7th in the League - get chastised. [more…]
As much as I tried to just sit back and enjoy the game as a fan last night, I couldn't help but take a few notes (this might have been because we ended up sitting among the scouts). So without further ado, here are a few additional observations from last night's tournament opener to supplement Derek Harmsworth's excellent coverage.