head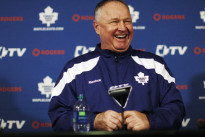 The Leafs are all but set to make the playoffs for the first time in nine years, yet there is an inordinate amount of vitriol being directed at Toronto's head coach Randy Carlyle, for some reason.
Considering pretty well everyone predicted the Leafs not to make the playoffs, it's pretty funny to see the coach leading a surprising playoff appearance - and a team that's currently fifth in the East and 7th in the League - get chastised. [more…]
Perhaps the best part about Nazem Kadri's two-goal, three-point performance last night against the Ottawa Senators is that he can start the season with the Toronto Marlies with his head held high. Certainly, Leafs fans, management and Kadri alike will hope he can relay last night's performance on the wing into another strong showing against Detroit on Friday and make a case for a place in the big Leafs' top six for the October 7th date with the Habs. But should Kadri's play return to the form he exhibited in previous preseason showings - by no means terrible, but not as impressive as it will take - he can take solace and confidence in last night's achievements and start off on the right foot at the Ricoh. [more…]
At this time last year, Jerry D'Amigo was a little known Maple Leafs' draftee who had been passed over 157 times by other clubs only a few months before. After a banner year at Rensselaer Polytechnic Institute in the NCAA and a brilliant run at the World Juniors, the not even 20 year old D'Amigo currently finds himself with an NHL contract, an invite to training camp, and a legitimate shot at making his dreams come true as soon as this fall. That was last year. Now let's take a look at some of the names that could be making some serious headway up the Leafs' organizational depth charts in 2010-2011.
It's been a hot topic, and a touchy one at that for the better part of almost a year, since the day the trade was consummated. Â The Toronto Maple Leafs, toward the end of the pre-season, announced that they had traded two firsts and a second round pick to the Boston Bruins in exchange for Phil Kessel, a young American born sniper who the B's were having issues resigning.
It was a steep price to pay, but you have to give to receive, and in Kessel the Leafs got a bona fide goal scorer who looks like he could be a perennial 30 goal scorer (more on that later.)
And yet some people have cast Kessel to fail, no matter what impact he has on the Leafs, attaching him forever to the trade that brought him here.
This past week, Bill Watters took that to the extreme, and took a piece of integrity written journalism and turned into something sensational and downright wrong, all in the name of making Phil Kessel look as bad as possible because he doesn't agree with the trade.
The Chicago Blackhawks are just 60 minutes away from drinking out of Lord Stanley, and it will be present at tonight's game at the Wachovia Center in Philadelphia. Should the Blackhawks win, it will be their first championship in 49 years.
"It has been flashing in my head since Game 1 of the playoffs," said Blackhawks captain Jonathan Toews. "Every time you win one game, it feels like you're going all the way to the Cup. I've always said when you lose a game it feels like your season is going to be over. It just has been such a crazy ride."
It is their second meeting this year, and the first played a big part on blinding fans for both teams in the belief that each were elite competitors. Since that opening night, the Habs have on 5-7-0, while the Leafs have gone 1-7-2. But there are always upsides, and tonight marks to start to capitalize on those specifics.
[more…]
I must confess, I bought in.  I bought into the mantra of improved team toughness, improved goaltending, improved and revamped defense, and an improved top6 forward unit possessing speed and skill who would be protected and insulated by a tough as nails complimentary group of players.  I watched the pre-season and was salivating at the skill, speed, and determination exhibited by the up and coming Leafs prospects.  But, then something very strange happened, something I cannot comprehend nor understand.  Every single player (with the exception of Stalberg), which had led to such optimism and belief of brighter days ahead - were demoted to the OHL or the AHL.  I sat there shaking my head, and privately and publicly went on and on about how this team could not succeed without the youth.  Ironically enough, I had absolutely no idea how right I was and how bad this could and would get.
There is a lot going on  around the league these days.    Rumours about Kaberle and potential deals abound, a Kessel signing is no longer imminent, Heatley is still a Senator, and the NHL remains hot over the Hossa contract.  Oh, and did I mention the league still has a bounty on the head of Jim Balsillie?
All of these stories have been playing out for months now, and none appear headed toward a resolution prior to the start of the new season. Â  Â It is safe to assume that despite the vast quantity of reporting devoted to these stories throughout the offseason, each will continue to dominate the headlines on days where the box scores do not.
The word on the street is Rangers' winger Nikolai Zherdev has been awarded $3.9m in arbitration (unconfirmed).   If true, many suspect the amount to be out of GM Glen Sather's price range, and he may allow Zherdev to walk as a result.
A hot rumour today has the Maple Leafs' monitoring the situation closely, and many have said that if the Rangers decline the arbitration result, Leafs' GM Brian Burke is expected to be at the head of the line of teams attempting to sign the mercurial, but immensely talented, winger.
Don't shoot the messenger when you read this.
NHLPA executive director Paul Kelly was on HockeyCentral At Noon today, and among other topics he briefly discussed the possibility of a second NHL team coming to Toronto.
When asked why Toronto has not been seriously considered to date as a home for another franchise, despite the enormous fan base and subsequent opportunity to succeed financially, Kelly suggested that MLSE was not the source of resistance.
Here's a look back at all the exciting events that happened in tonight's game:
Nothing.
Now on to the post-game reaction. [more…]