HSBC
Coming off a tough shootout loss against the Flyers last night, the Leafs will look to rebound on the road against the Sabres tonight at HSBC Arena. Despite blowing a late third period lead, there was a lot to like about the Leafs' performance, including a strong bounce back game from captain Dion Phaneuf and spurts of brilliance from the club's new top line of Versteeg, Bozak and Kessel. The Buds will be in tough tonight against the Sabres, who will be icing a lineup very similar to the one they will open the season with. [more…]
The two greatest military tacticians of the past 5000 years – Sun Tzu and Sgt. Slaughter – both spoke on the value of knowing the strengths and weaknesses of your enemies in the field.  To effectively assess the situational realities of the Toronto Maple Leafs it pays to look at the status of their direct competition within the Northeast division.  Playing 24 games against teams from their own division, pride, points and position are all on the line.  While by no means comprehensive (as yet), take a gander at the past 3 weeks of moves.
The Canadians, Senators, Bruins and Sabres all earned playoff positions last season.  A successful, playoff calibre Leafs squad must commit themselves to dominating these frequent opponents as more than a quarter of the season will be played against them. [more…]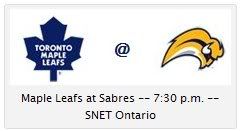 Williams & White score to rally Leafs to 2-1 win at the HSBC
The Maple Leafs escaped from the House of Pain with two points tonight and, better yet, their two call-ups were superlative in the process. Jeremy Williams sniped his second in as many games from the half boards to even the game at ones late in the second frame before Ian White beat Ryan Miller with a seeing eye double to give the Leafs the edge in the third. Fellow call-up Jaime Sifers was a physical force on the blue-line, throwing a team-leading three hits and finishing second only to Jeff Finger in terms of ice-time (a resounding 21 minutes including 5 minutes of short-handed time). Sifers played a role in a critical penalty kill in the late stages.
Be sure to check out Scot Louck's post-game thoughts below.
First of six meetings between Leafs & Sabres this season
The Maple Leafs renew acquaintances with their northeast rival Buffalo Sabres at the HBSC tonight, a building home to both some chilling and some rosy Leaf memories, from the Bryan McCabe own goal and other monumental Leaf collapses to some pretty all-around satisfying Ws.
[more…]