Ilya Bryzgalov
Since Brian Burke has been at helm, the Toronto Maple Leafs organization has restocked its prospect cupboard and have instilled hope in a fanbase desperate to win.
Leafs fans have witnessed both highs and lows during the 2009-10 season and, although they must watch helplessly as the Boston Bruins select either one of Tyler Seguin or Taylor Hall, there is now legitimate reason to believe the Stanley Cup drought could come to an end.
When? Who knows, but Burke is taking it one step at a time---and, somehow, avoiding the traditional five-year rebuilding plan in the process.
Brian Burke has picked up yet another wallet. According to a Finnish report, the Toronto Maple Leafs have agreed to terms on a two year deal with Finnish free agent goaltender Jussi Rynnäs. Jussi is still just 22 years of age, and is coming off a stellar year in the Finnish SM-Liiga in which he posted a 2.50 GAA and a 0.929 SV%. Rynnäs is still at least a couple years away from being NHL-ready, and will start next season splitting time with James Reimer for the Toronto Marlies. Jussi was arguably this year's most coveted free agent goaltender, along with NCAA netminder Ben Scrivens, whom the Leafs had also been linked to over the past couple weeks.
The Playoffs are about to start and what better time than now for the CFB predictions. We highlight every series with individual writers giving their own opinion on why or how a particular team can win the series. This is the Round 1 Predictions for the Western Conference.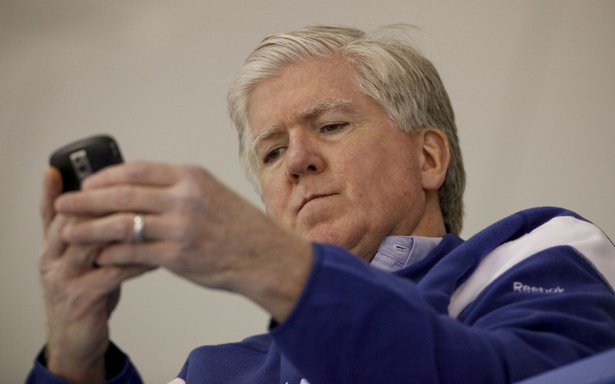 From USA Today - 3/1/2007:
Anaheim Ducks general manager Brian Burke has always been among the NHL's most colorful wheeler dealers. In 2005-06, he overhauled his [more…]
For all the headlines the franchise had made off the ice, it's the Phoenix Coyotes on ice product that should be making the news.
Led by a core of young, talented hard working players, and solid goaltending by Ilya Bryzgalov, the Coyotes have been one of the biggest surprises in the NHL this season, and continued their winning ways tonight defeating the Leafs 6-3 in Toronto, denying the Leafs of their fifth straight win on home ice.
Petr Prucha score twice for the Coyotes, while Vernon Fiddler, Paul Bissonnette, Scottie Upshall and Radim Vrbata all tallied singles for Phoenix. Â Jamal Mayers, Phil Kessel, and Alexei Ponikarovsky replied for Toronto.
For the second year in a row, Team Canada fell 2-1 to the Russians in yesterday's gold medal game at the 2009 World Hockey Championships in Switzerland. Ilya Bryzgalov made 37 saves and the Russian defense managed for the most part to keep a prolific Canadian offense in check. [more…]
Chatter ... non existent.
Rumors ... rampant speculation, but nothing really.
Movement ... absolutely dismal amount of transactions (if you don't count waiver placement)
Just, eerily quiet ...
And I have a theory as to why. But first, some good news.
Through 45 games the abject tandem of Toskala and Joseph has combined for the worst team save percentage in the NHL and by an ever increasing margin. Where .900 is seen as a barometer for average net minding in the modern game, the Blueshirted duo has managed just .886 between them. Subsequently the hard work put into making the Leafs sixth in shots against with a 28.3 per game average is being undone by a last line of defence that bares a startling resemblance to the Maginot line. Worse still the current status quo threatens to undermine the very rebuilding process Toronto are pinning their future on.
That's what I think of when I hear the rumors and buzz going on about Brian Burke potentially being the next Leafs GM. Everyone associates him with the ability to assemble a championship calibre core and then win it all like he did with the Ducks in '07. The reality of the situation is that he is NOT the right man for the Toronto Maple Leafs job, and I'm going to explain why I think so. [more…]
Sorry for the delay guys.  We greatly appreciate the flood of great questions and comments, and are sorry to say we couldn't get to them all. We've all been pretty busy lately for a variety of reasons, so without any further ado, let's get started on the 1st ever Maple Leafs HotStove Hockey Panel Discussion.
Forming our panel for this session is Alec Brownscombe of Hockeybuzz and MLHS godfather, Gus Katsaros of Mckeen's and MLHS fantasy expert, and myself, Alex Tran, an MLHS blogger.