islanders
The Leafs are on Long Island tonight looking to bounce back after a dismal showing at home against the Habs less than 24 hours ago. Tonight is like most game nights in that I'd highly recommend the Leafs win, but it's especially the case given they're playing the Islanders and have New Jersey and Pittsburgh on tap after the upcoming three-day break.
The big story as far as lineup changes go is the return of James Reimer, who banged up his knee 17 days ago. Tonight hopefully marks the beginning of a two- (healthy) Leafs goalie platoon where both 'tendies push each other for the opportunity to provide quality starts. Reimer's last start was the Leafs' 5-2 win over Philadelphia and he enters tonight looking to belatedly continue a three-game win streak. He's 6-3-0 with a .931 save percentage on the season. [more…]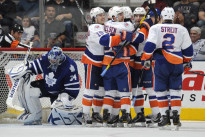 How do you undo any progress and momentum gained by a 5-2 win over Pens in their home opener? How about a 7-3 loss to the Islanders back at home, coughing up a two goal lead and conceding five unanswered? That'll do it. [more…]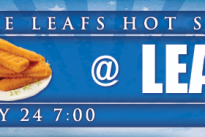 The Islanders are obviously a beatable opponent, but don't face the same mental and physical challenges of a back to back cross-border scenario after a high-tempo game for the Leafs last night. The key for Carlyle's team will be avoiding the let down coming off of the high in Pittsburgh. [more…]
Tonight, the Toronto Maple Leafs will play host to the New York Islanders as they search for the fifth straight win to open the season. The Islanders are searching for their first road win of the season and hope to earn it tonight by crashing the Leafs' winning party. The Leafs' fifth win of the season last year came November 23rd and was accompanied by eighteen losses in regulation and overtime. J.S. Giguere is back between the posts while Brett Lebda sees his first action of the regular season in place of the shaky Carl Gunnarsson.
[more…]
The Leafs and Islanders have a fair bit of history between them. The Mike Peca/Darcy Tucker incident, the Leafs trading up to acquire Luke Schenn, and even the Islanders beating the Devils (who played Scott Clemmenson instead of Martin Brodeur) in a shootout to knock the Leafs out of the 2006-07 playoffs by one point in the final game of the season. Tonight, they meet again in Toronto.