James Van Riemsdyk
Can't wear your jersey 24 hours a day? Get this Beatles-inspired T-shirt exclusive to Maple Leafs Hot Stove just in time for the PLAYOFFS!!! [more…]
That. That was the win that cemented the Leafs as playoff worthy. [more…]
In a matchup with big playoff implications, the Leafs could move ten up on the 10th-placed Carolina Hurricanes with a win in this four-point swing game. A loss in regulation puts the Hurricanes within six with three games in hand.
The Hurricanes are an opponent the Leafs have struggled with in both matchups this season. Their strength down the middle has played a key role as the Staal brothers have featured prominently on the scoresheet in a combined 7-2 win over the two games. Among teams the Leafs have played more than once, the Canes are the only opponent they have gained zero points off of. [more…]
Toronto overcame a slow start on the second night of a back-to-back set to close out the league-worst Florida Panthers at home.  The game featured the return of Joffrey Lupul to the Kessel line, simultaneously heralding the revival of said line as contributing members of the team. [more…]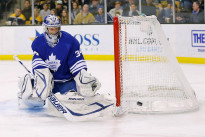 'Tis the season for Leafs trade rumours.
Now, I'm not about to dig up every rumour out there on the internet and go through it, but I do want to provide some thoughts on the team, the direction of the organization, and what's out there before the Leafs do (or don't) make any moves. [more…]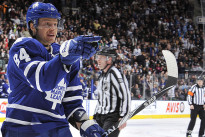 After a good comeback/confidence-building game against the Tampa Bay Lighting, the Toronto Maple Leafs  have perhaps created more questions than answers. The Penalty Kill keeps [more…]
The Leafs welcomed the Penguins in what was their second meeting of the season. A win in the first game in Pittsburgh certainly felt good, but this was a Penguins team that has 7 wins in their last 10 games and has just now started to push for the top of the Conference standings. It was a different game entirely. [more…]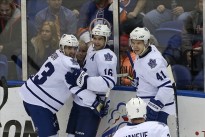 Since we are almost at the halfway point, I thought now would be a good time to write some notes on each individual player thus far. Here is the close-but-not-quite-halfway Leafs Notebook: [more…]
In a Leaf era fraught with frustration and mistrust, nobody brought forth these feelings in fans more than Luke Schenn over the past couple years. After what many would call a promising start, Schenn's career became known more for blunders than smart defensive plays. Though I have written on how Schenn's stats seem to indicate underlying problems in his defensive game, I will admit that the goalies in Toronto have made everyone look bad lately. Brian Burke eventually saw what the fans saw in Schenn, trading him for James van Riemsdyk, another young player who had been somewhat soured in management (though that was due to injuries).
Will there be a 2012-13 season? Probably not. Will I do a 'What to Expect' for van Riemsdyk anyway? Absolutely. Come with me on a journey down the rabbit hole of advanced statistics. [more…]
It was quite the big weekend. I mean, how often do get a chance to sit around all day teaching your two year old nephew how to play hockey using his very first Maple Leafs mini-sticks? Oh, and apparently there was a draft and a couple of trades, too. I'll do my best to offer some opinion, but a solid list of links will pick up where I left off and satisfy our hunger for seeing the Leafs roster evolve from the dogs breakfast into something at least comparable to Alphagetti with meatballs.
With the fifth pick in the 2012 draft, the Maple Leafs are proud to select...
Alright, if you check my twitter timeline on Friday night it's very clear that I was more than a little upset that a skilled forward was not selected. I was listening to the draft on the radio while driving home from work, and the second that Griffin Reinhart was picked by the Islanders I assumed it was a foregone conclusion that we would see Filip Forsberg in a Leafs uniform. Am I still upset by this? Yes. Does this mean I think that Morgan Rielly is a crap prospect? Not at all. [more…]
While I had begun to sour somewhat on Schenn's potential last season, it was a little odd to wake up this morning and remember #2 was now a member of an organization not named the Toronto Maple Leafs. Schenn was celebrated as the first pillar of the Leafs' rebuild when Cliff Fletcher drafted him in 2008. Many a fan bought his jersey. Some said we had future captain material in Luke. Few would've predicted Schenn would be with a new organization before he turned 23.
I'm not going to call Schenn's rookie season a mirage, but it was somewhat of a tease. We heard Pierre McGuire call this guy a Human Eraser and we saw it with our own eyes when he stepped onto NHL ice as an 18-year-old and tossed a 245-pound Keith Tkachuk to the ice. What seems to have happened between the Schenn we knew then and the one Burke just traded was a combination of expectations heightening and his development traveling the trajectory of a more normal young defenceman, as opposed to the beyond-his-years beast we came to know him as in junior and very early on in his NHL career. [more…]
The worst kept secret in all of hockey finally became a reality.
Luke Schenn is now a Philadelphia Flyer, and James Van Riemsdyk is finally a Toronto Maple Leaf.
JVR (whose name I'll probably never type in full again) was the second overall pick in the 2007 draft and has had a slow, but upwards, trend in his development since. After getting drafted he returned to New Hampshire, where he played college hockey, and threw up 40 points in 36 games along with 10 points in six world junior games. He ended that season playing some AHL games, but jumped straight to the NHL the following year and put up a respectable 35 points in 78 games. The next year he had five more points in three less games well also breaking the 20 goal barrier by notching 21.
His big breakout moment though was in the playoffs of last year when he put up seven goals in 11 playoff games while single- handedly dominating some games. To put it into perspective, he had 70 shots throughout those playoffs. That's over six shots a game. In the playoffs. [more…]