Jay Bouwmeester
After doing a great job of gathering up points over the past couple of weeks and pushing themselves well in to the playoff picture, it wouldn't be a big surprise to see the Leafs hold off on any trades going in to the deadline this Wednesday. But despite the amount of success the team has enjoyed this season, there are some glaring weak areas that could be addressed, and players may become available that could help Nonis bring this club to a higher level.
We've seen the Calgary Flames finally give in to a rebuild in the past week with the departure of Jarome Iginla, and the Buffalo Sabres have been known to be in fire sale mode for a little while now. As Wednesday approaches, other teams will have to make a decision on which direction they're headed, and potentially start putting bodies on planes as well. [more…]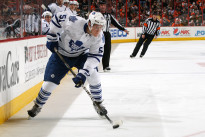 Thanks to @mORRganRielly for the following submission:
Jake Gardiner sucks.
No, just kidding.  He's pretty awesome.  He is an immensely gifted, up-and-coming defenseman, but he does have a little bit of learnin' to do.  In light of his recent scratch, I wanted to take an opportunity to delve more into his role with the Leafs and the relationship of his play against the overall performance of the Leafs defense over the course of the season.  To that end, I will be looking strictly at even-strength play rather than specialized roles like the power-play or the penalty-kill. [more…]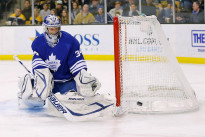 'Tis the season for Leafs trade rumours.
Now, I'm not about to dig up every rumour out there on the internet and go through it, but I do want to provide some thoughts on the team, the direction of the organization, and what's out there before the Leafs do (or don't) make any moves. [more…]
With just over three weeks to go until the trade deadline, I feel as if I can get away with a rosterbation post without too much scrutiny. I'll do my best to not go full HFBoards with my ideas, but certainly have a few players in mind that I'd like for the Leafs to target, and a few that I'd like Nonis to jettison. While I'm sure this won't be the most intelligent post you'll read this morning, hopefully it will at least spark some Monday morning conversation. [more…]
(Be sure to check out Bauman's pre-game article to get yourself ready for tonight's match-up!)
Dion Phaneuf, as of right now, is not a Norris trophy candidate.
Phaneuf took the National Hockey League by storm in his rookie season, producing 20 goals as a 20-year-old defenseman. He then had a successful sophomore campaign, breaking the 50-point barrier. In his third year, he had a 10-point increase and produced 60 points, gaining him consideration for the Norris trophy at only 22 years old.
In the end, perhaps the player to best describe the trades is ... Wayne Primeau?
After all, the former Flame has been through this before.
[more…]
The Leafs face up against their old bench boss Pat Quinn tonight hoping to get back on a winning streak of some sort.  The big lineup change seems to be a demotion for Grabovski to the fourth line.  Rickard Wallin benefits from Mikhail's demotion with a undeserved look on the second line.
My Team Canada Roster selections may seem a little vanilla, but they've been selected to play out various situations. Penalty killing, power play and balance on all the forward units took precedent over sheer offensive/defensive ability.
[more…]
This past Saturday, The Fourth Period discussed on their radio segment the possibility of the Toronto Maple Leafs trading Tomas Kaberle at some point this season, if the team's fortunes do not begin to improve.
The topic itself is not exactly news; talk of Kaberle being moved for some sort of tantalizing return or another has been commonplace in Toronto during the past couple of seasons. What is interesting, however, is the timing. Â Kaberle has been on a statistical tear to begin the year, leading all NHL defensemen with 17 points (2g, 15a) in 12 games. Â  Coming off a disasterous 2008-09 campaign, Kaberle is back on the collective radars of several teams who believe a top-flight offensive blue-liner may be the final piece to their puzzle.
By now, I'm sure many of you have seen ESPN's report of a significant offer by the Maple Leafs for Phil Kessel: two 1st round picks and a 2nd round pick. The general reflex reaction that we've been conditioned to by the Toronto media the last few seasons is to avoid moving 1st round selections by any means necessary. The thought of moving two such commodities is beyond horrifying. I've seen the name Taylor Hall used as the backbone of many an argument over the last few days, often associated with the "chance" of landing said player. If we're gonna turn this into a game of chance, let's at least get all the cards on the table. [more…]
The Maple Leafs finished as the league's worst defensive team last season, giving up an astounding 286 goals, which works out to about 3.5 goals against a game. As such, much of the team's summer remodeling took place on the blueline, which saw the departure of Kubina and the additions of shutdown defensemen  Beauchemin and Komisarek. With nearly $20M dollars committed per season through 2011 to the group of Kaberle, Komisarek, Beauchemin, Schenn and Finger, and Tomas being the only player above the age of 30, it appears on paper at least, that this will be the core of the defense for the foreseeable future. If that's the case, how do they stack up against the rest of the league? [more…]
An article in the London Free Press explains that the reasons for the earlier 7pm ET start times for home games this season: to cater to a younger audience and to allow for more efficient getaways in the case of a road game the following night. A slew of other small headlines including contract details for Komisarek, the Grabovski-Kostitsyn feud, and Justin Pogge. [more…]