Jeff Finger
Friends, we are gathered here today to honour the man and the legacy that is Jeff Finger. It's hard to believe it's been four years next Saturday, but Jeff Finger's contract is finally coming to a close. It might have been easy to forget this momentous occasion, but luckily about three and half years ago I put a reminder in my Outlook calendar so I couldn't let this day pass without celebrating it.
Way back in the summer of 2008, Jeff Finger joined the Leafs on the strength of a breakout season with the Colorado Avalanche. A season that saw him average over 19 minutes of ice time, and as Cliff Fletcher said play over 23 minutes down the stretch (in fact he did this once in his final 10 regular season games.) Jeff Finger's breakout season would also see him pinball between 19-24 minutes of ice time, and more often than not be a healthy scratch in the Avs two playoff rounds. Four of the five games he dressed for were losses. [more…]
Nick Kypreos has tweeted this little gem today:
#Leafs put Jeff Finger on #NHL waivers today.
This finally puts an end to the long period of [more…]
After what seemed like a lifetime of waiting for fans of the Toronto Maple Leafs, the new look squad hit the ice Thursday night for their home opener against the arch rival Montreal Canadiens, and with it marked the true dawning of a new age in Leafs Nation.
While it's true the hiring of Ron Wilson and Brian Burke will go down as the day the team began to turn the page on years of management misfortune, and the Dion Phaneuf day could very well end up being the trade that sparks the team forward much like the Doug Gilmour trade before it, Thursday night's season premiere was really the first time since all this has taken place that it was truly a different roster.
Gone were the incumbents of past regimes, It was finally Brian Burke's team. Â Having flipped the entire roster (sans Tomas Kaberle and Jeff Finger) Burke's vision of the team could finally be implemented, his stamp beginning to form.
And it was, for one game at least, as advertised. [more…]
The wait is over. After yet another long off-season following a fifth consecutive year of missing out on the NHL post-season, the Toronto Maple Leafs are set to kick off the 2010-11 season against their oldest rival, the Montreal Canadiens.
Both teams have undergone an off-season where - despite the lack of a full-scale overhaul - crucial moves were made to bring in key players or (in Montreal's case) provide a better opportunity for players already in the organization. Gone from the 2009-10 Toronto lineup are Viktor Stalberg, Rickard Wallin and Keith Primeau, replaced by Kris Versteeg, Colby Armstrong, and Brett Lebda. In Montreal, the most impactful move was the trade of playoff hero Jaroslav Halak to St Louis in exchange for Lars Eller, a move which paves the way for Carey Price to assert his standing among starting NHL netminders.
It'll probably be labeled as a "typical Leafs fan" debate given their status as lower roster players but there has been a number of questions arising out of yesterday's demotion of Christian Hanson and Luca Caputi in favour of John Mitchell and Tim Brent... and rightfully so, in my opinion, given the "earn your spot mentality" conveyed by Leafs brass and that both followed the off-season regimens recommended to them and came into camp by storm looking bigger, faster, stronger and more dynamic offensively.
While it's too early to judge, I am not saying the decisions to originally sign either player in John Mitchell or Brett Lebda were wise; in the cap sense and numerically, both signings have me wondering, particularly in Lebda's case. It's hard to see where Burke arrived at the need for someone of Lebda's ilk and price tag unless better offers were assumed to be incoming for Tomas Kaberle. But the decision made by coach Wilson yesterday, forgetting arguments about the off-season decisions and shifting to training camp and preseason, can be understood: [more…]
Here are tonight's lines courtesy of Pension Plan Puppets:
Versteeg - Bozak - Kessel
MacArthur - Grabovski - Kulemin
Sjostrom - Brent - Armstrong
Orr - Zigomanis - Brown
Beauchemin - Phaneuf
Kaberle - Komisarek
Gunnarsson - Schenn
Giguere
Gustavsson [more…]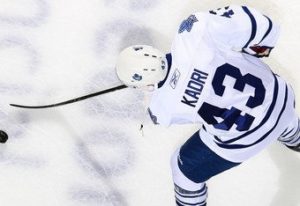 Jeff Finger returns to the line-up tonight in Detroit in what many will suggest is his Maple Leafs swan song/final pit stop en route to the Marlies. Burke is saying the right things about Finger's right to a "fair look" and the importance of respecting players acquired via free agency as it relates to organizational reputation. But the realities are this: the Leafs are sitting with both Brett Lebda and Finger on the outside of their top six, over the cap by around $300k and uncomfortably close even with Lashoff and his $550k assigned to the Marlies. And that's assuming Nazem Kadri and his $1.7 million cap hit will not be a part of the roster come opening night. If it's important to show respect to signed free agents, surely Lebda won't be Marlie-bound after his first training camp as a Leaf. Simply, something has to give, and the $3.5 million Finger, a Leaf of two seasons now, seems the obvious candidate for demotion. [more…]
The Leafs head to the capital tonight to take on their bitter provincial rivals, the Ottawa Senators, for the third time in seven preseason games.
Tonight's game figures to be the last chance for players on the bubble, including highly-touted Nazem Kadri, to make a lasting impression. When asked about these players, head coach Ron Wilson was emphatic:
"When the puck drops on the first day, you better be ready to go. No tip-toeing around. No 'oh, the water's cold, I'll wait until it warms up a bit'. Nope, you're diving in and the guys who didn't, as [Leafs' GM Brian Burke] said, they're waiting by the bus stop. Well, they missed it, the bus already left. Now their job is running down the road hoping they can get on." (via)
With the pre-season set to end with a home-and-home against Detroit to open the month of October, the general sentiment is the Leafs will use a roster for those games comprised of the players who are expected be with the NHL club on opening night. For Nazem Kadri, John Mitchell, Jay Rosehill and Mike Zigomanis, tonight (or by a slim chance the first of the two Detroit games) may be their last shot.
In part ten of his 12 burning questions series, Derek Harmsworth takes a look at the importance of a good early start, and if the Leafs can avoid another disastrous start.
There really isn't any other way to put it. Â No matter how you slice it, no matter how you try to spin it, or how you try to put a sugar coating on it, the cold hard fact still shines through.
The Toronto Maple Leafs were not a very good team last year.
Although their stats, and their general play, improved dramatically following the late January trades that saw them overturn nearly half their lineup, the fact remains that the 2009-2010 edition of the Maple Leafs fought inconsistency, as well as young inexperience that had them struggling most of the year.
But it could be argued that never were they worse, than in the first month of the season. [more…]
The Atlanta Thrashers (Maxim Afinogenov) and Montreal Canadiens (Marc-Andre Bergeron) can attest to it: unrestricted free agent signings deep in the off-season could pay dividends.
Yes, those two particular players may not play for those respective teams anymore, but they both provided their clubs with offensive boosts (Afinogenov scored 61 points; Bergeron 13 goals and 34 points in 60 games). The point is that there are plenty of quality players available in free agency if the contract terms are reasonable. Luckily for the Toronto Maple Leafs, they have some breathing room, and options, to maneuver around the salary cap.
Maple Leafs GM Brian Burke, ridiculed in some circles, heralded in others, after the way the Tomas Kaberle deal went down, has not been hiding in the shadows after his inability, or unwillingness, to trade the Czech born blue liner. Â Burke spoke to the media yesterday and made a variety of statements that should peak the interest of Leafs Nation. [more…]
Although many Toronto Maple Leafs zealots would've had me believe it, the sky did not fall when I awoke this morning, despite the outcome of the latest entry in the Tomas Kaberle saga.
And guess what? Kaberle's future with the Leafs does not dictate whether or not the team's short-term goals will be fulfilled. In fact, retaining the veteran defender may prove to strengthen the Leafs' chances at making the playoffs for the first time in the post-lockout era.