Jeff Finger
A Comparison of the Toronto Maple Leafs' Defensemen
By: Byron Nelson (aka: DefenseWinsChampionships)
Bored at work on a Monday afternoon, I found myself wondering which current Maple Leafs' defenseman had the best season in 2009/2010. While the obvious pick would be a flashy, high point-producing player like Tomas Kaberle or Dion Phaneuf, it seemed as if a greater deal of investigation would be required to come up with an informative answer. Needless to say, investigate is exactly what I did. [more…]
Leafs Preseason Synopsis Part 1Â  - Defense and Goaltending
By: Michael Cuttell
With free agency cooling off and countless free-agent and team roster questions floating around, it's time for Leafs fans to look at what they have, what they can afford to lose , what they need, and what they can realistically get to fill those needs. This is a step by step speculative analysis of those questions. [more…]
When Brian Burke added Mike Komisarek and Francois Beauchemin to an established Leafs cast of Luke Schenn, Tomas Kaberle, Ian White and Jeff Finger it looked to all that the Toronto GM had built himself an enviable problem. A premium blueline, arguably one of the finest in the Eastern Conference, that also came with a premium price tag.
Of course, what began an enviable problem on paper quickly devolved into an actual problem when the new additions failed to mesh into a cohesive unit with defensive and special team frailties more apparent than those of an comparatively budget offense.
If the Toronto Maple Leafs hope to qualify for the Stanley Cup Playoffs next season, the franchise must now focus on further bolstering the top six.
While the acquisition of Kris Versteeg certainly helps, and Colby Armstrong could potentially step into a top six role to add a physical presence with some offensive upside, the Leafs are still in need of more pure goal-scoring ability up front. Options are scarce in the free agent market, but the likes of Matthew Lombardi (although reports indicate he is seeking upwards of $4 million per season), Alexander Frolov and Ilya Kovalchuk are still available.
We've partnered up with Pension Plan Puppets to bring to you a Player Review series, where we will be evaluating and grading the 2009-10 season for every Leaf who featured in a significant number of games for the Blue and White last season, with an eye towards 2010-11. Today we feature Jeff Finger, profiled by Alec Brownscombe.
The Summary:
A former 1999 eighth round pick, Jeff Finger came to the Leafs via unrestricted free agency as a 29-year-old who was skating in the ECHL the last time Toronto made the playoffs. After his first steady NHL season with Colorado in '07-08, Cliff Fletcher rolled the dice on a $3 million-per-year raise for the journeyman that will cost the Leafs 3.5 million against the cap annually until 2012. Fletcher obviously thought there was a lot more to come from Finger in his late development as a two-way defenceman, but let's just say on that fateful day in July, 2008, the optics weren't good.
[more…]
Lots of reading today: Gus chips in an  analogical look at the NHL playoff series; Alex has your links with a look at potential Leaf Jussi Rynnas.

In what was Brian Burke's first summer on the job with the Toronto Maple Leafs, it was clear from the get go that he put an onus on improving specialty teams, and also team defense. Â The brash Toronto GM made a lot of moves as it related to improving these areas, and on paper they looked like a sure recipe for change and improvement.
[more…]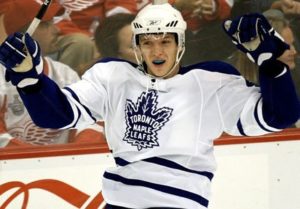 Now that the Leafs' most important pending free agent -- goaltender Jonas Gustavsson -- has been signed to a two-year contract extension, it is time to take a look at their remaining free agent players.
Notably, the list of expiring contracts includes pending RFAs Nikolai Kulemin, Christian Hanson and John Mitchell. Pending UFAs on the Leafs' roster include Wayne Primeau, Rickard Wallin, Jamie Lundmark, Garnet Exelby and Mike Van Ryn.
When Brian Burke became the new general manager of the Toronto Maple Leafs in November of 2008, Leafs Nation embarked on a new journey. Â A new beginning. Â With Burke at the helm, the Leafs organization finally had a general manager who had credentials. Â Who had a winning pedigree. Â Who had the exact type of attitude the Toronto market needed.
A man who wouldn't take any nonsense from anyone, and a man who wasn't afraid to pull the trigger on a big move that may set the team up for the better in the long term, a characteristic it seemed so many Leafs GM's lacked in between the time of Fletcher's first run, and Burke being christened as the new head of the front office.
Finally, Leafs fans were able to legitimately talk about the "Big O", and they weren't faking it either.
With the final bell about to ring season most fans would be happy to forget - although the impending draft all but dictates they most assuredly will not - the Maple Leafs will officially enter the offseason five campaigns removed from the playoffs at the conclusion of Saturday night's game in Montreal.
Unlike previous years, however, this season has revealed to fans -- amidst the rubble of far too many losses -- a silver lining of sorts: the promise of youth.
Pride, youthful enthusiasm, new contracts and job opportunities for next season continue to provide more than enough hop in the Leaf step as they look to make it eight wins in their last ten and seven in their last eight at home when they play host to the Rangers at the ACC tonight.
[more…]
It was a light day practice wise as the optional skate drew only a handful of players to the MasterCard Centre for Hockey Excellence.
[more…]
The Toronto Maple Leafs look to put a streak together tonight, while the Devils are seeking control of the Atlantic division. Tyler Bozak and Phil Kessel each have 6 points in their last 4 games, while Nikolai Kulemin is showing signs of becoming a promising top two line player with 7 points in his last 5 affairs. He has arguably been the Leafs' best player for the second half of the season.
[more…]