John-Michael Liles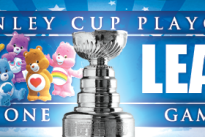 Toronto looks for their 1st win on home ice in this series (and in 9 years) and you can expect that they will be a little less tight in the 1st period than they were in their 1st playoff game at the ACC on Monday night. Toronto has been getting progressively better during the series and looks to be the match of Boston if they play their system and don't gift them goals like did the entire game on Monday. [more…]
In their only move today, the Leafs have acquired the 6'5, 235-pound Ryan O'Byrne, a big right hander for the back end who used to play alongside John-Michael Liles in Colorado. A depth add here, with a 4th round pick headed the other way to the Avalanche. [more…]
After looking at potential trade targets in last week's preamble, it only makes sense to look at the Leafs potential trading chips for the deadline that's two days away.
Around the trade deadline, eyes always gravitate towards pending UFAs and the Leafs currently have five. It's safe to say UFA to be - Colton Orr, Mike Kostka and Ryan Hamilton - aren't going to bring Toronto anything via trade so we can cut them off the list of names to discuss. The other two UFAs to be are Tyler Bozak and Clarke MacArthur. [more…]
In a matchup with big playoff implications, the Leafs could move ten up on the 10th-placed Carolina Hurricanes with a win in this four-point swing game. A loss in regulation puts the Hurricanes within six with three games in hand.
The Hurricanes are an opponent the Leafs have struggled with in both matchups this season. Their strength down the middle has played a key role as the Staal brothers have featured prominently on the scoresheet in a combined 7-2 win over the two games. Among teams the Leafs have played more than once, the Canes are the only opponent they have gained zero points off of. [more…]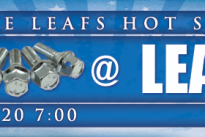 The Tampa Bay Lighting (13-15-1) are in town to take on the Toronto Maple Leafs (15-12-2).
The other day, Randy Carlyle called the Leafs' inability [more…]
With just over three weeks to go until the trade deadline, I feel as if I can get away with a rosterbation post without too much scrutiny. I'll do my best to not go full HFBoards with my ideas, but certainly have a few players in mind that I'd like for the Leafs to target, and a few that I'd like Nonis to jettison. While I'm sure this won't be the most intelligent post you'll read this morning, hopefully it will at least spark some Monday morning conversation. [more…]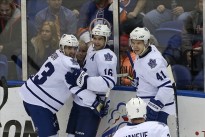 Since we are almost at the halfway point, I thought now would be a good time to write some notes on each individual player thus far. Here is the close-but-not-quite-halfway Leafs Notebook: [more…]
According to the good folks at Sports Club Stats the Toronto Maple Leafs have approximately a 5 percent chance of making the playoffs.  Yeah, pretty bleak... five out of one hundred times this Leafs team will make the big dance.  If James Reimer doesn't continue to play like a Vezina trophy candidate I think we can safely say the Leafs stand no chance at all.
James Reimer (prior to Saturday's game) has played in 17 games, sports a 10-4-2 record to go along with a sparkling 2.24 GAA and a shiny .930 save percentage.  In short, he has played like one of the top goaltenders in hockey during his short stretch as the Maple Leafs number one option.  His current stats would rank him in sole possession of fifth in the NHL in GAA and second in save percentage (behind only Tim Thomas). [more…]