jonathan toews
I was recently invited to a Canadian Tire press conference announcing their new five-year partnership with the NHL to become the League's Official Sporting Goods Retailer of the NHL in Canada. While I was unable to attend the event, which included a one-on-one interview with Olympic Gold Medalist and Stanley Cup winner Jonathan Toews, the promotion company generously offered a media release for the site.
Kris Versteeg has undoubtedly been the prize pick up for the Maple Leafs thus far this offseason. You've heard all the basics by now. He's great in the dressing room, he plays all three forward positions, he produces under pressure and he's a back-to-back 20 goal scorer. At age 24, these are all impressive qualities, but now the real question is: how he will fare in the Maple Leafs' system? [more…]
Great to see such an active group of readers. Here are a couple of FanPosts for your Friday afternoon reading enjoyment with today's theme being youth, youth and more youth. Paul LeMay (B. Leaf) takes an in-depth look at the team's organizational prospect depth while Chuck Johnson compares Nazem Kadri's chances of making the NHL as a 2nd year player with those of previous high draft picks. [more…]
For Greg McKegg, nothing has necessarily come easy in his hockey career. Â A slow start to his rookie campaign in Erie, followed by a knee injury which threatened the start of his season this past year, McKegg began the year as a winger for the Erie Otters that ISS ranked in the 90's.
It was something that McKegg couldn't not think about, no matter how much he tried.
"It's something you try not to think about too much really, but you can't help but look. Â It was disappointing to see that for sure, but I think it gives you that edge to work harder and show people that you deserve to be higher up on the list."
And that is exactly what he did.
Being described by some in the hockey circles as a perennial underdog, McKegg did the only thing he knew how to do. Â Work hard.
The Chicago Blackhawks are just 60 minutes away from drinking out of Lord Stanley, and it will be present at tonight's game at the Wachovia Center in Philadelphia. Should the Blackhawks win, it will be their first championship in 49 years.
"It has been flashing in my head since Game 1 of the playoffs," said Blackhawks captain Jonathan Toews. "Every time you win one game, it feels like you're going all the way to the Cup. I've always said when you lose a game it feels like your season is going to be over. It just has been such a crazy ride."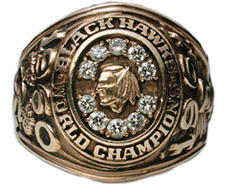 While many didn't predict the Blackhawks and Flyers to be in the Stanley Cup Finals, there are plenty of historical facts that may prove the hockey Gods have decided this would be the match-up for the Stanley Cup before the year even started.
Canadians vs. Americans. Patrick Kane vs. Jonathan Toews. Ryan Miller vs. Martin Brodeur. The battle of North America. A game that will have the highest [more…]
My Team Canada Roster selections may seem a little vanilla, but they've been selected to play out various situations. Penalty killing, power play and balance on all the forward units took precedent over sheer offensive/defensive ability.
[more…]
This will be the first and only time these two teams will meet this season. Their last tilt took place on November 22, 2008 in Toronto where Chicago won the game 5-4 in overtime.
Note: Be sure to check out Alex Tran's quick hits of the day!
[more…]
After a seemingly endless week of postulating, panicking, and debating with the fervent passion that only hockey-starved Leafs fans can display, it is finally gameday.  While the prevalent hope amongst Toronto followers is that the winless streak gets broken tonight, there is a veritable maelstrom of other stories convoluting that one simple wish.
By now, I'm sure many of you have seen ESPN's report of a significant offer by the Maple Leafs for Phil Kessel: two 1st round picks and a 2nd round pick. The general reflex reaction that we've been conditioned to by the Toronto media the last few seasons is to avoid moving 1st round selections by any means necessary. The thought of moving two such commodities is beyond horrifying. I've seen the name Taylor Hall used as the backbone of many an argument over the last few days, often associated with the "chance" of landing said player. If we're gonna turn this into a game of chance, let's at least get all the cards on the table. [more…]