Kadri
I really wanted to write a wrap up notebook, but I wasn't going to subject myself to watching that game again, nor do I particularly want to write about it. I mean, the only time I watched that Bergeron game winner was live and that's how it is going to remain, so I wouldn't be much of a source for insight or analysis.
It really was a great year for the Leafs, though. At the beginning of the season I didn't think they would make the playoffs, and at the beginning of the first round I wasn't sure they would make it much of a series. They proved me wrong both times. They proved a lot of people wrong.
In order for the Leafs to get better, though, they'll need to have a strong offseason and smooth out some of their rough edges. [more…]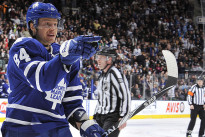 After a good comeback/confidence-building game against the Tampa Bay Lighting, the Toronto Maple Leafs  have perhaps created more questions than answers. The Penalty Kill keeps [more…]
That Kadri kid is pretty good isn't he? Back when Brian Burke stepped up to the podium at the 2009 NHL Draft in Montreal, I imagine this was the player he was envisioning that night: slick, slippery and drenched in skill. That was an absolute clinic Kadri put on out there against the Lightning, displaying all sorts of offensive creativity, patience and ingenuity with the puck. This is a player who is gaining confidence and progressing by leaps and bounds - a player on the verge of making a lasting imprint in this star-starved market. But before we get too far of ourselves thinking ahead, why don't we take a step back and briefly peruse the timeline  that has led him to the "now" (and enjoy a few memorable quotes along the way).
[more…]
Short post, as a supplement to Anthony Petrielli and his fine Marlies roundup from Game 1, here is a downloadable .pdf depicting the Toronto Marlies players [more…]
Each day we see increasingly younger sports phenoms wowing us with their performances in various sports. The age of elite athletes has dropped considerably and drastically.
All of today's superstars are younger, stronger and more developed than their counterparts of the past. Accordingly, never in the history of the NHL had there been so many young players dominating the league.
Players don't come with better hands than those of Nazem Kadri. Talent. That's his game. The kind of free flowing hockey mind that can crack any system, work against any scheme and open up space with a single deke or pass.
Unfortunately, there have been too many cases where talent just didn't come to fruition. Talent has the ability to seduce, to make one take it for granted. If you possess enough skill, ability in something, anything, you do it's just a matter of time when certain thoughts come creeping in. You inevitably start noticing and recognizing the difference between you and other players and it shows. Not only do you gain more confidence but as a side effect you truly start to believe you could do this with less effort.
This was the sixth and final Battle Of Ontario this season, and boy did the Leafs come out firing. Games against Ottawa are never easy (except when we beat them 5-0) and this one proved to be more difficult than it needed to be, but all in all, the run continues, and that's really all that matters. Continue.
On a night where Boston was looking to clinch the division title, and the Leafs had to preserve their mathematical playoff hopes, you could cut the pressure in the air with a butter knife.  This is how this team handled that pressure, do continue.
This might have been as close as the Leafs will get to a playoff game this year, but even having that playoff atmosphere in the air, that compete level on the ice and a great crowd at the Joe made this game worth watching. Continue.
Hello, this is Xterratu, a former member of LeafsHQ and a lovable Croatian hockey dude. What, did you think I'd retire? I'm too young for that sh*t. An offer from the Hot Stove is too good to pass up, and this is my way of thanking MLHS for giving me this chance to write again. Thanks guys. I'm glad to be a part of the crew. Nothing is over, including the Game In 10 which is back and is more awesome than a big wombat in heat (ever). More for the biggest win of the season.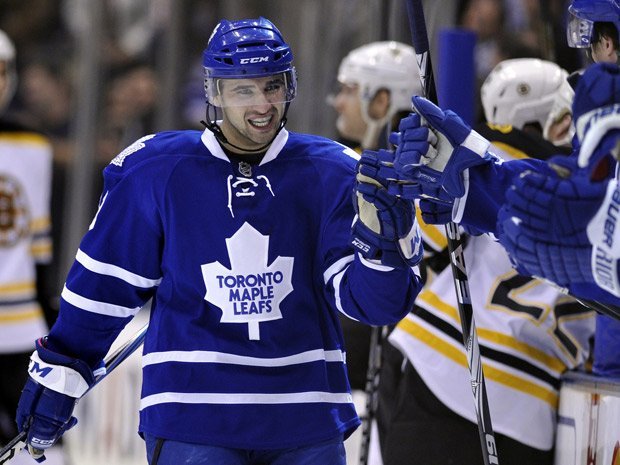 Updated scouting reports for recent call ups Nazem Kadri and Matt Lashoff (with files from Clayton Hansler):
Nazem Kadri
Ranked 7th in AHL rookie scoring with 41 pts (44-17-24-41) and second overall in the AHL with eight first goals .. Kadri has adapted to some added bulk and cranked up the toughness .. isn't afraid to engage in tight and along the boards .. physical game isn't his forte however, despite improvement, and he relies on skills and dangles .. can waiver with intensity blending into the background, yet explosive enough to be able to exploit breakdowns and set up scoring chances seemingly out of nowhere that can change the tide of a game (first goals to open the game are an example) .. [more…]
It is by no means the end of his career, strictly the next step.
On Monday, Nazem Kadri, 7th overall selection in the 2009 draft, was assigned to the Toronto Marlies. The player in whom a whole city had welcomed, became enamoured with and inked into their own starting lineup will not appear at ACC at all… at least not yet. It will prove to be a powerful lesson for the 19 year old, if not the whole city of Toronto; the Toronto Maple Leafs are about winning hockey games, not necessarily selling tickets.