keith aulie
More Maple Leafs Annual bonus feature material for your enjoyment. Interview conducted by Steve Dangle. Be sure to check out the Reimer interview if you missed it earlier today.
Steve: Don't you think that's kind of funny though that while other guys are spending their summer relaxing, you're out farming?
Aulie: Yeah, it's just a way of life I guess. I like to do lots of other things other than just hockey. I like to get away from the game a little bit in the summer and do some other things and especially help out with the farm. I think it's a good way to get a different mindset for a while, and when you jump back into the game you're really refreshed. Farming's got its own challenges and it's kind of neat to work on something else for a bit. [more…]
Coming off a tough shootout loss against the Flyers last night, the Leafs will look to rebound on the road against the Sabres tonight at HSBC Arena. Despite blowing a late third period lead, there was a lot to like about the Leafs' performance, including a strong bounce back game from captain Dion Phaneuf and spurts of brilliance from the club's new top line of Versteeg, Bozak and Kessel. The Buds will be in tough tonight against the Sabres, who will be icing a lineup very similar to the one they will open the season with. [more…]
An intriguing top line of Kris Versteeg, Tyler Bozak and Phil Kessel will feature in tonight's rematch with the Flyers following the Leafs' 11-round shootout win over Philadelphia last night at the John Lebatt Centre in London. The trio is the most skilled iteration of forwards the Leafs' roster has to offer, and combined with Dion Phaneuf and Tomas Kaberle on the blueline (who will also dress) represent an interesting potential powerplay option for coach Wilson. The results with the man advantage tonight, then, will be well worth monitoring. [more…]
The Toronto Maple Leafs held their on-ice portion of training camp today. Players have been split into three squads to accommodate the 63 players invited to camp.
Among the contingent of fans outside the ice surface at the MasterCard Centre for Hockey Excellence was a throng of media and of course, Leafs staff.
The Toronto Maple Leafs will host their rookie tournament this year in London, Ontario from September 11th to the 14th, and Maple Leafs Hot Stove will have unprecedented, wall-to-wall coverage of the event.
Join us here for live game blogs, game previews, game reviews, exclusive interviews, and more! Â Today, we will look at the top ten Leafs players who will be worth paying extra close attention to at this weekend's event.
In part six of his 12 burning questions series, Derek Harmsworth takes a look at Leafs sniper Phil Kessel, and whether he can hit the 40 goal plateau.
While January 31st 2010 will go down as a day Leafs fans will never forget as the Leafs acquired Dion Phaneuf, Keith Aulie, Fredrik Sjostrom, and J.S. Giguere in the span of about two hours, the date of September 18th, 2009 will also be remembered, yet highly debated, and much scrutinized.
It was on that day in September, following a preseason game against the Pittsburgh Penguins, that Maple Leafs GM Brian Burke got his man. Â After lots of rumours throughout the year, including one that involved Tomas Kaberle going the other way, Burke signed off on a deal with the Boston Bruins that landed him American born sniper Phil Kessel. [more…]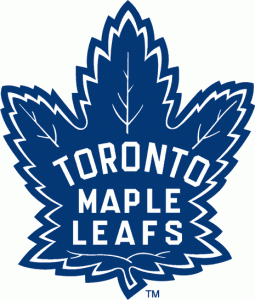 The Toronto Maple Leafs 2010 rookie tournament is coming to London, Ontario and Maple Leafs Hot Stove is pleased to announce that we will have exclusive, unprecedented coverage of the event!
Just confirmed earlier tonight, I will be in attendance at the John Labatt Centre for the duration of the tournament, providing up to date news from the rookie tournament for the Toronto Maple Leafs, as well as the other competing teams (Pittsburgh, Ottawa, and Chicago.)
As part of our exclusive coverage, I am pleased to announce that we will have game day previews, game day recaps, live blogs, live tweeting, as well as exclusive interviews with some of the Leafs biggest rookies and prospects. [more…]
In part two of his 12 burning questions series, Derek Harmsworth looks at the Leafs goaltending of the past, and whether this year's tandem can provide them with healthy, consistent efforts.
The NHL goaltender.
It has been said that there is no more important position in all of pro sports. Â And if you believe that, it's quite easy to see why the Toronto Maple Leafs haven't had much regular season success in the post lockout NHL, and why the post season has eluded them. [more…]
Leafs Preseason Synopsis Part 1Â  - Defense and Goaltending
By: Michael Cuttell
With free agency cooling off and countless free-agent and team roster questions floating around, it's time for Leafs fans to look at what they have, what they can afford to lose , what they need, and what they can realistically get to fill those needs. This is a step by step speculative analysis of those questions. [more…]
Great to see such an active group of readers. Here are a couple of FanPosts for your Friday afternoon reading enjoyment with today's theme being youth, youth and more youth. Paul LeMay (B. Leaf) takes an in-depth look at the team's organizational prospect depth while Chuck Johnson compares Nazem Kadri's chances of making the NHL as a 2nd year player with those of previous high draft picks. [more…]
If the Toronto Maple Leafs hope to qualify for the Stanley Cup Playoffs next season, the franchise must now focus on further bolstering the top six.
While the acquisition of Kris Versteeg certainly helps, and Colby Armstrong could potentially step into a top six role to add a physical presence with some offensive upside, the Leafs are still in need of more pure goal-scoring ability up front. Options are scarce in the free agent market, but the likes of Matthew Lombardi (although reports indicate he is seeking upwards of $4 million per season), Alexander Frolov and Ilya Kovalchuk are still available.
We've partnered up with Pension Plan Puppets to bring to you a Player Review series, where we will be evaluating and grading the 2009-10 season for every Leaf who featured in a significant number of games for the Blue and White last season, with an eye towards 2010-11. Today we feature Jeff Finger, profiled by Alec Brownscombe.
The Summary:
A former 1999 eighth round pick, Jeff Finger came to the Leafs via unrestricted free agency as a 29-year-old who was skating in the ECHL the last time Toronto made the playoffs. After his first steady NHL season with Colorado in '07-08, Cliff Fletcher rolled the dice on a $3 million-per-year raise for the journeyman that will cost the Leafs 3.5 million against the cap annually until 2012. Fletcher obviously thought there was a lot more to come from Finger in his late development as a two-way defenceman, but let's just say on that fateful day in July, 2008, the optics weren't good.
[more…]