kessel
Alex and I will once again continue the Young Guns prospect draft. We are drafting:
6 9 forwards, 4 defensemen, 1 goaltender
Total of 22 young players with a birthday year no later than 1986 (24 yrs old max)
Contract status and/or cap hit will not be taken into account
The draft will take place live in the comments section for all readers to follow, so be sure to come out and provide your two cents as it happens. More details after the jump.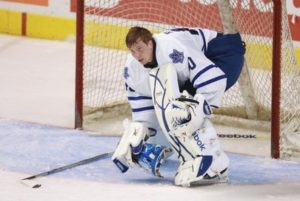 ,
Join us in the comments as Alex Tran and I go head-to-head carving up the Leafs youth.
(Note**) - for the record I will be making the picks for each of us as Alex is boozing busting loose at some bar. I asked him if he was drunk, he said no, but his picks will tell show us the truth.
It's been quite the time span since my last post here. But as many of you know, I've been working on the McKeen's Hockey Annual Yearbook. That is in addition to the work on the player profiles for the Maple Leafs Annual.
So to kick things off, and to change the subject from Tomas Kaberle, here are my player predictions for the Maple Leafs this season after the jump.
(NOTE*** Predictions appearing the McKeen's Annual Yearbook are decided as a collective from many different sources. These values will unlikely appear as they indicated below in the publication.)
[more…]
It's been a hot topic, and a touchy one at that for the better part of almost a year, since the day the trade was consummated. Â The Toronto Maple Leafs, toward the end of the pre-season, announced that they had traded two firsts and a second round pick to the Boston Bruins in exchange for Phil Kessel, a young American born sniper who the B's were having issues resigning.
It was a steep price to pay, but you have to give to receive, and in Kessel the Leafs got a bona fide goal scorer who looks like he could be a perennial 30 goal scorer (more on that later.)
And yet some people have cast Kessel to fail, no matter what impact he has on the Leafs, attaching him forever to the trade that brought him here.
This past week, Bill Watters took that to the extreme, and took a piece of integrity written journalism and turned into something sensational and downright wrong, all in the name of making Phil Kessel look as bad as possible because he doesn't agree with the trade.
I've been holding off on posting one of these, as the sheer volume of Toronto-borne speculation renders separating the plausible from the impossible a rather difficult task.
Without further ado, here we go:
There is no guarantee that Tomas Kaberle is traded this weekend. Sources say the chance that he could remains a member of the Maple Leafs beyond the Draft is increasing by the day.  The reason?  "Burke wants a player who can step in and play right away. He wants to win now, and is far less concerned about getting draft picks than he is about getting an impact forward."

.
We've partnered up with Pension Plan Puppets to bring to you a Player Review series, where we will be evaluating and grading the 2009-10 season for every Leaf who featured in a significant number of games for the Blue and White last season, with an eye towards 2010-11. Today we feature Tyler Bozak, profiled by PPP:
"The Summary: Tyler Bozak picked the Maple Leafs over the Ottawa Senators so right away it's clear that he has a high hockey IQ. He signed a hell of a deal that, based on how people react to Mikhail Grabovski, will be tough to live up to. He'll likely get a break because if he costs the full cap hit he'll presumably have achieved some decent points totals. Not to mention, his age and  provenenance as a found player in addition to an electric understanding with Phil Kessel likely gets him a free pass. A solid first half season in the NHL certainly bodes well for the young centreman.
[more…]
Ron Wilson, an alumnus from Providence College, was playing for Davos in the Swiss National League A in 1985 when pivotal Minnesota North Stars defenseman Craig Hartsburg was injured. Embroiled in a battle for a playoff spot, Minnesota were in tough to find a stabilizing replacement to hold down the North Stars backend whilst Hartsburg recovered. Ron Wilson, a standout collegiate defender who never rose above major league stopgap, became the go-to-guy having already played 13 games for the North Stars the season previous. A span that bullet pointed five seasons in Switzerland.
A grizzled journeyman by age 30; Wilson would provide stellar coverage in Hartsburg's absence securing an presence on the North Stars blueline in the 1986-'87 season before completing his NHL playing career with Minnesota a year later.
About a month ago, we took a look at Phil Kessel's production, including the on-pace numbers for this season and (theoretically) projected 82-game statistics.
With 10 games left to go in the season, perhaps it's time we re-visit and update those predictions -- this time in the context of other "name" or "impact" players to see just where exactly Phil Kessel ranks, production-wise, among the league's elite.
I would first like state that I am addressing this rumor because it is, in fact, circulating around the league that Toronto is interested in the Atlanta Thrashers' sniper Ilya Kovalchuk. Yes, this rumor did come to light due to an Eklund blog, but no, it is not fake. In fact, every team in the league would love to get their hands on Kovalchuk. So there you have it, the rumor is true, but it was an easy one to pinpoint by Eklund because every single team in the league understands that Kovalchuk is available, and every single team in the league would love to have him on their powerplay. It's as simple as that. Now to the non-obvious part.
[more…]
Per the Toronto Star, it appears as though Tyler Bozak may be the latest player to get a shot at centring the Maple Leafs' top line alongside Phil Kessel and Nik Kulemin, beginning tonight against Carolina. Â Â With Kessel having recorded only 1 goal and 1 assist in his last 12 games, the Leafs are desperately hoping this change may be the tonic required to get their star winger back on track.
Update: confirmed by am640's Jonas Siegel.
As Phil Kessel makes his return to Boston, I can't help but wonder why some people are still asking who the Leafs should get to play with him.
Phil Kessel has been playing with Matt Stajan for most of his time in Toronto. Phil Kessel has 10 goals in 15 games with the Maple Leafs. Phil Kessel is also on a point-per-game pace for the first time in his career. I don't see a problem here. [more…]
Phil Kessel is a legitimate star in the city of Toronto. Â Per sporting tradition, he now needs a nickname which is catchy, instantly recognizable, and also describes him as a player.
In the course of chatting with a source earlier in the week, the topic of Phil Kessel's impact in Toronto naturally arose. Â At which point the source mentioned, "it's not every day a team can acquire a bonafide star, but the Leafs have found one in Phlair."
Wait, what? Phlair?
"Yeah," the source replied, somewhat sheepishly. "I don't know where [the players] come up with these nicknames, but that's what they're calling him."