knee injury
The Leafs head to the capital tonight to take on their bitter provincial rivals, the Ottawa Senators, for the third time in seven preseason games.
Tonight's game figures to be the last chance for players on the bubble, including highly-touted Nazem Kadri, to make a lasting impression. When asked about these players, head coach Ron Wilson was emphatic:
"When the puck drops on the first day, you better be ready to go. No tip-toeing around. No 'oh, the water's cold, I'll wait until it warms up a bit'. Nope, you're diving in and the guys who didn't, as [Leafs' GM Brian Burke] said, they're waiting by the bus stop. Well, they missed it, the bus already left. Now their job is running down the road hoping they can get on." (via)
With the pre-season set to end with a home-and-home against Detroit to open the month of October, the general sentiment is the Leafs will use a roster for those games comprised of the players who are expected be with the NHL club on opening night. For Nazem Kadri, John Mitchell, Jay Rosehill and Mike Zigomanis, tonight (or by a slim chance the first of the two Detroit games) may be their last shot.
Maybe it was indicative of how fragile the Leafs psyche had become after relinquishing such an unexpectedly high draft pick to the Bruins, or maybe it was just a reaction to the mid-summer boredom brought upon as the Kovalchuk saga stop-gaped the NHL trade wires, but the recent trade rumours surrounding Luke Schenn suggests a seismic shift has taken place in Leafs Nation with regards to the future and how to obtain long sought after success.
One that seems to have embraced a cap defiant means of rebuilding in an age of tank-to-win.
It appears as though Leafs' fans will have to put the thought of pending-UFA defenseman Mike Van Ryn returning to the Maple Leafs on hold, as reports suggest he will remain on the sidelines for another season.
Last season Van Ryn underwent an osteotomy, a complicated surgery to re-align the knee, as an alternative to a total knee replacement. He spent the entire season rehabilitating the knee with the hopes of playing in 2010-11, but it appears as though the recovery process will take him well beyond that target date.
For Greg McKegg, nothing has necessarily come easy in his hockey career. Â A slow start to his rookie campaign in Erie, followed by a knee injury which threatened the start of his season this past year, McKegg began the year as a winger for the Erie Otters that ISS ranked in the 90's.
It was something that McKegg couldn't not think about, no matter how much he tried.
"It's something you try not to think about too much really, but you can't help but look. Â It was disappointing to see that for sure, but I think it gives you that edge to work harder and show people that you deserve to be higher up on the list."
And that is exactly what he did.
Being described by some in the hockey circles as a perennial underdog, McKegg did the only thing he knew how to do. Â Work hard.
We've partnered up with Pension Plan Puppets to bring to you a Player Review series, where we will be evaluating and grading the 2009-10 season for every Leaf who featured in a significant number of games for the Blue and White last season, with an eye towards 2010-11.Today we feature John Mitchell, profiled by Garrett Bauman.
It's difficult to know what to make of John Mitchell. During his Leafs' tenure he has flashed obvious talent, but also a tendency to disappear for lengthy stretches.  After a promising rookie campaign, Mitchell found himself struggling to earn ice time, playing in defensive role in front of shaky goaltending, and was later beset by a knee injury which caused him to miss 20 games.
A restricted free agent, it goes without saying that Mitchell will have a lot to prove should the team decide to bring him back.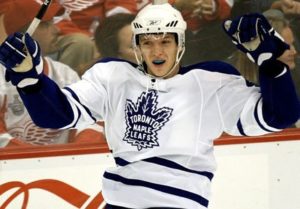 Now that the Leafs' most important pending free agent -- goaltender Jonas Gustavsson -- has been signed to a two-year contract extension, it is time to take a look at their remaining free agent players.
Notably, the list of expiring contracts includes pending RFAs Nikolai Kulemin, Christian Hanson and John Mitchell. Pending UFAs on the Leafs' roster include Wayne Primeau, Rickard Wallin, Jamie Lundmark, Garnet Exelby and Mike Van Ryn.
The Toronto Maple Leafs play their second-last game of the season tonight versus the New York Rangers at Madison Square Garden (7:00 pm et, TSN). The Rangers are fighting for their playoff lives, sitting 3 points back of the Bruins and 4 points back of the Flyers for the final playoff spot in the Eastern Conference. As for the Leafs, their hopes of moving out of the basement of the East are all but gone. [more…]
Although the Maple Leafs did not dip into the trade waters just yet, there were a couple events of importance that may determine how the [more…]
Random talking points on a variety of topics including Giguere's shutout streak, a refreshing new attitude, the Schenn/Phaneuf connection, pending UFAs and more.
The Toronto Maple Leafs just can't seem to do anything right. The Maple Leafs surrendered another lead in a 3-2 overtime loss to the Tampa Bay Lightning. The Maple Leafs fell to 1-10 in games decided beyond regulation and more specifically, 0-8 in overtime.
Some surprisingly good special teams had the Leafs ahead 2-1 late in the third, but a couple of 4-on-3 power-plays stemming from bad penalties resulted in the tying and winning goals for the Lightning. [more…]
Per the Toronto Star, it appears as though Tyler Bozak may be the latest player to get a shot at centring the Maple Leafs' top line alongside Phil Kessel and Nik Kulemin, beginning tonight against Carolina. Â Â With Kessel having recorded only 1 goal and 1 assist in his last 12 games, the Leafs are desperately hoping this change may be the tonic required to get their star winger back on track.
Update: confirmed by am640's Jonas Siegel.
Via Elliotte Friedman of HNIC: Mikhail Grabovski out 6 weeks with a fractured wrist. Wayne Primeau out 2-4 weeks with a knee injury.
With two [more…]