Korbinian Holzer
As the Toronto Maple Leafs skip along to their first playoff berth in eight seasons, Dion Phaneuf's play is forcing his name to be included in discussion for the Norris Trophy.  The Norris is awarded annually to "the defense player who demonstrates throughout the season the greatest all-round ability in the position," and that sure sounds like the play of the Leaf captain this season.
He plays a physical, two-way brand of hockey and sits fifth-best in league for defensemen scoring with eight goals and 18 assists for 26 points in 42 games.  He's a leader on the ice, the best defender on the team by a mile and has joined forces with Phil Kessel, Nazem Kadri and James Reimer to drag the Leafs into contention.
But how does his performance this season stack up against performances past, and what greater truths can we find about the anatomy of a Norris Nominee?
A Toronto Maple Leaf hasn't won a major NHL award in an embarrassing amount of years. This year, however, it looks as if there could be a case made for 3 award nominations —major or otherwise, for the Leafs.
The last "major" award was Doug Gilmour winning the Selke Trophy in the 1992-1993 season, 20 years ago. [more…]
James Mirtle wrote the other day about how the first Pascal Dupuis goal in the crushing 3-1 loss to Pittsburgh last Thursday was the back breaker when it came to Korbinian Holzer's time with the Leafs this season. Holzer challenged Chris Kunitz on the boards and Kunitz came out cleanly with the puck to start the play that led to the goal. I remember thinking at the time, "Holzer struggles with his outlet pass, he struggles positionally, what are we doing here if Holzer can't even win a battle on the boards?"
Unfortunately for Holzer that was just one of many recent goals against he's had a hand in. That said, despite the demotion, I'm not going to write off Holzer as a Leaf asset. I think he could be what Mark Fraser is now if he learns from this experience, gets some confidence back in the AHL (presumably will still be down there for their playoff run), and gets his next crack in a more manageable situation. [more…]
More of the same in Boston. It was less embarrassing than last season's visits to the TD Garden, and there's a small victory in that, but the Leafs fall short nonetheless and drop to 15-10-0 with a 4-2 loss (one empty netter) to the Bruins. [more…]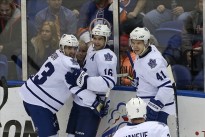 Since we are almost at the halfway point, I thought now would be a good time to write some notes on each individual player thus far. Here is the close-but-not-quite-halfway Leafs Notebook: [more…]
Leafs fans are showing heightened interest in the Marlies lately, and deservedly so as they have officially begun their run for the Calder Cup. While AHL success in the playoffs is always a fantastic experience for any player - especially young ones - fans of Toronto hockey at the end of the day are asking themselves one thing: How does this help the Toronto Maple Leafs?
Earlier in the year, I wrote a piece looking at Calder Cup Finalists translation to NHL success. That leads into the current edition of the Marlies as we look at who on this team is being counted on to help the Leafs moving forward and which players are likely to become productive NHLers and part of the long-term solution here.
Now, I want to stress that there is a difference between a long-term NHLer, and a fringe AHL-NHL tweener. A player like Darryl Boyce is an AHL-NHL tweener, meaning he's a very good American league player, but struggles to get into a National league lineup consistently. Usually players that struggle to translate their games are missing one key ingredient that they can get away with in the AHL, but not the NHL - Be that a lack of speed, size, vision, strength, shooting ability, defensive ability, and so on.
So, inevitably, when someone says "where is Greg Scott," well, Greg Scott brings a lot to the table, and hey, he could potentially make the Leafs as their 12th or 13th forward, but he is not a long-term solution to anything for the Toronto Maple Leafs. Thus, when we are looking at the players below, we aren't just looking at players who may or may not crack the Leafs next season, we are looking at players who are being counted on to be contributing Toronto Maple Leafs for years to come in the ongoing quest to make the playoffs. [more…]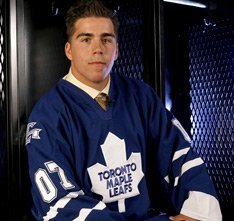 On Tuesday it was announced Ryan Hamilton will miss 4-6 weeks with a knee injury. And so it starts… again.
Devastated by injuries and call-ups last season, the Marlies failed to make the playoffs for only the second time since the AHL club returned to Toronto. 425 man games lost. That equates to a 5.3 players sitting out each and every game of a 80 game season - so let's say, five and a backup goaltender.
Already this season the Marlies have seen talented forwards Christian Hanson and Luca Caputi get the call up to the show, as well as physical defenceman Korbinian Holzer. Ryan Hamilton joins Simon Gysbers and Danny Richmond in the press box, all suffering from separate ailments. All this is on top of Jay Rosehill, Alex Foster and James Reimer who had already spent time on the day-to-day list.
Nothing gets Leafs Nation into a frenzy quicker than some good old fashioned trade rumours and with the recent news breaking that Brian Burke is "open for business" it was obviously going to make headlines.  Bob McKenzie was told by his sources that the Leafs had an offer on the table involving two bottom six forwards coming to Toronto for one of our current NHL bottom six forwards and an AHL player.  Burke basically inferred the offer was half way decent so it likely would have solidified our bottom six forward lines slightly, but nothing to really get worked up about.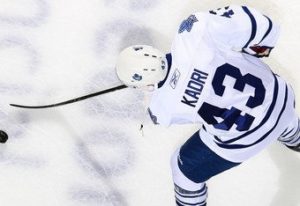 Jeff Finger returns to the line-up tonight in Detroit in what many will suggest is his Maple Leafs swan song/final pit stop en route to the Marlies. Burke is saying the right things about Finger's right to a "fair look" and the importance of respecting players acquired via free agency as it relates to organizational reputation. But the realities are this: the Leafs are sitting with both Brett Lebda and Finger on the outside of their top six, over the cap by around $300k and uncomfortably close even with Lashoff and his $550k assigned to the Marlies. And that's assuming Nazem Kadri and his $1.7 million cap hit will not be a part of the roster come opening night. If it's important to show respect to signed free agents, surely Lebda won't be Marlie-bound after his first training camp as a Leaf. Simply, something has to give, and the $3.5 million Finger, a Leaf of two seasons now, seems the obvious candidate for demotion. [more…]
The Leafs head to the capital tonight to take on their bitter provincial rivals, the Ottawa Senators, for the third time in seven preseason games.
Tonight's game figures to be the last chance for players on the bubble, including highly-touted Nazem Kadri, to make a lasting impression. When asked about these players, head coach Ron Wilson was emphatic:
"When the puck drops on the first day, you better be ready to go. No tip-toeing around. No 'oh, the water's cold, I'll wait until it warms up a bit'. Nope, you're diving in and the guys who didn't, as [Leafs' GM Brian Burke] said, they're waiting by the bus stop. Well, they missed it, the bus already left. Now their job is running down the road hoping they can get on." (via)
With the pre-season set to end with a home-and-home against Detroit to open the month of October, the general sentiment is the Leafs will use a roster for those games comprised of the players who are expected be with the NHL club on opening night. For Nazem Kadri, John Mitchell, Jay Rosehill and Mike Zigomanis, tonight (or by a slim chance the first of the two Detroit games) may be their last shot.
Midway through the month of July, I had the privilege of chatting with Dave Poulin, Vice President of Hockey Operations with the Toronto Maple Leafs, for an article appearing in Maple Leafs Annual.
Having a professional background in publishing, I was not the least surprised that limitations on available space, plus design and layout constraints, resulted in the necessity to crop certain parts of the interview.
With the Annual due to hit stores next week, I thought I'd share a few of the "lost excerpts" from the cutting room floor in which Poulin offers his thoughts on the progress of the Toronto Marlies, as well as the emergence of the NCAA as a growing prospect pipeline.
Think of it as the equivalent of a "DVD extra" to your copy of MLA.
Great to see such an active group of readers. Here are a couple of FanPosts for your Friday afternoon reading enjoyment with today's theme being youth, youth and more youth. Paul LeMay (B. Leaf) takes an in-depth look at the team's organizational prospect depth while Chuck Johnson compares Nazem Kadri's chances of making the NHL as a 2nd year player with those of previous high draft picks. [more…]