Kris Versteeg
In part four of his 12 burning questions series, Derek Harmsworth examines whether Nazem Kadri will crack this lineup, and where he fits in with the team if and when he does.
In the summer of 2009, the Toronto Maple Leafs and their fans were still finding out first hand what type of brash, confident attitude Brian Burke was going to be bringing to the team. [more…]
One of the key questions surrounding the upcoming 2010-11 Maple Leafs season is whether they will be able to score enough to compete for a playoff spot in the Eastern Conference.
An optimist will point to the Leafs' record following the acquisitions of Dion Phaneuf and J.S. Giguere as evidence that the Maple Leafs can compete. The cynic will suggest that although the Leafs played well over the final third of the season following those moves, there just simply isn't enough proven offensive production to buoy hopes for post-season play.
A closer look at the Leafs performance over their past 26 games following the January 31st trades for Phaneuf and Giguere, in comparison to their first 56, might shed some light on whether or not the Leafs' need for more offense in order to compete is fact or fiction.
The Chicago Blackhawks have decided to walk away from Antti Niemi's arbitration awarded $2.75M contract, and have instead signed veteran free agent Marty Turco to a one-year $1.3M contract. With the Blackhawks decision not to retain him, Niemi is now a free agent goaltender on the market and should attract some immediate attention.
[more…]
Colby Armstrong's shiny new 3-year, $9,000,000 contract with the Maple Leafs has been the focus of much debate over the past month. Leaving the contract argument aside, it would be prudent to take a look at Armstrong's advanced statistics in 2009-10, so that we might better gauge our expectations for the coming season. Thanks to BehindtheNet.ca for these fantastic statistics.
Quality of Competition (QoC) and Quality of Teammates (QoT) were very important stats when analyzing the potential impact that Kris Versteeg could have for the Maple Leafs. In Versteeg's case, the QoT stat helped us understand his modest offensive numbers and how they might be improved in Toronto. However, they can tell a different story, namely that of defensive responsibility. Armstrong's QoT was an astoundingly low -0.119. These stats are calculated with advanced +/- statistics being compared between their linemates throughout the season. As before, it is important to note the linemates Armstrong had to work with (courtesy of DobberHockey.com):
- If the TSN reports that Frolov could sign a 1 year deal comparable to that of Afinogenov last season ($800,000) are true, then why weren't the Maple Leafs heavily involved in discussions with Frolov's agent? He's a big guy who can win some pucks, plays a well-rounded game and would fit perfectly in the top line left wing role at a bargain basement price. Remember a few weeks ago when I talked about a deteriorating market? This potential signing may just be the beginning.
- The Toronto Sun reports that the Maple Leafs' Rookie tournament will take place at the John Labatt Centre in London from September 11th-14th this year.
- The Hockey News makes the case for the Maple Leafs as a surprise playoff team this coming season.
- On to the FanPosts. Andrew Edwards (AKA Crazyaces) proposes a solution for these ridiculous long-term contracts, while Michael Cuttell continues his preseason synopsis by evaluating the Leafs' current forward group. [more…]
Kris Versteeg has undoubtedly been the prize pick up for the Maple Leafs thus far this offseason. You've heard all the basics by now. He's great in the dressing room, he plays all three forward positions, he produces under pressure and he's a back-to-back 20 goal scorer. At age 24, these are all impressive qualities, but now the real question is: how he will fare in the Maple Leafs' system? [more…]
Great to see such an active group of readers. Here are a couple of FanPosts for your Friday afternoon reading enjoyment with today's theme being youth, youth and more youth. Paul LeMay (B. Leaf) takes an in-depth look at the team's organizational prospect depth while Chuck Johnson compares Nazem Kadri's chances of making the NHL as a 2nd year player with those of previous high draft picks. [more…]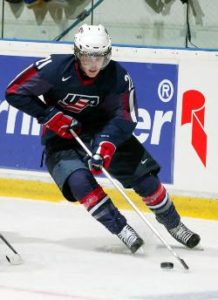 Just a month ago, the Chicago Blackhawks were the envy of the National Hockey League. Â Having finished off the Philadelphia Flyers in six games courtesy of a Patrick Kane overtime goal, the Hawks had climbed to the top of the mountain, and had risen out of what could once have been considered obscurity years earlier, to build a winning team, and break the Stanley Cup drought that loomed over the franchise for so long.
And while many general managers stood in jealousy and envy of Stan Bowman and his management team for the feat they had just accomplished, not one GM was going to envying Bowman in the days following.
For the Chicago Blackhawks, winning the Stanley Cup came at a price, and it was rather large.
Since they won the Stanley Cup, the Blackhawks have made many moves, tearing down their roster that brought them their once elusive championship. Â Fan favourites were shipped out in favour of draft picks and younger players, on cheaper contracts.
One of those trades involved Kris Versteeg, a trade Brian Burke was all too happy to accommodate.
As much of the league takes a post-draft/free agent frenzy breather for the Canada Day and July 4th long weekend, I figure I'll spark some discussion with a bit of educated speculation. In talking to a source over the past week it's been suggested to me that Brian Burke has a  deal or two on the table for scoring help involving a Leaf asset he's struggling with the idea of parting with. It's said at this time Burke is hoping desperation on the part of the involved GMs reduces the price on a few top six trade options as the off-season continues. [more…]
If the Toronto Maple Leafs hope to qualify for the Stanley Cup Playoffs next season, the franchise must now focus on further bolstering the top six.
While the acquisition of Kris Versteeg certainly helps, and Colby Armstrong could potentially step into a top six role to add a physical presence with some offensive upside, the Leafs are still in need of more pure goal-scoring ability up front. Options are scarce in the free agent market, but the likes of Matthew Lombardi (although reports indicate he is seeking upwards of $4 million per season), Alexander Frolov and Ilya Kovalchuk are still available.
Trades are never won or lost when initially made, and tonight's multi-player deal with Chicago is the very embodiment of that fact. Analyzing a deal that sent Kris Versteeg and Bill Sweatt to Toronto for Viktor Stalberg, Phillippe Paradis and Chris Didomenico involves a lot of subjective potential measurement. Â Making the task more difficult is that two teams often come together to execute a trade for very different reasons in a salary cap era.
On the eve of unrestricted free agency, the Maple Leafs made a big first move to upgrade their forward group. According to ESPN's Pierre LeBrun, [more…]