kulemin
There are more than a few things I'll never understand in life. Why do Americans want sports on TV in the middle of the day on the weekend? Who actually likes DJ banter on the radio? And why is the KHL considered to equal death for prospects?
The first two I've given up on and accepted as an unfortunate part of life, but the fear of the KHL seems like one that can be addressed easily. Simply put, I think the common perception of the prospects leaving for the KHL is wrong. In fact, the NHL should be encouraging some of their young prospects to consider going this route as it will potentially elevate their game.
Being pro-Russian prospect is easier this week with Vladimir Tarasenko returning to the Blues than it was a few weeks ago when Kuznetsov decided to stay in the KHL for another couple of years. Although, in his decision Kuznetsov does hint at the benefits to his development, and if you scan the Capitals roster there does not seem to be any certainty that a 20 year old offensive player will readily crack the lineup. If he continues to excel in Russia it seems that in two years it could be his spot to lose. [more…]
An annual tradition, here's the scoring predictions for the 2011-12 version of the Toronto Maple Leafs.
I won't get too much into player specifics since my scouting reports are in the Maple Leafs Annual with further expansion in the McKeen's Yearbook to be released soon.
Some minor commentary on Kulemin winning the scoring title. When coming up with predictions, the hold of the top spot was so delicate any slump/streak could cost some player the scoring crown. If it wasn't Kulemin, it could be Grabovski coming off a breakout campaign (and entering a contract year) or Kessel for a third straight season. [more…]
This was the sixth and final Battle Of Ontario this season, and boy did the Leafs come out firing. Games against Ottawa are never easy (except when we beat them 5-0) and this one proved to be more difficult than it needed to be, but all in all, the run continues, and that's really all that matters. Continue.
Nikolai Kulemin isn't exactly what you'd call a prototypical Russian born player. I'm never the one to succumb to lowly stereotypes but you have to admit that certain countries have a history of developing certain types of players and that solid two way, versatile forwards are few and far between in the more recent history of Russian hockey.
This was the only meeting between these two teams this year and in a time where a loss practically means crashing out of the playoff race for good, some mountain climbing proved enough for the W. Continue for belief.
(Toronto – Gus Katsaros) I tried to put together something that leads to the state of the Leafs, but it gets pretty intense and too much for a single blog so I've broken it down in two. Before we move forward we should acknowledge what is happening with the current club and I do that with just some observations.
I've broken down what I feel are some of the more important points of the Leafs forwards and defensemen while not being entirely thorough, leaving something for future blogs. I'll follow this up on Friday tying in the coaching, the Burke regime and vision of the team in the future.
[more…]
The Toronto Maple Leafs kick off a brief tour of the Sunshine State when they visit the Tampa Bay Lightning tonight before taking on the Florida Panthers tomorrow. Unfortunately for both clubs, their offensive capabilities have been absent from the hockey party as of late and each are on a losing streak (Leafs - 5 games, Lightning - 3 games). Tampa Bay has only scored four goals in their last three games, while the Leafs have recently put together a pair of shootout losses and have 8 goals in their last three games but have been unable to play a solid full 60 minutes to earn the victories. They will look to improve on that effort tonight.
[more…]
In part 11 of his 12 Burning Questions series, Derek Harmsworth takes a look at one of the hottest topics in Leafs Nation today: just how long of a leash does Ron Wilson have?
In the summer of 2008, the Toronto Maple Leafs were in the midst of a major overhaul. Â Much maligned general manager John Ferguson, Jr. had been relieved of his duties with the organization, and as nice a man as JFJ was when I met him at the Leafs rookie and orientation camp a year prior, there is no solid argument that can be made for him as a good GM.
Ferguson Jr, to his credit, can take solace in the fact that a few of his draft picks are now cracking the Leafs as legitimate players, Kulemin and Gunnarsson among them, although even that fact can be debated  - how much was scouting and how much was general managing?
In a word, John Ferguson Jr. left the Toronto Maple Leafs in shambles, and some of the moves he made, continually sacrificing youth for a quick fix solution (or at least something he thought was a quick fix) have very well set the Maple Leafs back at least an additional few years in the rebuilding process. [more…]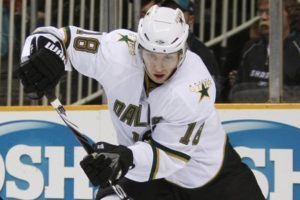 During his first full year at the helm in Toronto, you could make the case that Brian Burke was the league's most active general manager. There was the Kessel summer blockbuster with Boston and then the mega-deals on January 31st that brought in Phaneuf and Giguere. It's quite obvious that he's willing to expend assets to target any top notch premium young talent when it's made available. Both of those trades were opportunities: Kessel was a restricted free agent on a team with cap issues. Burke often spoke of inquiring on Phaneuf several times throughout the year until the "pressure points" of the cap and the struggles of the Flames pushed Sutter into making a bold move. This summer should be no different. Let's take a look at some of the young RFA's that might potentially attract Burke's interest.
I have been listening and watching Toronto media members discuss the Maple Leafs and am honestly beyond annoyed at their commentary and observations around the Leafs performance since the trade deadline.  I am not even certain if this is "blog worthy" (shameless "sponge worthy" reference), but I have officially reached my "B.S." tolerance threshold.
Although the positives have been few and far between for the struggling Leafs so far this season, the continued progression of blueliner Ian White bodes well for the team both in the short and long term. With the likes of stay at home defenders such as Beachemin, Schenn, and Komisarek locked into the club's core for the foreseeable future, the complementary puckmoving and point producing skills of White make him that much more valuable to Burke's plan of building from the net out. [more…]
Seven games into the season might still be too early to panic, but it's becoming quite clear that we're inching quickly towards the button. The Sun is reporting that Brian Burke has beeen making calls around the league in search for another goal scoring forward. In the same article, the Sun also mentions that Florida has begun preliminary talks in exploring trade possibilities for young power forward Nathan Horton, who has thus far struggled out of the gate. Is there a possible fit here? [more…]