Kyle Rogers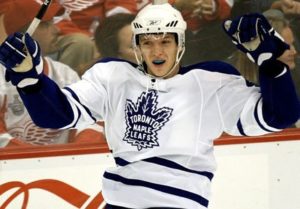 Now that the Leafs' most important pending free agent -- goaltender Jonas Gustavsson -- has been signed to a two-year contract extension, it is time to take a look at their remaining free agent players.
Notably, the list of expiring contracts includes pending RFAs Nikolai Kulemin, Christian Hanson and John Mitchell. Pending UFAs on the Leafs' roster include Wayne Primeau, Rickard Wallin, Jamie Lundmark, Garnet Exelby and Mike Van Ryn.
The Toronto Maple Leafs are now riding a three-game winning streak after defeating the Philadelphia Flyers in overtime on Saturday night by a score of 5-4.
Yes, it's pre-season, but who cares? It's hockey, and we're winning. Enough said.
The following is both teams lineups for tonight:
Goalies
Joey MacDonald
James Reimer
Forwards
Viktor Stalberg - Matt Stajan - Robert Slaney
Jason Blake - Jason Allison - Jiri Tlusty
Alex Foster - Tim Brent - Bill Thomas
Jamal Mayers - John Mitchell - Darryl Boyce
*Kyle Rogers may play
Defence
Garnet Exelby - Ian White
Jeff Finger - Juraj Mikus
Carl Gunnarson - Andy Rogers
[more…]
The Maple Leafs began on-ice workouts today at their new practice facility, the Mastercard Centre for Hockey Excellence.
I've been given credentials and was on site for the first day and will be attending all three days of on ice practice.
The following are a series of notes from Day 1 …
Let's take a break from the rumour mill, and have a look at where the Toronto Maple Leafs roster currently stands.
With the draft a little over a month away, and free agency beginning shortly thereafter, it's time to take a look at the current Maple Leafs' roster, who is and is not under contract for next season, and the resultant depth at each position.
Even though the Maple Leafs season is officially over, it doesn't mean that there's no playoff hockey here in Toronto. The Marlies just started their Round 1 series of the AHL playoffs last night against the #1 ranked Manitoba Moose. [more…]
Mark Bell's career in Toronto seems to be all but over. The 28-year old from Ontario joined the Leafs along with Vesa Toskala at last year's draft shrouded under the cloud of an impending DUI sentence. With that cleared up this past summer, many Leaf fans hoped for a revival of the Mark Bell that scored 25 goals in Chicago during the 2005-2006 season. However, it was quite evident that Bell never managed to put it together in training camp or in the exhibition games that the Leafs played. [more…]
The Leafs waive, demote and start rumors.
[more…]
With tonight's preseason game just a few hours away, there appears to be a shift of mood in the locker room for the duration of the preseason. It looks as if the days are numbered not only for those who won't be joining the regular crop this year, but also for a few regulars.
[more…]
Original post: http://www.hockeybuzz.com/blog.php?post_id=16747&blogger_id=48
The Battle of Ontario's prospects ended in triumph for the Senators in an action-packed, end-to-end tilt featuring 12 goals split 7-5.
The night started brightly for the Maple Leafs following Phil Oreskovic's bout with Geoff Waugh three seconds after puck drop that was seemingly a spill-over of bad blood from last AHL season and/or an arrangement made in warm up. Off an early face-off in the Sens' zone, Darryl Boyce drew the puck back to 5th overall pick Luke Schenn who fanned on his point-shot only [more…]
Every professional hockey organization, particularly one in the Leafs' current plight, must exhaust every possible avenue when it comes to importing young talent into their system.
In addition to the chance to evaluate the progress of your developing prospects front-and-centre, the upcoming rookie tournament provides a valuable opportunity to invite undrafted youngsters for a 3 game trial run. Last year this event proved fruitful for the Maple Leafs, who uncovered a hidden gem by the name of Darryl Boyce. The Summerside native was already preparing for life-after-hockey at the University of New Brunswick when, after a fantastic championship-winning campaign with U of NB he was signed to a minor-league contract and invited by John Ferguson Jr. to play in the 2007 rookie tournament in Kitchener. [more…]